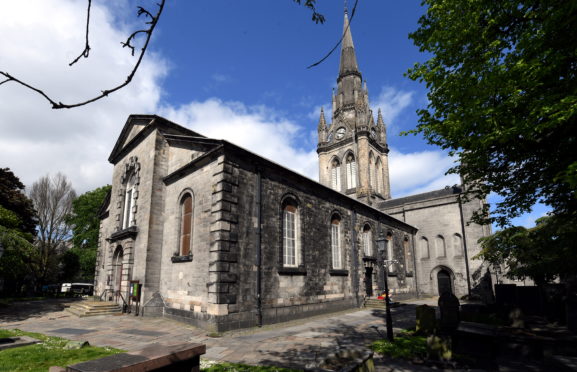 Plans to end regular worship in Aberdeen's historic Mither Kirk have been unveiled as part of a review of Church Of Scotland estates.
The "bold and innovative" proposals for the city's kirks follow previously floated suggestions, including selling of nearly half of its buildings.
There has been a reprieve – perhaps temporary – for the some of the 15 churches earmarked but bosses have now decided on the future of the Kirk of St Nicholas Uniting.
Currently the medieval church, also known as The Mither Kirk, is shared by owners the Church Of Scotland and partners the United Reformed Church (URC).
However, both organisations have agreed their partnership should now end.
The newly unveiled plan, drawn up by Presbytery planning convener Rev Scott Rennie, reveals members of the Church Of Scotland congregation will be invited to join Queen's Cross Church.
Responsibility for the A-listed building would be handed over to the kirk's General Trustees but would still be a place for occasional worship and civic occasions.
Chairman of the General Trustees Raymond Young said: "The church has too many buildings for its actual use and this is one of those buildings fulfilling a function wider than just use by its congregation: this is like the town's church.
"We are trying to ensure its historical legacy, the important place it plays in Aberdeen life, continues."
The 10-year presbytery plan will be put to a vote in October and is aimed at reducing resources spent on the church's buildings while recognising the number of regular churchgoers has fallen in the last 30 years.
Feasibility studies could offer a chance of a reprieve for the kirks in Kingswells and Woodside, while the St Mark's congregation will be asked to consider its future.
Rev Rennie said: "Over many months we visited with lots of Kirk Sessions and listened to representations.
"We have changed the status of many buildings to within the lifetime of the 10-year plan which basically means that rationalisation will only occur when there is a change at that church, if a minister leaves or retires.
"However, if a major structural issue or extensive bill were to arise in one of these, Presbytery would need to move for a more rapid closure and disposal."
No more than £5,000 will be spent on buildings marked for closure in the plan without oversight of church bosses.
Summerhill remains the only church marked for disposal of "as soon as possible", while neighbouring Mastrick and Northfield will make way for a new Mastrick-based congregation within 10 years.
A new church is also planned for Dyce – funded by the sale of the existing church and the one in Bucksburn Stoneywood – and possibly in Kincorth, where work will be carried out to decide whether to rebuild at St Nicholas South or on a new site.
Work will be carried out to see how best the church can serve Garthdee and the expanding community in Countesswells.
The document also reveals Ruthrieston West and St Stephen's in Powis will close the next time there are vacancies, while Holburn West is not expected to be hosting worshippers by 2030 either.
The church in Rubislaw is listed for closure by then too – but the attached kirk centre is planned to remain open – while Craigiebuckler's church will also be retained.