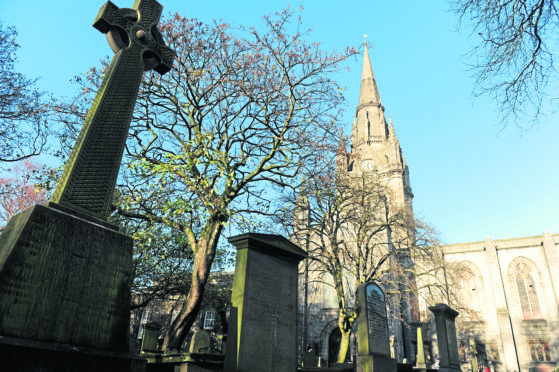 A councillor with an ancient title at a famous Aberdeen church wants it to remain part of the city's religious community, despite plans to dissolve its congregation.
Hazlehead, Queen's Cross and Countesswells councillor, Martin Greig, said caring for the Kirk Of St Nicholas is part of the "enjoyment and responsibility" of his faith.
But church bosses have revealed they plan to remove the minister and congregation from the A-listed city centre church, also known as the Mither Kirk.
It would only be used on special occasions, such as for civic services linked to the city's schools, universities and energy industry.
Leaders claim it would allow the ministry to focus on their mission and spend less time caring for the historic building.
Mr Greig, who is the master of the St Nicholas kirk works, said: "We have a very strong and loyal congregation and a very long tradition.
"I want to ensure St Nicholas Church remains part of the faith in Aberdeen.
"Looking after the building is part of the enjoyment of providing a house of prayer – not just the responsibility.
"Every congregation has a duty to maintain its buildings, the walls and the roof have to be kept up whether it's an ancient building or a new one."
The plan is part of a revised work from the Church Of Scotland looking at how best to manage its vast estate in Aberdeen.
While several kirks previously at risk of closure "as soon as possible" have been given more time in the rethink, leaders also settled on the future use of the Mither Kirk, which was previously unclear.
If the presbytery approves the action plan in October, the congregation at will be invited to unite with Queen's Cross Church or dissolve.
The Church Of Scotland's general trustees would take over the running of the medieval building next Easter and Sunday services would be halted.
Chairman of the group, Raymond Young, said: "There are ministers spending more time than they should looking after a historic building rather than getting on with what the church wants them to do, the day job as it were.
"We need to find a way of managing the building to allow a variety of civic and important functions to continue – and therefore will be speaking to a number of organisations, such as the council.
"We need to get to a point where we have buildings that are a resource, as our primary purpose is not to look after old buildings.
"We are already having similar conversations in Angus about Brechin Cathedral."