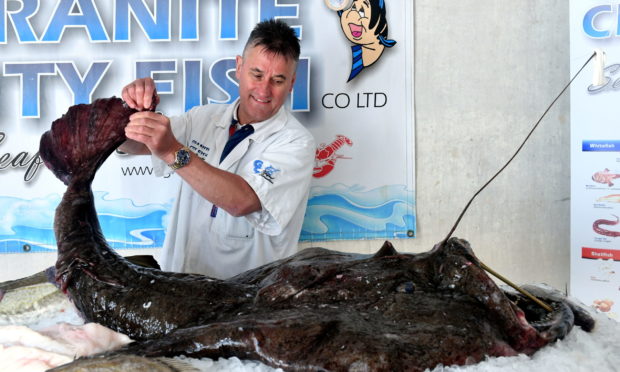 The overnight ferry from Lerwick delivered a monster from the seas to an Aberdeen seafood firm.
Granite City Fish (GCF) was ready and waiting for the giant monkfish, which weighed in at a colossal eight stone, 12lb and 1.9oz.
It was caught on Wednesday by Shetland trawler Resilient and its five-strong crew, led by skipper Arthur Polson.
GCF, on Poynernook Road, is run by Ed Fletcher, who said he had never seen a monkfish like it.
"Imagine the size of fillets and cheeks we're going to get off of this beast," he said after catching sight of the gigantic fish for the first time.
Large monkfish cheeks are "especially good for cooking with" and those on the whopper from Shetland were much bigger than average, he said, adding: "Its mouth is huge and full of seriously sharp teeth."
Incredibly, the monkfish, caught about 80 miles east of Shetland, is less than half the size of one reportedly caught by a Norwegian fisherman in 2012. That specimen is said to have weighed in at 18 stone, 1lb and 8.5oz.
Skipper Polson, who lives in Isbister, on Whalsay, said Resilient's fish was bigger than any he had seen in 34 years of fishing. "It was so big it wouldn't fit in the fish box," he added.
Monkfish – a type of anglerfish – can reach more than 6ft but examples of more than 4ft are rare.
Female "monks" can grow larger and live longer than males, while larger specimens are scarce in water shallower than 330-500ft.
They are opportunistic feeders whose diet consists mainly of fish, although shellfish and even seabirds are sometimes found in their stomachs.