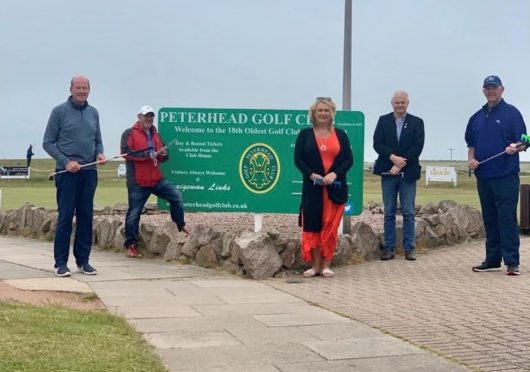 Golfers at a north-east course will be able to play a round more safely following a generous donation of special rake devices from a local community group.
Rakes typically used to allow players to tidy up bunkers, before they are used by the next person, have been removed from Peterhead Golf Club in case they become contaminated and contribute to the spread of coronavirus.
The Peterhead Area Community Trust (Pact) has now donated 125 "rake safe" attachments, which can be clipped onto clubs – turning them into makeshift rakes.
Pact trustee Alan Fakely said: "If this simple device helps the young and the
vulnerable out of the house and back onto the golf course, then I have no doubt it will improve the wellbeing of all concerned.
"This is one of many projects that Pact are proudly supporting within the community during this unprecedented emergency."
The 3D printed rakes were designed and manufactured by the north-east based company Stellarprint.
Junior convener for Peterhead Golf Club, Ian Forman, added: "Golf is one of the few sports people can enjoy right now but in order to prevent possible contamination, rakes for the bunkers were removed.
"These donated rake safe attachments are easy for our members to use and allow golfers to return the bunker back to condition.
"It's easy to follow social distancing while playing golf so I think it will be good for people's wellbeing to get back out on the course."