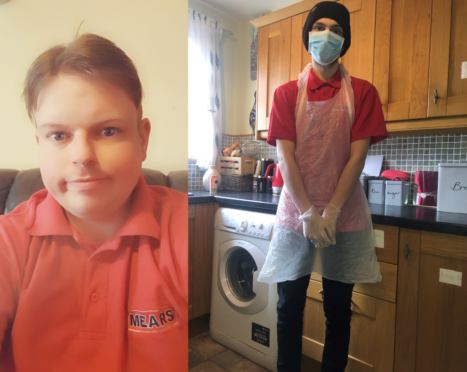 Youngsters who landed jobs as carers after completing an employment course are now providing invaluable companionship for elderly people.
The Mears Care Aberdeen agency ran the scheme earlier this year to help young people in the north-east escape unemployment.
The six-week training programme was conducted in conjunction with the Aberdeen Foyer charity, and helped those who were suffering from a lack of confidence as they struggled to enter the world of work.
By the end of the course, five out of the 10 participants were successful in obtaining full-time roles.
They have now been commended for rising to the occasion during the coronavirus lockdown, by providing a daily morale boost to the pensioners they look after.
Forced to remain apart from their loved ones, carers can often be their only point of contact with the outside world.
Shaun Adams is among the new recruits lending a helping hand.
He said: "Some days my role takes me to see 10 different people, and other days my work is more concentrated around one or two people who need more of my help.
"The best bit of the job for me is when they smile. It's good to know that I can bring cheer to someone else's life.
"Some of them are finding all the Covid-19 restrictions really tough.
"I might be the only person they see in a day – as they are vulnerable, they have to be careful and stay at home.
"But if I have a good chat with them and they tell me about their day, they soon cheer up."
Kaelin(CORR) Ewen, 18, is one of the new recruits based in Peterhead.
Mr Ewen said: "I wanted work helping people, which would be rewarding, doing something of real value.
"I only started this week and I am so glad I took this direction for my career.
"The people we care for are amazing and they are hugely appreciative of our help. They share their life stories while we are working with them and it's so good to hear."
Local service manager for Mears, Nicola Keenan, said: "Many of those attending the course had found a lack of confidence, sometimes after a long spell of unemployment.
"Some had no motivation and no skills but the course conquered all of that."