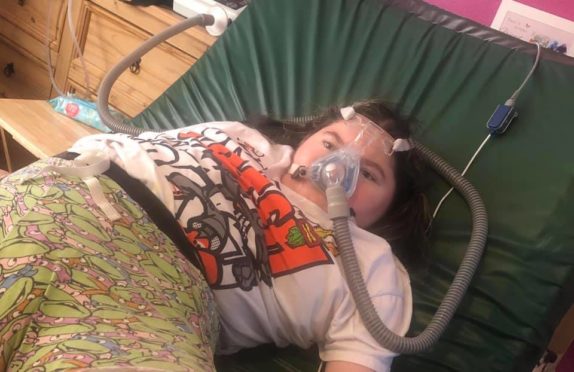 A despairing Fraserburgh mum says she has been forced to rely on the goodwill of the community to fund a desperately-needed bed for her disabled daughter.
Elysha Watt has suffered since she was two-years-old from a both a curvature of the spine and a rare muscle wasting conditions that has left her unable to breathe without a ventilator or eat without a gastronomy tube, and only able to communicate though signing with her feet.
For the past three years Elysha, 18, has lived in constant discomfort as her family's plea for a new £19,000 specialist bed has hit setback after setback.
"I'm upset, frustrated and drained," mum Grace, 45, said.
"I'm so tired of battling to try to secure every provision that Elysha has needed over the years.
"Now she is in a bed that is dangerous for her health and wellbeing, despite me complaining about it for three years. "
The full-time carer says that after multiple meeting with the region's nurses and social care department, she thought she'd finally found a charity willing to help, only for that to fall through too.
"In January a charity offered to provide the bed but I needed the form to be signed-off by occupational therapists," the mum-of-two said.
"I assumed that was a done deal and the problem was solved, only to chase it up last month and find the form was still lying unsigned on a desk.
"Elysha has been failed. At the end of the day she is lying in a bed I wouldn't put a dog in. I am not an expert in anything medical, but I am an expert in Elysha."
Despite suffering from poor health herself, as she awaits a heart operation, Grace must prop up Elysha's mattress with pillows to stop her sliding down or out of the bed, and constantly worries about her daughter's breathing being compromised.
She added: "The carers are all disgusted and have raised the issue numerous times. She is getting high-dependency care at home, so should have the right bed to reflect that.
"Mentally Eylsha has nothing wrong with her, it's just physical. She has had gaps in her education due to her illness, but has a really good sense of humour and is very determined.
"But she is now getting so upset and frustrated.  This bed should have been sorted years ago."
As she has now turned 18, Elysha no longer qualifies for the charity's help.
Local fundraiser Rona Mennie has, however, stepped in, raising almost £1,000 in the 48-hours since she launched a JustGiving page, as well as yesterday collecting an anonymous £5,000 donation.
"I feel really bad about it," Grace added. "Rona shouldn't have to be asking people to fund something that it is Elysha's right to have, but I would really like to thank those who have donated and the anonymous person as well."
A spokesperson for the AHSCP, said: "Elysha requires specialist care and equipment which, due to the seriousness of her condition, we are unable to provide.
"We have sought to support Elysha's family in accessing outside sources of funding to enable them to purchase the bed they require"
NHS Grampian said Elysha's case was a matter for social care.
To support the appeal, visit
bit.ly/2CuaWTC
.