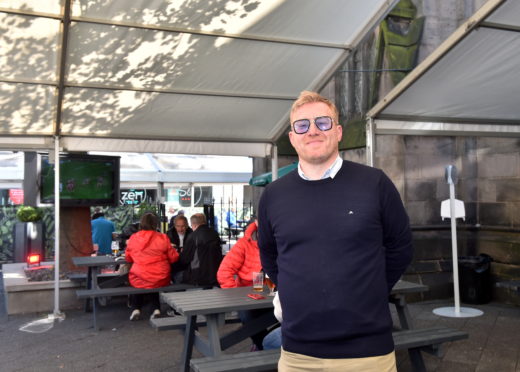 Today marks one of the most significant steps out of lockdown with pubs and restaurants across the north-east welcoming people inside for the first time in months.
Residents have endured nearly four months without being able to go into their local for a pint or a bite to eat.
Their long wait is now over as the majority of businesses today reopen their doors.
Among them are the College Bar on Alford Place, and The Queen Vic on Rosemount Place in Aberdeen.
Both pubs will be keeping staff and customers safe through temperature checks, registration of visitors and distancing measures.
Staff have been retrained and risk assessments carried out.
Director of PB Devco, which owns the pubs, Paul Clarkson said: "It's been an extremely hard time, I've been trying not to think about how much earnings we have lost.
"We've a large workforce and it's been tough for them too.
"So I am delighted to open the doors again, and I am actually pretty hopeful about the near future.
"We opened the outdoor area at Soul Bar – which we also own – on Friday and the demand far exceeded our expectations.
"So the demand is there for businesses that are well organised, well maintained and well run.
"People want to get out there and enjoy themselves again."
McGinty's Meal An' Ale on Union Street is another city business reopening today.
Alan Aitken, operations director at The McGinty's Group, which runs the gastropub, said the hospitality trade had endured one of its biggest challenges in navigating lockdown.
"We are very excited to be reopening our doors this week," he said.
"We have worked tirelessly to ensure our venues are safe and complaint with government guidance, and all staff members have completed training on Covid-19 safety.
"This is going to be a testing time for the industry with new ways of working, but it is vital that we adapt in a positive manner in order to recover and welcome back our loyal customers."
In Aberdeenshire, The Drouthy Laird pub and restaurant in Inverurie is one of many getting back to business today.
Landlord Laird Parker said: "Lockdown has been horrendous, revenue is absolutely shot this year.
"It's been a tough four months.
"I think it'll be tough for the rest of the year to be honest, because a lot of people in Inverurie appear to be a bit nervous about a second wave, you can see it in the way the streets are still not as busy as they usually would be.
"So capacity will be down.
"But I am just so excited to be opening the doors again.
"It will be a change, it will be different, but we're a flexible trade and we've got good staff, so I'm remaining upbeat."
It has taken a lot of work for Mr Parker to get to this point, with a number of safety measures put in place to ensure a smooth reopening.
"We want customers to feel at ease when we open our doors, so we've taken a number of measures," he said.
"We will be doing table service throughout the day and night, and there will be hand sanitisers throughout the premises.
"In the restaurant, we will only set the table when guests arrive, so they can see that everything has been disinfected.
"Then when the next guests arrive, the whole table – including chairs – is disinfected and set again.
"Waiting staff will wear visors, and bar staff will wear face masks."
In nearby Oldmeldrum, the Meldrum House Hotel houses a bar and restaurant, and has long served as a popular wedding venue.
General manager Jordan Charles expressed the same mixture of fear and optimism about the near future.
"There's a huge domestic appetite out there and I just hope that is enough to keep us going.
"Weddings are going to be a struggle for the remainder of this year, and Christmas has a big question mark over it.
"The demand is certainly out there – I just hope it can replace the international business we are currently missing out on."