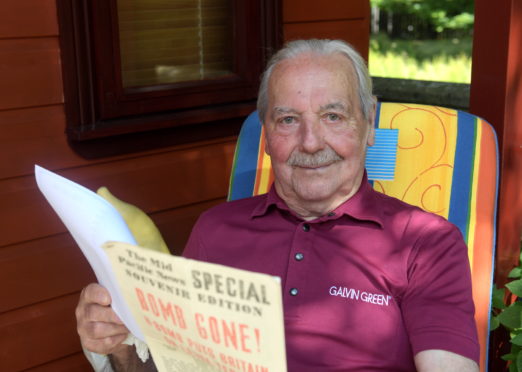 A second north-east veteran who served in the Pacific while atomic and nuclear bombs were tested has backed calls for he and his colleagues to receive official recognition.
Former Royal Navy mechanical engineer Ron Campbell spent 18 months on Malden Island – a target island just south of the equator in the Pacific Ocean – in 1957 while serving on HMS Narvik.
After reading in the Press and Journal about Army veteran Colin Moir's experiences about 300 miles away on nearby Kiritimati, known as Christmas Island, he is supporting his fellow ex-serviceman's call for recognition.
The 85-year-old said: "They dropped three bombs on Malden Island when I was there and one of my jobs was to go back onto the island to drive a man with a shotgun and a man with a Geiger radiation counter around to shoot all the seagulls that had gone blind.
"There must have been a down pressure because every time I went back to the island I had to dig out my Land Rover because the coral bunker I had made for it had collapsed."
The then 21-year-old vividly recalls how he and the other sailors and Royal Engineers would be ferried out to sea for two days when bombs were dropped on the island they called home. And like Mr Moir, his protection against the blast didn't come to much.
Mr Campbell added: "We would leave the Malden Island and be taken about 30 miles out to sea on the deck of HMS Warrior. We were given a white suit with a hood on it and a glass shield. We were told to keep our backs to the bomb until we were told we were allowed to turn around.
"When the bomb went off it was a blinding white light. You have never seen anything like it. A few minutes after when the light died down we were allowed to turn around and look and I always had my camera to capture it."
The father-of-four, originally from Blairgowrie, worked in the motor trade after his service and wound up in Aberdeen in the 1980s working as an accident claims manager.
Looking back he agrees the dangers of radiation weren't obvious at the time and, like Mr Moir, believes the government should today acknowledge the harm those men faced.
"I do agree with the suggestion there should be medals," Mr Campbell said.
"Nobody ever told us that we would be subjected to radiation or anything like that. When you left the UK and got on a board the ship you weren't told where you were going or why. All we knew was we were going across the Atlantic."
After 18 months in the pacific, Mr Campbell served out the remaining months of his national service on board HMS Raleigh in Rosyth, after a chance encounter fixing the wiper blades on an officer's car in Chatham dockyard earned him a posting back to Scotland.
He and his wife of 36 years, Adeleine, have their summer house decorated with photos from his time in the pacific and dozens more lie in albums alongside a diary he kept during his time there.