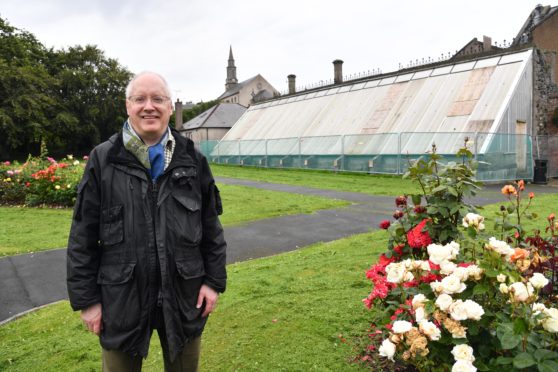 A mental health charity's plans to breathe new life into a dilapidated north-east landmark have moved forward with the launch of a survey on the scheme.
Following a feasibility study into potential uses of the B-listed 19th century Vinery at Duff House's Airlie Gardens, people called for it to be turned into a community garden and horticultural skills base.
The Vinery, attached bothy and surrounding walled garden belongs to Aberdeenshire Council and is currently empty and unused.
Now the local authority, having received a £663,767 handout from the Scottish Government's regeneration capital grant fund, wants to push ahead with the  GrowBanff@The Vinery project.
But first it is seeking feedback on plans to lease the common good asset to Scotland's Association for Mental Health (SAMH) for 25 years.
An Aberdeenshire Council spokesman said: "Through the appointment of SAMH as the operator for the building, individuals will be able to benefit from the therapeutic powers of gardening to help people regain confidence, develop new skills in horticulture and cooking or accessing qualifications, build self-esteem and motivation as well as creating new social networks."
It is also intended that volunteers and local groups will be able to work in the gardens and produce food there.
Information on the proposals is on Aberdeenshire Council's website. Comments can be sent to suzanne.rhind@aberdeenshire.gov.uk before October 6.
Link for web:
https://www.aberdeenshire.gov.uk/council-and-democracy/community-empowerment/common-good-properties/
Town councillor and chairman of Banff Development Partnership, Glen Reynolds, added: "I urge people to participate so that their voices are heard. The site in question along with the surrounding gardens is a gateway site into and out of Banff, and as such, needs to have careful consideration as to its development, use and appearance.
"It will be there for generations to come and in many ways, will stand as a testament to what the communities of Banff and Macduff, are all about as welcoming, inclusive and sustainable places to live, work and enjoy.
"I am delighted to see the process surrounding this project moving ahead.  I retain an open mind surrounding the outcome of the consultation in case there are decisions to be made in which I will have to participate, but it is of course only correct that the public have their say on the use of common good land.
"This project and the options arose prior to the devastation caused to towns and the local economy as a result of Covid, and any initiative that unites a number of factors that address the implications of the pandemic upon  the health and wellbeing of residents not just in Banff but the surrounding area, as well as assisting in the rebuilding the local economy, has to be welcomed."