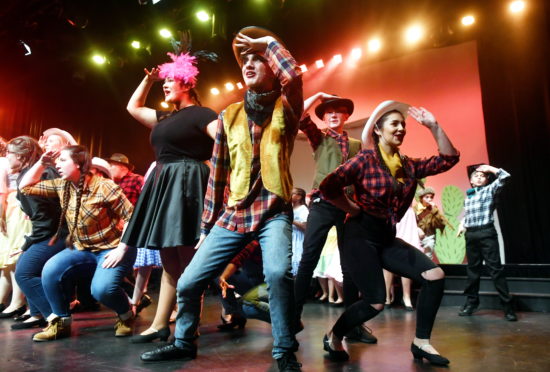 Struggling performing arts venues across Grampian and the Highlands and islands have been handed a funding lifeline by the Scottish Government.
The new emergency support from the Creative Scotland Performing Arts Relief Fund means six venues in the north of Scotland will share in more than £460,000.
The money is designed to help those venues that are not currently able to open due to the ongoing impact of the Covid-19 pandemic.
Nearly 60 venues across Scotland received a total of £4.7 million from the open call for applications to the Scottish Government funding pot.
Aberdeen Arts Centre scooped £55,000 in funding, while the Nevis Centre in Fort William won £50,000, and the Pickaquoy Centre in Orkney received £150,000.
It is hoped the relief funding will help some venues who face financial uncertainty as a result of the pandemic to remove the threat of insolvency and bring back staff who are on furlough.
It could also increase commissioning and employment opportunities for freelance artists.
Charlotte Mountford, director of Lyth Arts Centre in Caithness, which received £97,000, said her organisation was "extremely grateful" for the support.
She added: "This will prevent both insolvency at Lyth Arts Centre and protect the jobs of all staff until at least March.
"It also allows the organisation to explore alternative future paths, integrating new strands of activity into our work, building on extraordinary successful work delivered during lockdown as part of the Caithness emergency community response and recovery."
Nairn Community and Arts Centre, which received £89,000, said the cash would allow it to continue paying staff wages during a difficult period.
The centre was forced to cancel a full programme of planned summer concerts, ceilidhs, festivals and exhibitions when the virus outbreak closed arts venues.
Sam Morrison, centre manager, said: "We are self-funding and have had no income since March, while still having the building overheads to meet.
"With the continuing restrictions many of the groups are unable to meet, and with the furlough scheme finishing at the end of October, it was going to be incredibly difficult to operate viably and guarantee the jobs of the six full-time staff who are employed at the centre."
Iain Munro, chief executive of Creative Scotland, said: "Despite the ongoing, detrimental impact that the Covid-19 pandemic is having on Scotland's performing arts venues, and on culture as a whole, it is positive that we can offer some funding to help venues navigate these extremely challenging times.
"I'm also encouraged to see that this funding will help venues across many different parts of Scotland where they form such an important part of the cultural life of local communities."
Jude Henderson, director of the Federation of Scottish Theatres (FST) said the funding will help to support the "vital work" performing arts spaces do in serving communities, providing employment and showcasing Scotland's world class theatre and dance troupes.