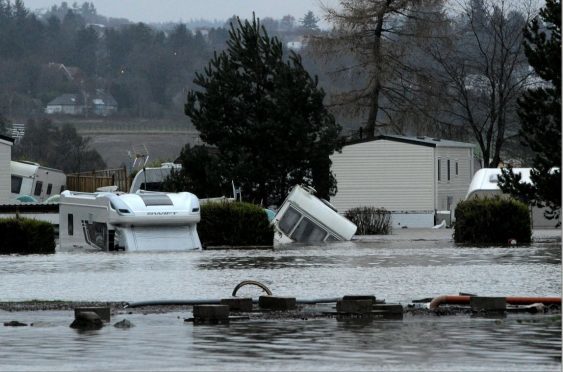 The owners of a north-east holiday park last night breathed a sigh of relief as new flood defences spared it from the sort of damage it suffered during infamous storms five years ago.
Deeside Holiday Park owners were forced to close the campsite in 2015 as Strom Frank left it submerged in 20ft of water when the River Dee burst its banks.
The park at Maryculter remained closed for two years as owners faced a repair bill exceeding £3 million in an effort to restore the park to its former glory.
As forecasters issued fresh warnings of heavy rain, high tides and localised flooding across the area, Sarah Wood MacGregor, a partner in Wood Leisure, admitted they were bracing for the worst ahead of the weekend.
She said: "We have got procedures in place, we were watching it carefully last night and our wardens on the park were on the ball in terms of making sure they were keeping an eye on things and watching the water levels.
"As much as you know you have got the procedures in place, there is still a worry that something could happen.
"It's a massively relief. Our hearts go out to everyone else who has had problems. It's not nice when it happens, we have been there and experienced it, but it's nice to know everyone is safe."
The caravan park made an investment worth hundreds of thousands of pounds on tough defences to safeguard the north-east business.
Mrs MacGregor says it has proven to be money well spent.
She added: "We made a huge investment in the flood defences in 2016 after the big flood when Storm Frank hit, and thankfully they have done the job.
"We got pumping stations put in and we did the whole bounding system around the park itself.
"We had to do that to safeguard the customers and the park because if we didn't have them we couldn't go through this every time that there is a high water level.
"It was a lot of money and a huge investment but, on days like this, you remember why you do it."