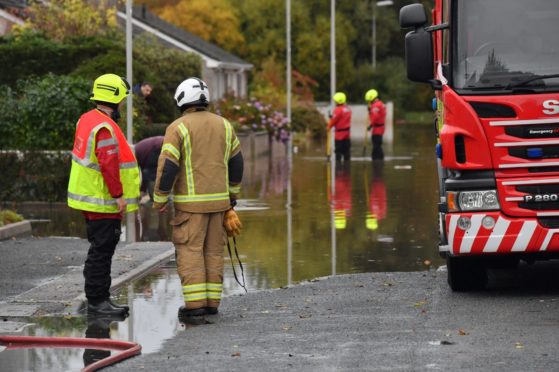 Homes were flooded, roads were closed and a golf course left like a "boating lake" after heavy rain hit the north-east.
Flood groups set up in the aftermath of Storm Frank in 2016 sprang into action as torrential rain caused chaos in Ellon – with some residents being forced to flee their homes at 4.30am.
Calls have now been made for Aberdeenshire Council to do more to protect the town from future flash floods, which many described as the worst they could remember.
The most affected areas of the town were Meiklemill, Hospital Road and the homes neighbouring Broomies Burn.
In Meiklemill, fire crews called to pump water away from homes in Bruce Crescent and Barratt Drive.
They helped dry out homes and garages, driving the water down the drains.
At the nearby McColl's, manager Liam McHardy sprang into action as soon as the severity of the situation became clear.
He said: "When I first woke up, I just came down to get the container for the sandbags open so we could get as many as we could.
"There's probably 100 of them, and they've all been used.
"We normally open at 7am, but I came down at 5.30am and we opened about quarter to, just to start giving tea and coffee to the police and firefighters."
That community spirit was strong in neighbouring streets too, with residents of Provost Davidson Drive being woken up by a car horn and knocks on their doors to help.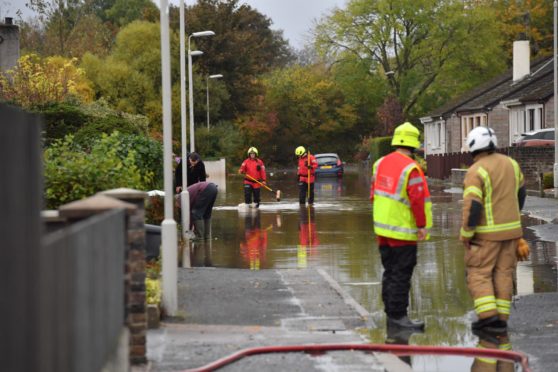 Margo McDonald was helping clear up leaves and other debris from the street after the water had receded.
She said: "Neighbours chapped on each other's doors, saying you better get up and help! It's quite good, everybody mucks in together.
"But, what else could 2020 bring?"
Neighbour Peter Brown added: "We've been here a long time, coming on 30 years now, and I would have to say I haven't seen it this bad. It's been close a few times, but not quite as bad as this."
At the other side of Ellon, McDonald Golf Club – which has flooded a number of times in the past – was left under several feet of water.
Some parts of it were only identifiable as a golf course by the very tops of the flags poking out of water.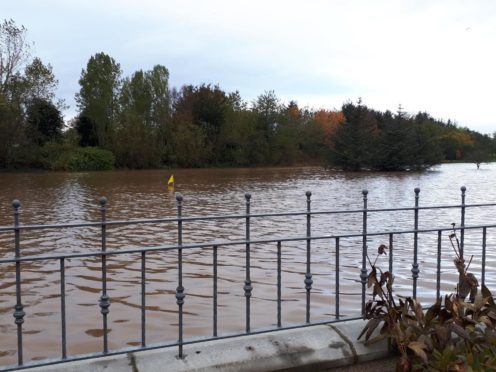 Club administrator Sandra Brockie said: "We do not have a golf course, we have a boating lake.
"This is just what we need. Not allowed to drink in the clubhouse, and now we can't even take in any money with the golf course."
She said the water – around five feet deep in some sections – would be gone in a couple of days, but it could be a week before the course was playable again.
In Modley Place, a stream running down the centre of the road was being diverted back into a burn with sandbags.
Ellon Primary School's playground was also flooded, with the water rushing through the gaps in the wooden fence backing onto Gordon Park.
Bill Gibb, from the Ellon Flood Resilience Group – set up after the River Ythan burst its banks in January 2016, causing widespread damage – was among the volunteers assisting with the response.
He said: "This is the second time it's flooded, the first time was in 2016 and the group was set up after that.
"There hasn't been an overall call for help, but we've just taken our own initiative and come out here."
Residents living in The Meadows area, on the banks of the River Ythan, claimed little had been done to protect homes since the floods of January 2016.
The Meadows Flood Action Group (MFLAG) was set up following the "disaster", and the scenes today brought back painful memories for several residents – including group spokesman Allan Steele.
He said: "From then [2016], we had meetings with the council, and nothing has happened. Nothing at all.
"We put a proposal to put a bund across the back of my garden for £80,000, which would deflect the flood that happened back into the river. The council said no.
"Since then we've been trying to negotiate a sensible deal for flood prevention and solutions to the problem.
"What we're looking for is some response from the council and councillors to help us obviate the problem from happening again. It's not just here.
"I was round at the other side of Ellon this morning to see what they were doing, and the place was flooded there too. So something's needing done there too."
North East MSP Peter Chapman echoed the calls and said it was "absolutely devastating" to see the extent of the flooding.
"Residents living on streets such as Bruce Crescent have had to bear the brunt of rising water levels over the years which is unacceptable," he said.
"The council must urgently look at ways in which this can be alleviated with the appropriate defence measures put in place.
"I know several people helped in the early hours with sandbags for the area – it's fantastic to see the community pull together in such unfortunate circumstances."
Aberdeenshire Council was contacted for comment.