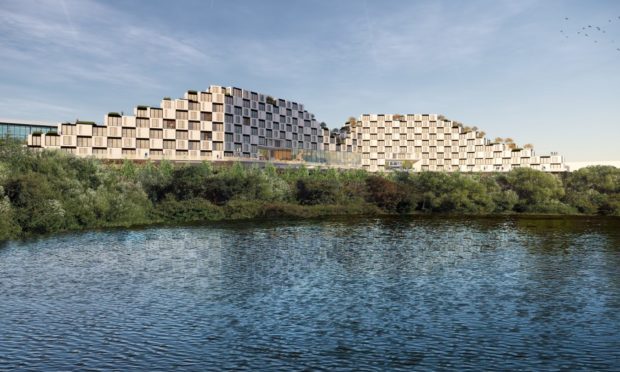 Objectors to controversial plans for nearly 250 homes on the edge of Aberdeen's famous Rubislaw Quarry have been left pondering a legal battle – after a Canadian developer was given permission to build them.
A Scottish Government reporter has overturned the city council's unanimous decision to throw out Carterra's £70 million build-to-rent proposals for Rubislaw View upon appeal.
The firm's aspirations for the site have twice been turned down by Aberdeen's planning committee, both times against the recommendations of their expert officers.
More than 400 objections were lodged at these latest plans, up to nine-storeys-tall but scaled down in size from almost 300 flats to 245.
Rubislaw View, on the northern edge of the quarry, would also include a resident-only gym and function room, as well as a public bistro and promenade overlooking the quarry from which millions of tonnes of granite was excavated in the 200 years before its 1970s closure.
After reporter David Buylla outlined his decision, the only means of halting the construction would be to lodge a legal challenge.
Those involved in the fight, that is the city council and appellants including local businessman Hugh Black, have six weeks to take their fight to the Court of Session.
Mr Black previously planned a granite heritage centre on the other side of the quarry.
Tonight, he said: "It is a sad indictment of the planning system that this development should even have been considered, let alone approved.
"To allow to build this huge unsightly block of flats next to anyone's property is bad enough but overlooking and overshadowing the very place where the granite came from that built our city, is an utter disgrace and one that will live for a long time in the hearts of Aberdonians.
"This sends out a signal to all developers that they can build whatever they want, wherever they want in Aberdeen, whether Aberdeen likes it or not.
"I thought we lived in a democracy but it feels more like a dictatorship when decisions like this are made.
"Our hope is that the developer will not be able to satisfy all of the 21 conditions, some of which may prove difficult.
"I am already getting messages from people who want to see this taken to the Court of Session."
But, to be successful they would have to prove a point of law – that Mr Buylla had made an error in his judgment – before permission would be stripped.
And even then, Carterra's appeal would only be reconsidered by the government's planning appeals division; the plans would not be rejected outright.
Publishing his final decision, the government reporter said: "I allow the appeal and grant planning permission subject to conditions.
"On November 23, I gave notice of my intention to grant planning permission for this development subject to conditions and to a planning obligation that would secure developer contributions towards off-site affordable housing, secondary education, core paths, open space and healthcare.
"I was satisfied that the proposal complied with the development plan and there were no material considerations to outweigh this."
More than 20 conditions were attached to the planning permission he granted, and work would have to start onsite within three years.
Council clearance of plans for the public prom and other facilities also must be gained before building can begin.
Rubislaw Quarry appeal 'a bitter result for all who fought it'
Hazlehead, Queen's Cross and Countesswells councillor Martin Greig, who proposed the council refuse permission last June, said: "It is very frustrating to hear this final decision. It is a bitter result for all of us who fought against this proposal.
"A great deal of people expressed their opposition to these plans. We did all we could to stop the development.
"It is disappointing and discouraging to have confirmation that permission has been given.
"The new build will clash with the appearance of the area. It will make a harsh visual impression.
"The impact will be considerable since the block is so large it will be visible from far away and there will be unwelcome impacts on the natural environment."
'Slap in the face' as council told permission might be granted with or without multi-million-pound contract
Earlier this month, The P&J revealed a deal had been done between the council and Carterra – worth around £3.7m – which would realise the firm's plans.
Previously, the Scottish Government suggested the council could be forced to allow the construction, even if an agreement on the money was not reached.
Conservative North East list MSP Liam Kerr said: "Local people have expressed bitter disappointment at this decision in their droves.
"And SNP ministers are aware of how often this is happening across Scotland.
"Plucking power away from local authorities will not wash any longer.
"Officials were effectively told this was happening, contract or not.
"It's a slap in the face for all concerned."
Between April 2015 and last October, 58 planning appeals of 152 in Aberdeen and Aberdeenshire were granted, overturning decisions taken locally.
What options do those opposed to the Rubislaw Quarry flats have now?
A Scottish Government reporter's decision can be challenged in the courts – but not simply because people do not like the outcome.
A challenge through the Court of Session would have to prove a point of law; that Mr Buylla made an error, misinterpreted or misapplied the law, or failed to properly consider an important detail.
Even then, should the court agree the case would end up back with the government's Planning And Environmental Appeals Division to be decided upon again – it will not be automatically reversed.
Appellants, the council, or other interested parties aggrieved by the decision have only six weeks to lodge their challenge, should they wish to.