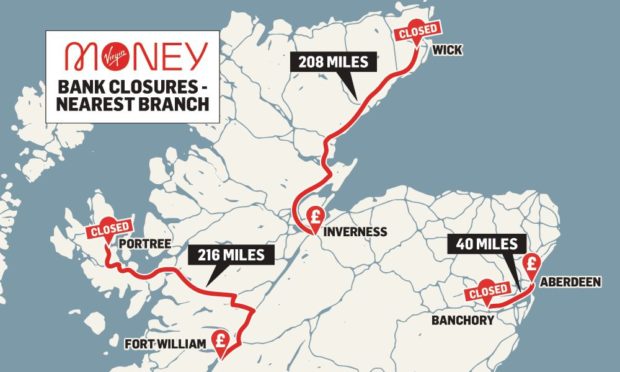 Virgin Money has announced they are closing 12 of their branches in Scotland.
It includes Banchory in Aberdeenshire, as well as branches in the rural communities Wick and Portree.
The firm say the closures are a result of fewer customers using the branches – but insist the "tough decision" was "not taken lightly".
It means 112 full-time jobs will be in jeopardy, but the the group says they intend to find alternative roles for colleagues "wherever possible".
Unite the union says Scotland has been "disproportionately hit" with the closures, estimating that 76 employees are likely to be made redundant.
However, customers in rural north locations will now be forced to tackle more than 200 miles in a round trip if they wish to do their banking in person.
'It really is beyond comprehension'
In Portree, customers' nearest branch will now be in Fort William – a journey time of five hours and 216 miles both ways.
Local MP for Skye Ian Blackford told Good Morning Scotland the decision "isn't acceptable at all".
He said: "How on earth do they expect their customers, particularly those who are elderly or frail to use the facilities in Fort William when they live in Skye? It is really just beyond comprehension."
208 miles by car or 76 miles by boat to nearest branch
It's a similar story for customers in Wick, with their nearest branches either an 208 mile round trip to Inverness, or a 76-mile trip via boat to Kirkwall in Orkney.
It's comes as another blow for the community who have seen both TSB and Royal Bank of Scotland branches close – as well as the High Street Post Office.
A 40-mile round trip for Virgin Money customers will be in front of Banchory residents, as their nearest branch is now in Aberdeen.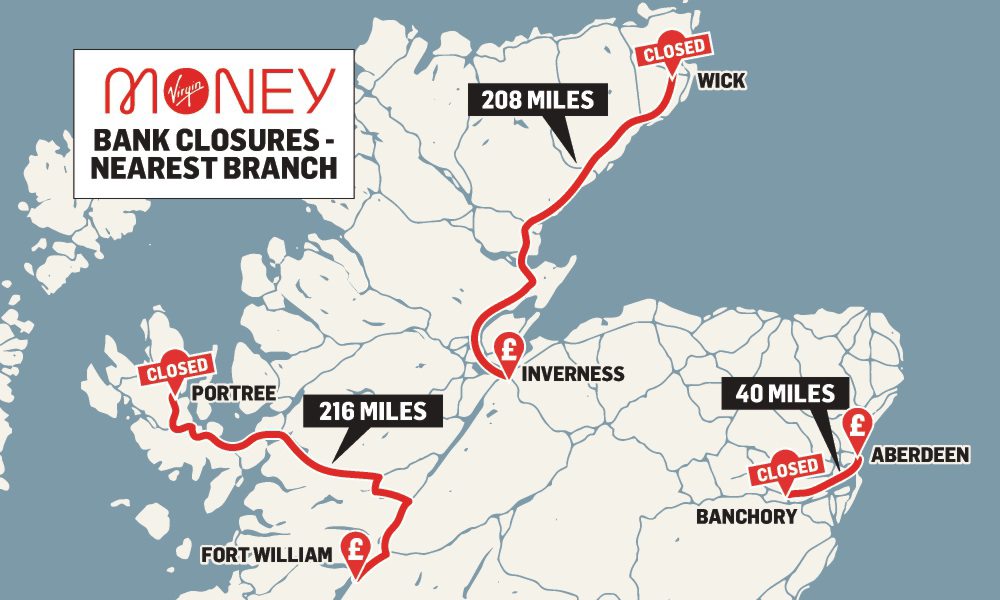 Scottish Conservative MSP for Aberdeenshire West, Alexander Burnett said the news was "extremely concerning" as another high street bank closes their doors in rural Aberdeenshire.
He said: "Banchory residents who want the option of banking face-to-face are going to have to travel into Aberdeen for that service.
"Such branches also perform a vital function in our communities.
"And some small businesses will be hugely inconvenienced by travelling miles to make deposits or consult their account manager.
"Much is made of the supposed leap to fully digital banking, but that depends on stable internet access which is notoriously patchy in the North East."
Less than half of customers 'digitally active'
Virgin Money, formerly known as CYBG, the owner of the historic Clydesdale and Yorkshire bank names, says the Banchory closure is down to a fall in transactions of 34% between October 2018 and September 2020 – a decline which they say has continued this year.
The firm also say 72% of customers have visited the store three times or less the last 12 months.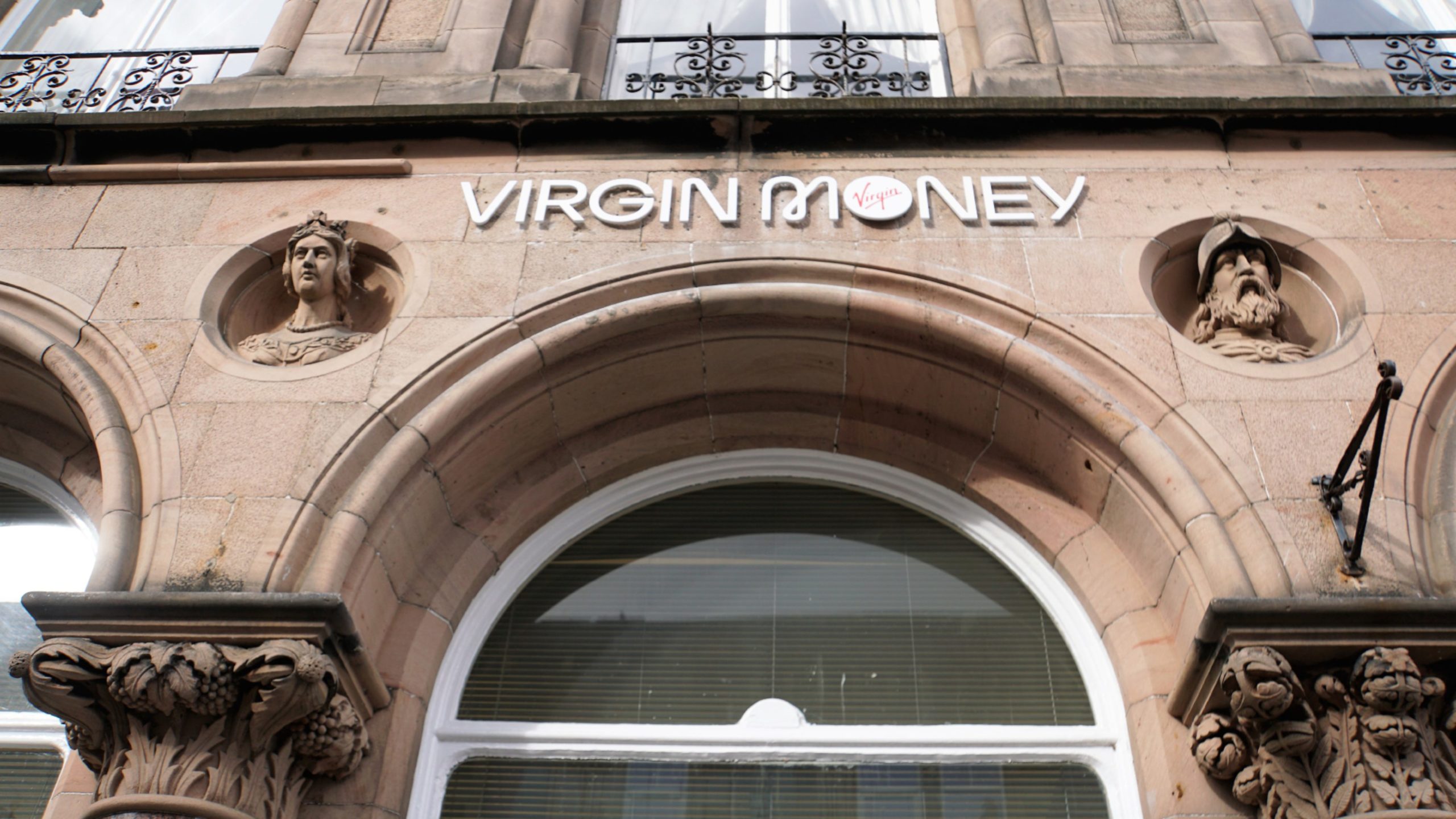 However, just 48% of customers were described as being "digitally active" – meaning more than half of customers still preferred face-to-face banking in the store.
Not long finishing the company rebranding – Debbie Hastings, industrial officer at Unite the union has described the move as "not only shameful but bizarre".
Virgin Money statement
A Virgin Money spokeswoman said: "Written notification will be sent to customers and posters will be displayed in each affected store at least 12 weeks before they close, providing details on the alternative ways customers can continue to manage their accounts, including nearest alternative stores, ATMs and Post Office counters.
"All customers can use Post Offices for day‐to-day banking, including cash deposits and withdrawals, cheque deposits and balance enquiries, as well as coin exchange.
"All of the closing stores in Scotland are located less than a third of a mile away from the nearest Post Office.
"Our mobile, internet and telephone banking facilities allow customers to do most day-to-day tasks, like balance checks, transactions, transferring money between accounts, paying bills and cancelling / amending regular payments. Customers can also pay in a cheque on the go.
"There are no changes to the business relationship managers and they will remain in the same geographical areas."