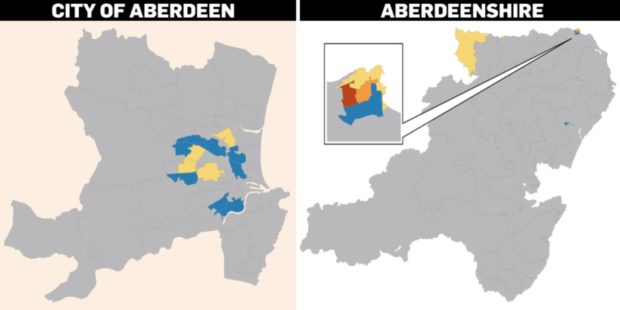 Covid cases have increased in the north-east over the past week but the region still has one of the lowest rates in Scotland.
In the seven days between February 28 and March 6, 75 people in Aberdeen tested positive for Covid-19, up seven on the previous seven day period.
Across the whole of NHS Grampian's area – which includes the city, Aberdeenshire and Moray, just 166 cases were identified last week, compared to 155 the week before.
However, the north-east council areas remain among those with the lowest rates in the country.
Only the island communities of Shetland, Orkney, Dumfries & Galloway, South Ayrshire, the Borders and Inverclyde have rates lower than the city and shire.
How is the positivity rate calculated?
Case numbers can be put into context by looking at them as a rate per 100,000 population.
This rate is then categorised into one of five bands by Public Health Scotland (PHS). If the number of cases in the seven-day period is two or less, it is marked as suppressed.
Each area of the country has been divided into regions of roughly similar populations, and are the same used in a wide range of national datasets released by the Scottish Government.
In the past day, there have been 33 new deaths registered, taking the country's toll to 7,164.
A total of 203,012 people have now tested positive in Scotland, with 542 new Covid cases reported – including 17 in the north-east.
The data released each day is on a three-day lag, to account for any errors from incomplete data.
What's the picture like Scotland wide?
The Scotland-wide seven-day positive rate per 100,000 population is 63.6, with 3,476 people testing positive during this period – down around 900 on the previous week.
Of all the tests carried out, 3.2% returned a positive result.
The area of the country with the highest positivity rate is East Renfrewshire, with a rate of 93.2 per 100,000
Aberdeen Covid cases
Aberdeen has an average rate per 100,000 population of 32.8 up from 29.7 during the previous seven-day period.
Seventy-five positive cases of Covid-19 were identified during this period, an increase of 10% (7) on the previous period.
Of all the tests carried out in the region, 1.6% were positive.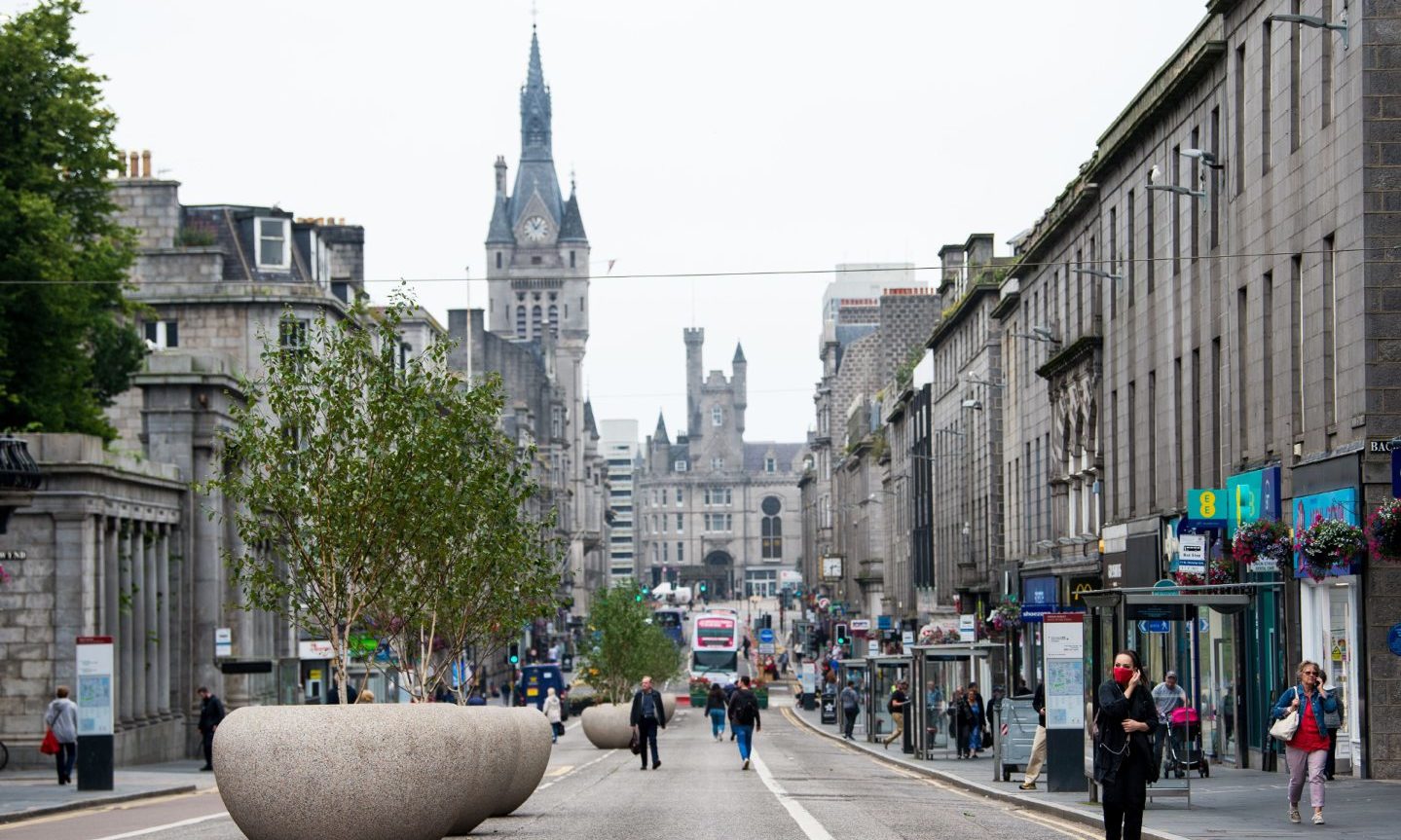 A map showing the breakdown of cases by neighbourhood reveals there are no neighbourhoods in Aberdeen in the two highest categories.
However, Mastrick, Tillydrone, Cummings Park and Midstocket all have a positive rate higher than 100 cases per 100,000 people. These four areas account for about a third of the city's cases.
Elsewhere in Aberdeen, only eight other areas have their cases displayed, meaning 76% of Aberdeen's neighbourhoods only recorded between zero and two cases last week.
Public Health Scotland does not display figures below this level to prevent the identification of individuals.
Aberdeenshire Covid cases
In Aberdeenshire, there have been 59 cases in the last seven-day period, with a positive rate of 22.6 per 100,000 – below that of the Scottish average.
This equates to an increase of almost 20% week on week
The test positivity rate for the region, however, remains low at 1.3% is also below that of the national average.
Of all the Covid cases detected in the region last week, more than 44% of them were discovered in one of the four Fraserburgh areas.
The figures show 11 cases in Lochpots, seven in Central and Academy, five in the Harbour area and three in Smiddyhill.
Elsewhere in the region the areas of Portsoy, Fordyce and Cornhill and Macduff all have a rate of more than 100 cases per 100,000 people. Ellon West has a rate between 50 and 99.
The vast majority of the region, however, has had its data suppressed. Fifty-two of Aberdeenshire's 59 regions have between zero and two cases.
Fraserburgh and district councillor Brian Topping said the increases of Covid cases in parts of the town is "concerning."
But he also welcomed the easing of some restrictions with four people from two households now able to meet outdoors from Friday.
Councillor Topping said: "It is concerning there have a number of cases still going about.
"People should be cautious and careful.
"The lifting of the restrictions is good and we are getting numbers of cases down across the country.
"But we can't ease up and we still need to wash our hands and do social distancing.  If we keep that up the restrictions may be lifted even more."
https://www.eveningexpress.co.uk/fp/news/specials/coronavirus-in-scotland-track-the-spread-in-these-charts-and-maps2001/
Another change to the restrictions is that communal worship in Scotland can restart from March 26, with the limit for services rising from 20 people to 50.
The announcement has been welcomed by faith groups in Aberdeen who have backed the increased limit of worshippers.
Aqueel Ajazi, general secretary at Masjid Alhikmah and Community Centre on Nelson Street in Aberdeen, said: "We are delighted – we felt a bit left out because in England all places of worship remained open throughout.
"We were following the current rules before lockdown – we were restricted to 50 people – and we've got all the social distancing measures in place already.
"We also have measures in place to minimise the time spent in the venue.
"We do more of our Friday prayers and reduced the time so we can cater for everyone.
"It's a very difficult thing to stop someone from entering a place of worship – that's the biggest problem that we've had.
"We have to restrict people, but they have complied.
"For us, it'll be 'business as usual'. We're just happy it's 50 people rather than 20.
"We have a booking system in place on Eventbrite, so it's on a first-come, first-served basis.
"We have five daily prayers and we rarely have more than 50 people coming, so it's mainly just the Friday prayer that's the problem."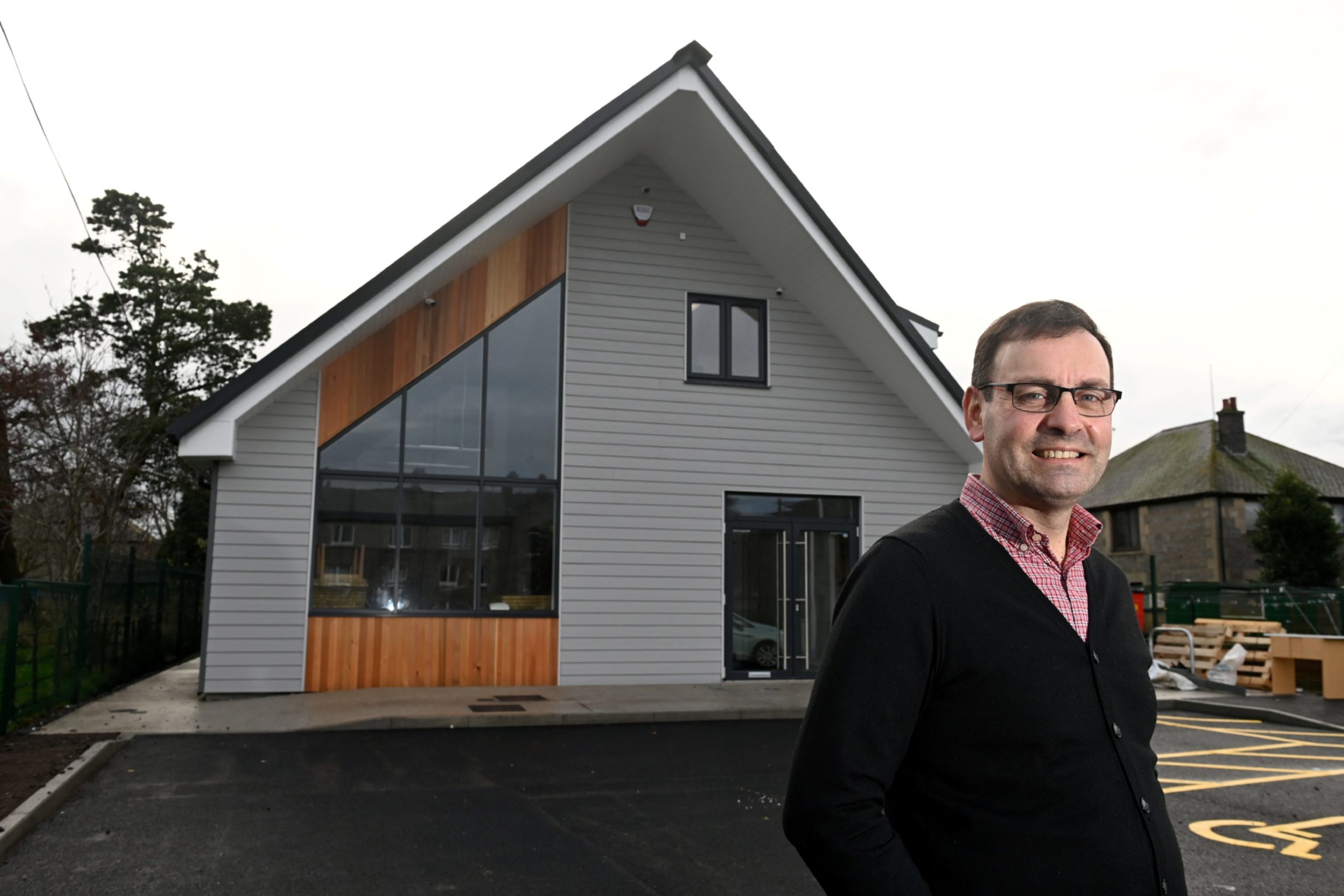 And Barry Douglas, pastor of Seaton Community Church on School Road in Aberdeen, said: "We were delighted to hear the news this afternoon from the Government.
"We look forward to having our first-ever service in our brand new building – obviously socially distanced – with up to 50 people on March 28.
"And what's even more wonderful is that we'll be able to have up to 50 people again on Easter Sunday.
"I'm really delighted about it – what a wonderful way to celebrate together the message of Easter.
"We are going to have an online booking system, so unfortunately, what this will mean is that some people will miss out as it'll need to be a first-come basis.
"What we'll try to do is maybe try to alternate it – we have about 100 people, so maybe one week 50 come and the following week the other 50 will have the opportunity.
"There are some elderly people in our church who are slightly nervous about coming, so we'll still live-stream the services with the technology that we've got in the building.
"So even if they're not able to come to the church, they'll still be able to watch the church online.
"We're just trying to move forward with the times."
https://www.eveningexpress.co.uk/fp/news/specials/covid-vaccine-in-scotland-track-the-rollout-progress-with-these-charts/