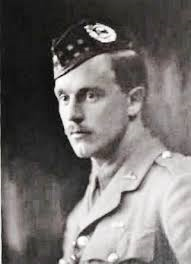 A special fundraising event will take place in Aberdeen this weekend, dedicated to the memory of a World War I hero.
The ceremony and concert is taking place almost 100 years to the day since Captain James Brooke, who was awarded the Victoria Cross, was killed on the fields of Flanders.
Cpt Brooke, who served with the Gordon Highlanders, died on October 29, 1914, after leading two attempts to regain a lost trench under enemy fire. He is buried at Zantvoorde British cemetery in Belgium.
His parents – Sir Harry Vasey Brooke KBE and Lady Patricia of Fairley, Countesswells, Aberdeenshire – were a prominent local family who opened the Kingswells Hall in 1907.
A stone will be laid at the venue in their son's memory as part of tomorrow's commemorations.
The monuments are being installed across the UK as part of a government scheme to honour all of the country's WWI Victoria Cross recipients.
Among the guests will be the Lord Provost of Aberdeen George Adam, as well as Major Malcolm Ross, a descendant of Cpt Brooke.
Performers will include composer and pianist Stuart Mitchell and the Cluny church children's choir.
Catherine Robertson-Ross, of the Soldiers' Charity, said it would be an important moment for the area.
She said: "All throughout Scotland, there are stones being laid.
"The reason I wanted this to go to the hall is that it was opened by Cpt Brooke's family.
"The family were very kind to the local community and today people use the hall every day. Cpt Brooke's name is even above the door.
"For me, it's important the children involved understand the importance of service and sacrifice because I'm not going to be here when the people I help grow old."
Eight other stones are being installed across the north-east in the home town's of Victoria Cross holders.
Tickets for tomorrow's ceremony cost £10 and can be purchased by contacting 07879 854927.
All profits will go to the Soldiers' Charity, the national charity of the British Army.