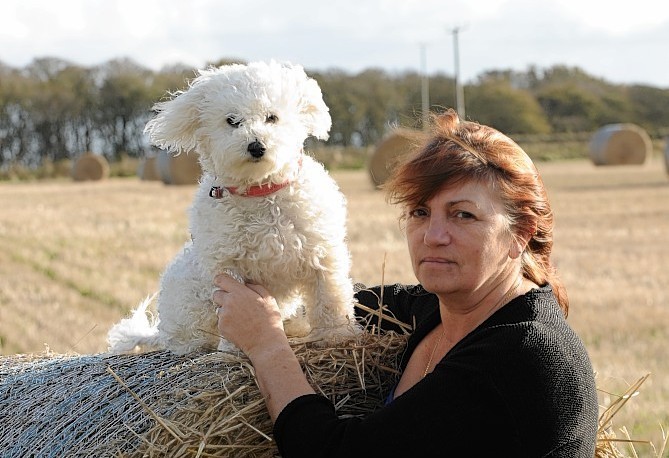 An Aberdeenshire family fear their beloved pet has been stolen after he escaped from their garden.
Two-year-old Milo, a Malchon – a cross between a Maltese and a Bichon – managed to get loose on Sunday.
Owner Jackie Dabell and her family searched around their home at Benholm for five hours, even driving along the A92 Stonehaven to Montrose road twice, but could not find him.
After returning home, the family's hopes were raised when they received a call from a woman claiming she had found Milo and would return him later that night.
However, she never turned up.
Mrs Dabell said: "She said she had picked him up and he'd nearly been hit by a car.
"She said she was from Aberdeen but was heading to Montrose to see her niece when she found him, and said she would drop him into us on the way home.
"We haven't heard from her since.
"I was just so glad that someone had found him and that he hadn't been hit by a car, I didn't think to ask her name or number. I took it for granted she would bring him back since she had called to say she had found him."
The 55-year-old now wonders if the woman, who got the family's phone number from Milo's dog collar, was phoning to find out what the dog was like before keeping him.
She said: "She asked me if he was an old dog, and if he was good with kids.
"Now I can't help but wonder if she was sussing him out or not."
Mrs Dabell and her husband Paul contacted the police to ask if they could trace the woman's number, but say they were told it would not be possible.
Mr Dabell said he had offered to pay, but was told it was a method only used for serious crimes.
A police spokesman said last night he was unable to comment on operational matters.
However, he confirmed the force was making inquiries into the whereabouts of Milo.
Mrs Dabell said the whole family were heartbroken about Milo – including their other Malchon, Mika.
"He goes everywhere with me," she said. "Everyone who meets him wants him and loves him.
"The only place the dogs aren't allowed is on the bed, but for the last couple of nights Mika has curled up at the bottom of the bed. She must be feeling a bit lonely, as they usually cuddle up together. She's running about looking for him."
Almost 1,200 people have joined a Facebook page to help find Milo.