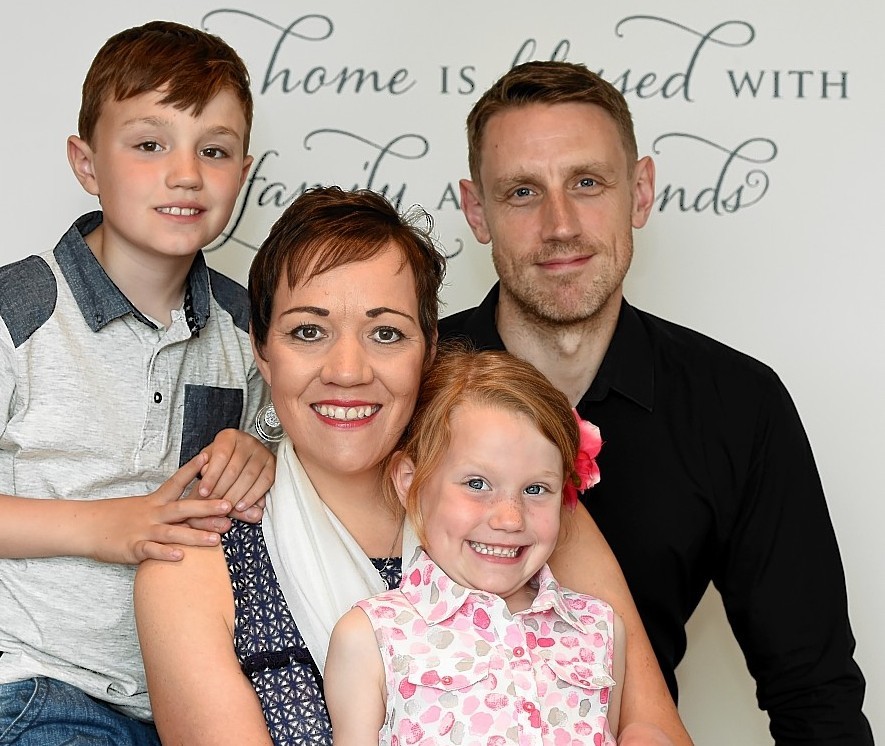 A mother-of-two has raised more than £20,000 for charity – after battling a brain tumour that doctors initially diagnosed as hay fever.
Suzanne Davies started suffering regular headaches last year, shortly before her 36th birthday, and forgetting everyday words.
She eventually went to her doctor and was initially told she was suffering from hay fever.
But as her symptoms continued, Mrs Davies went back for another check.
Within two hours, she had been sent to Aberdeen Royal Infirmary for scans which confirmed she had a tumour the "size of a golf ball" in the speech part of her brain.
Nine days later, Mrs Davies underwent a craniotomy to remove the mass – opting to stay awake for most of the six-hour procedure so surgeons could check her brain functions as they worked.
The 37-year-old, of Cliff View, Newtonhill, said: "As soon as I was given this option, I knew straight away it was what I wanted to do.
"I wanted to give myself the best outcome – I wanted to still be able to read our kids bedtime stories and do homework with them.
"The surgery went well, and although the tumour will never be gone completely it was a good result and I'm recovering well."
Mrs Davies, who is married to Owen and has two children Max, eight, and Lauren, five, is now recovering well, and will have regular checks to ensure the tumour does not grow.
Now she is focusing on raising as much cash as possible for the Brain Tumour Charity, along with the help of her family and friends.
Together they have already raised £20,834 in eight months, with events including a race night in Stonehaven, an Easter egg hunt and collection tins at Mrs Davies's sister's wedding.
Mr Davies, 42, also completed the Tough Mudder at the weekend.
The family was spurred into action after discovering only about 2% of funding goes towards researching brain tumours.
Mrs Davies – who also raised £520 for Friends of Anchor by taking part in this year's Courage on the Catwalk – said: "The diagnosis couldn't have come at a worse time, my youngest was starting school, my sister was getting married and I was her maid of honour.
"Five weeks before the diagnosis my life was normal, and then I got my headaches and began forgetting words. It just came on so quickly.
"You could sit in the corner and cry about these things or get up and get on, and that was how I dealt with it. I stayed really positive and just didn't let it enter my mind that things would be anything other than fine. My husband and family have been amazing and so supportive.
"To raise £20,000 in eight months is amazing, we're just delighted. The majority of people want to help and the response we've had is overwhelming."
The family now plan to take a step back from fundraising and focus on enjoying themselves – with a trip to Florida on the cards for later this year.
"I just look at the kids and see how lucky I am with my husband, family and friends, and am living life the best I can," Mrs Davies said.
"For our 10th wedding anniversary earlier this year I had an annual work conference in Las Vegas and then Owen and I went to New York.
"We're hoping to take the kids to Florida in October – these are the things we've always wanted to do. Some people want to do up their house or garden, but these are the things that are important to us."
An afternoon tea with fizz will be held at Kippie Lodge, Milltimber on July 5 in support of Mrs Davies' fund and tickets are available by contacting Lisa Wilson on Facebook.
To donate to Mrs Davies's fund visit www.justgiving.com/suzeonamission/8.