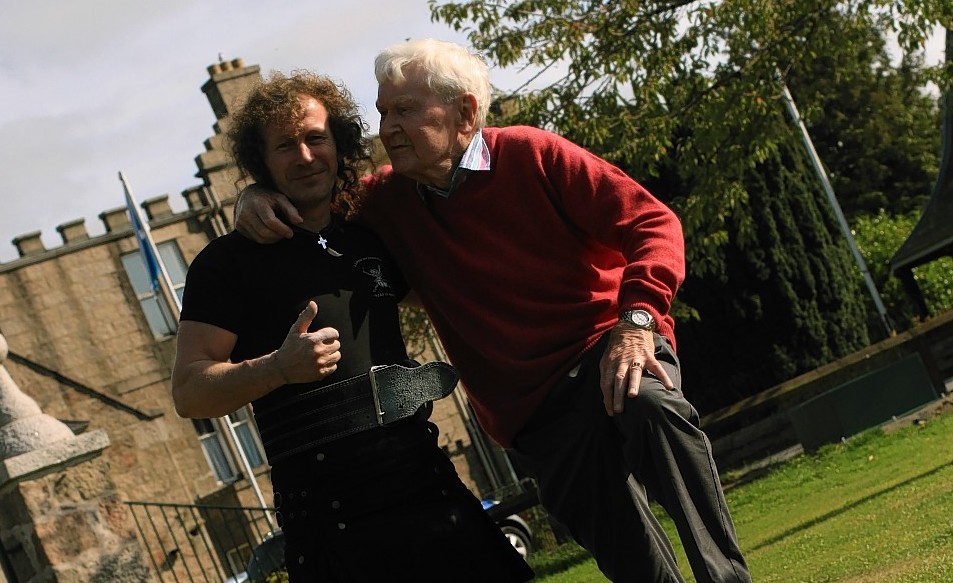 In 1973 an unassuming Northern Irish policeman weighing under 12 stone stunned the north-east by becoming the first man to recreate a legendary feat of strength first carried out by local strongman Donald Dinnie 113 years before.
And on Saturday, at the age of 80, Jack Shanks returned to Deeside to watch his son Stevie follow in his footsteps and lift the "Dinnie Stanes" more than 40 years on – fulfilling a promise he made at just eight years of age.
The father and son travelled from their native Belfast with a crowd of family and friends to watch the 52-year-old drummer carry out one of his life ambitions in Aboyne Green – just six miles from where both Jack and strongman Donald Dinnie undertook the challenge at the historic Potarch Bridge.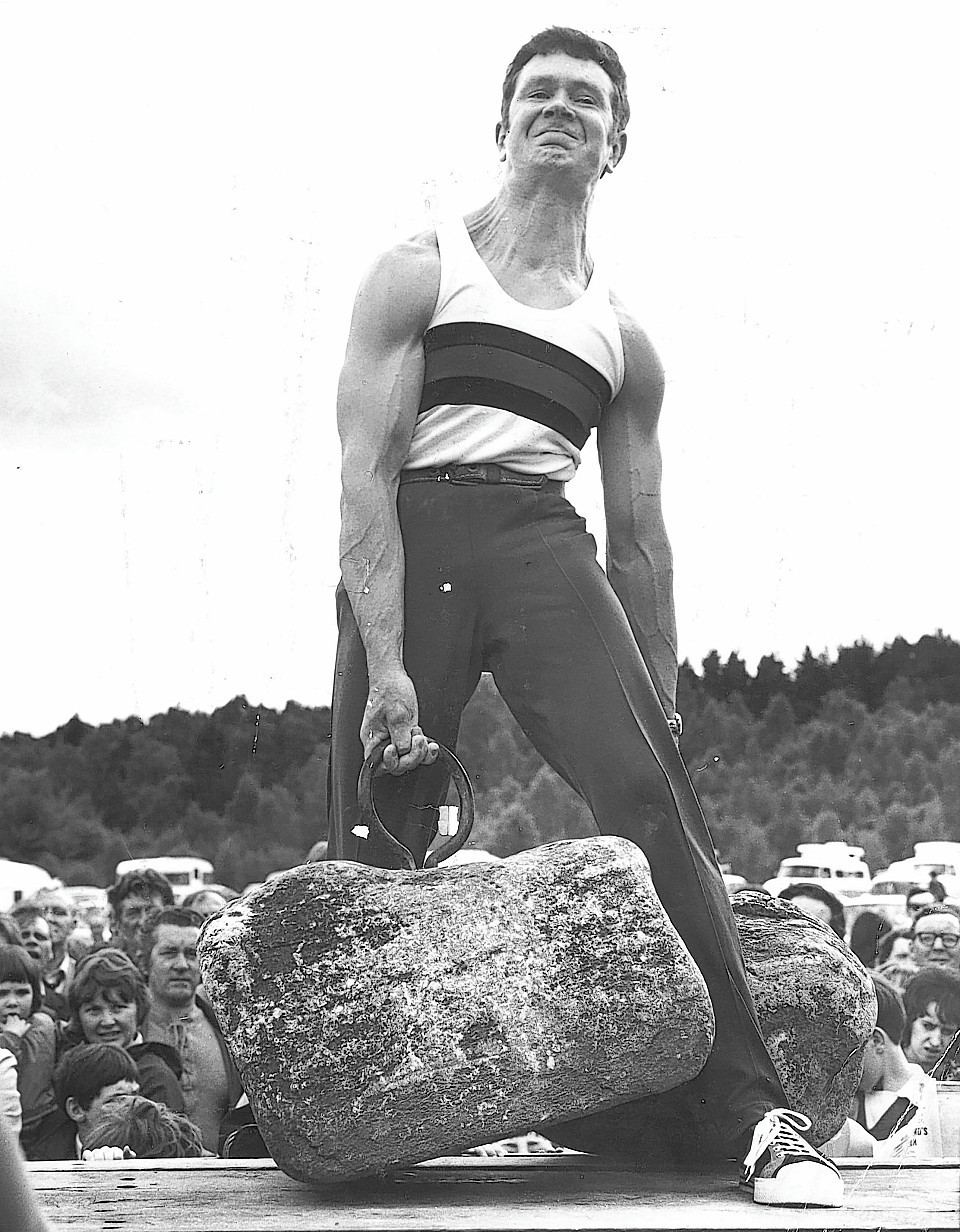 Jack is credited with being first person to lift the two massive stones unassisted the same distance as Birse athlete Dinnie himself did in 1860 – carrying them a distance of 17ft across 15 lifts of the weights in 1973.
The year before he became the first man to lift the stones unsupported.
In an article in the Press and Journal in June 1973, David Webster – an authority on Donald Dinnie and the man who brought the stones back into the limelight – described Jack's effort as "the most historic attempt this century" and a "phenomenal feat".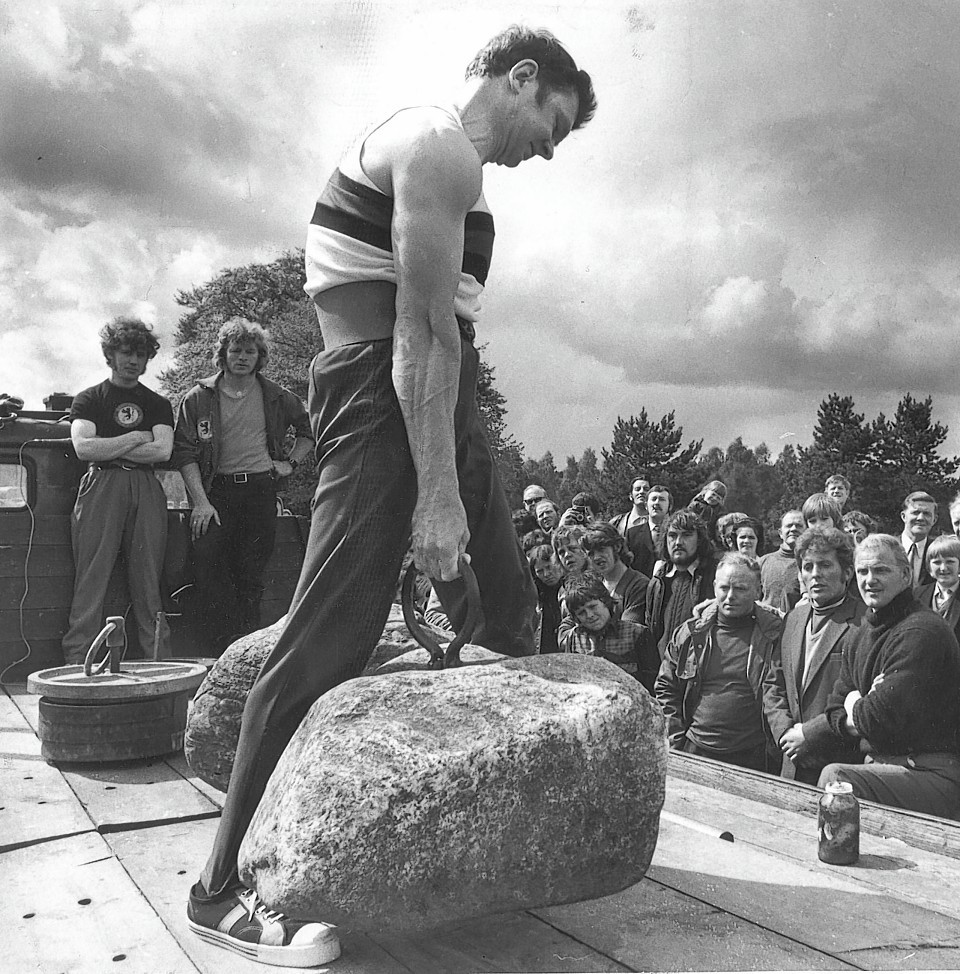 There were tears of pride and relief from Stevie and his family after he, with a loud roar, successfully hoisted the mighty boulders in the sunshine of Aboyne on Saturday morning.
The historic blocks weigh approximately 23 stone each and the pair are now believed to be the only father and son to have lifted them since Donald Dinnie and his father, Robert.
The Shanks' were joined by Bridge of Don's Jim Splair on the day, who lifted the stones 65 times between 1973 and 1994.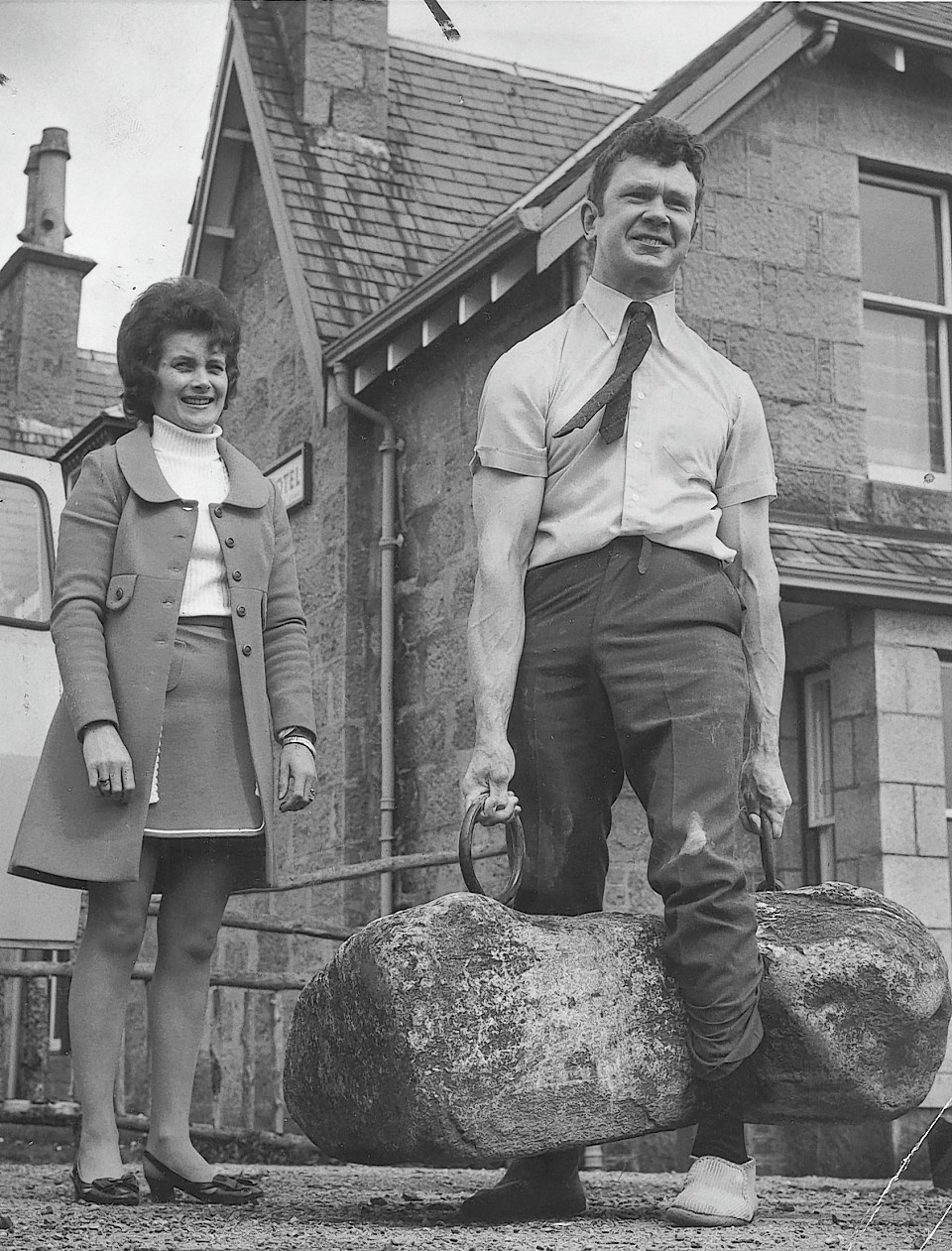 Together the three of them are the lightest ever lifters of the boulders – and Stevie is the second oldest.
"It is not about me lifting the stones, it is about adding to my dad's story," said the musician – who is also a record-breaking power-lifter in his native Northern Ireland.
He added: "Today is a very emotional day because of my dad's history. It is a very personal thing for my dad and I am so pleased he is here.
"He was the first man to do it since Dinnie, to show it could be done. I am relived if I am honest because I did not want to let anybody down – that was my biggest fear.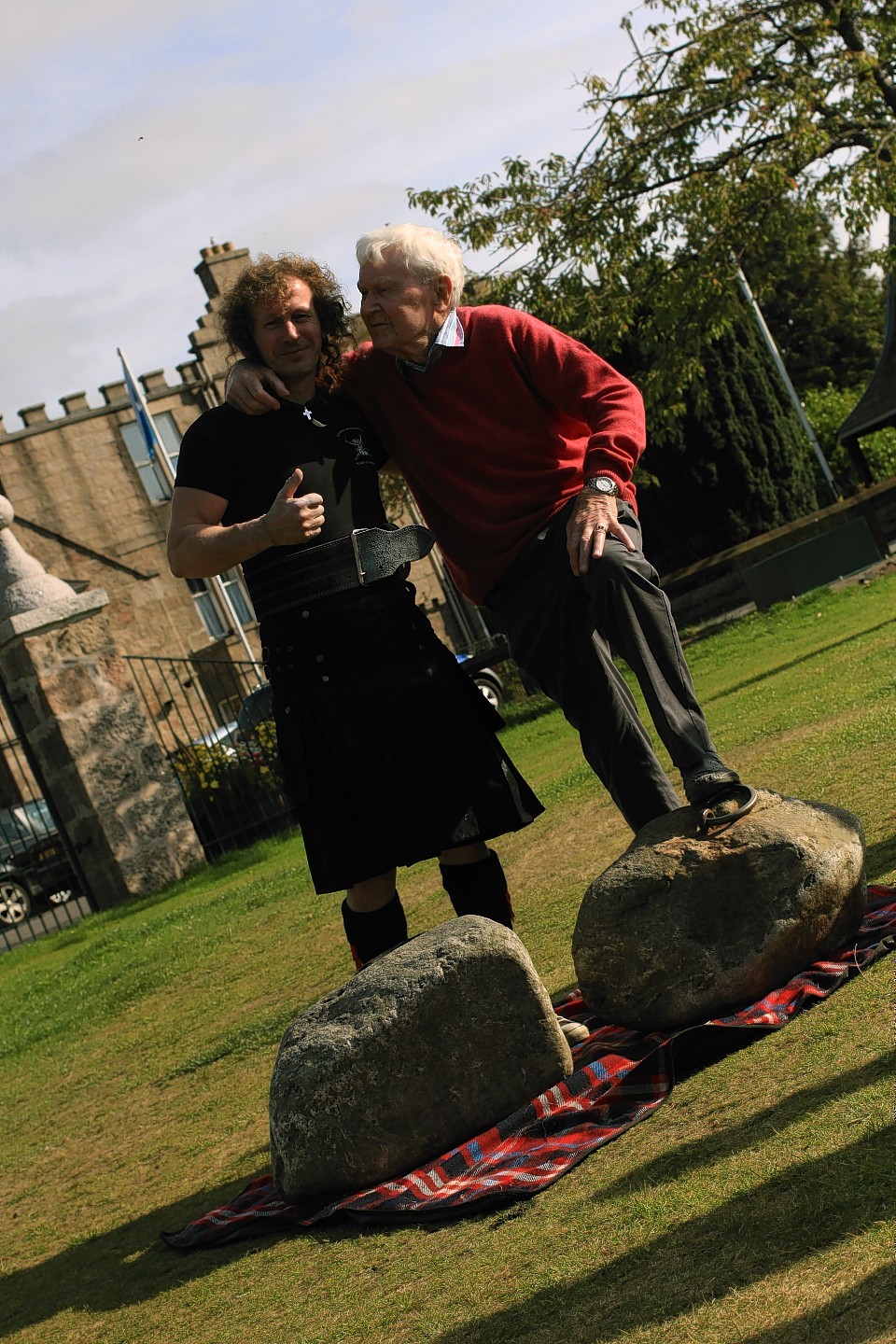 "My dad first heard about them in 1972. We live in Belfast and there was a newspaper article David Webster wrote about a challenge about someone to lift the stones the way Dinnie had done it, bare hands, no straps.
"Dad at the time was British dead lift champion and came over here in 1972 to Potarch and lifted them with bare hands and he was the first man to do so since Dinnie in like 100 years.
"He came back here in 73 and crossed the Potarch Bridge with them with his bare hands.
"Forty-three years ago when I was eight I promised him I'd come here and lift the stones."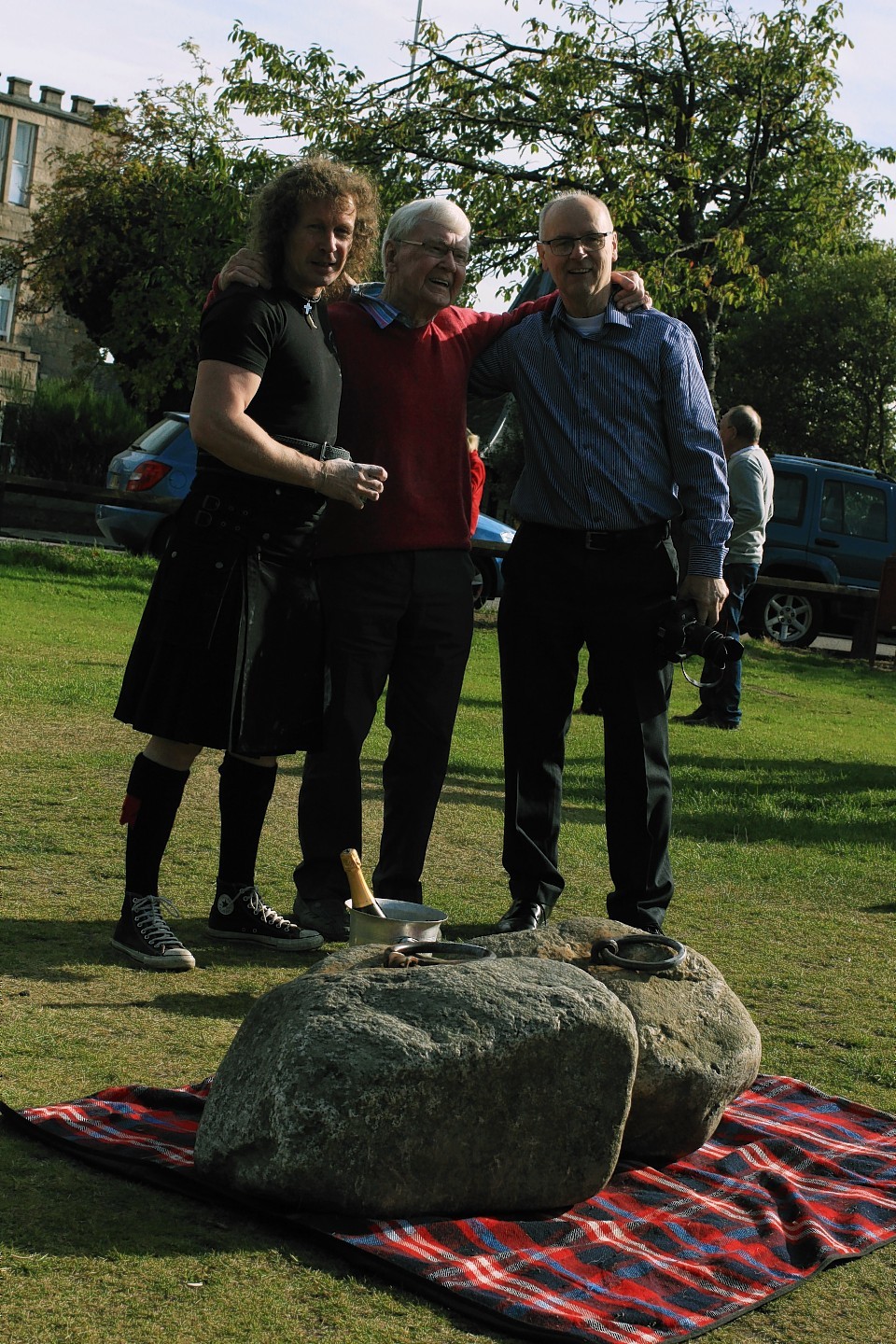 Stevie – who at 11stone 7lbs weighs roughly what his father did when he lifted the Dinnie Stanes- only started weight-lifting at the age of 50, and after building his strength up set his eyes on coming to Deeside at last.
He said: "I have been working specifically now for a year just to lift the Dinnie stones."
Proud father Jack said: "I lifted them 43 years ago and then the following year then went back again and carried them for 17ft. I lifted them about 15 times. I was glad to get to the end.
"Steven is 52 years of age and he suddenly took a notion a year ago he would do this and I am just so pleased for him you know."
His emotional wife Joyce Shanks said: "A lot of friends came as well, we supported Steven very well. I just want to hug, hug, hug him."
Chairman of Aboyne Highland Games – who look after the Dinnie Stanes- Ian Scott said: "We discount a lot of people who want to come and lift the Dinnie Stones but here was a story of a father and son and to our knowledge that hasn't happened before. We are just delighted."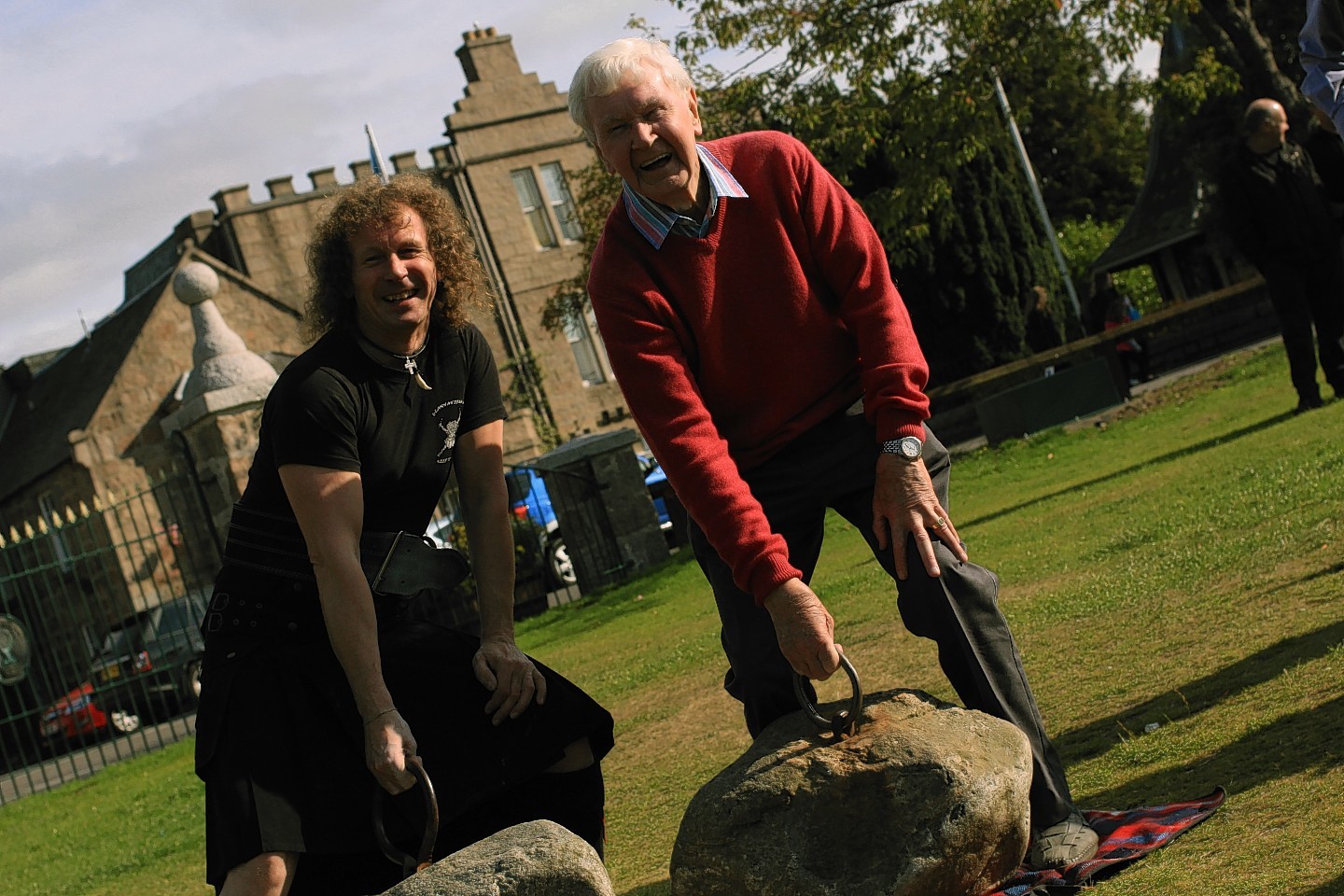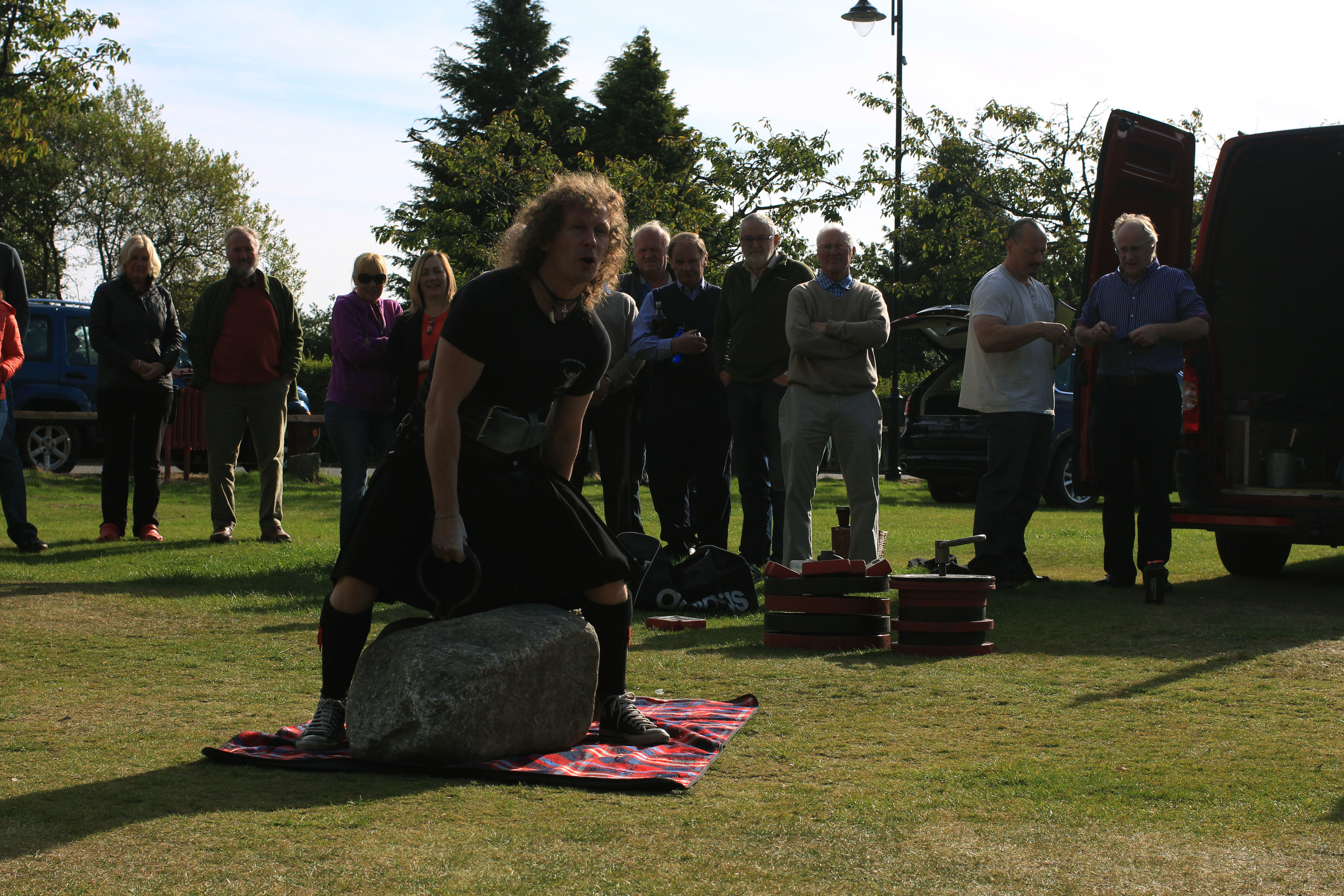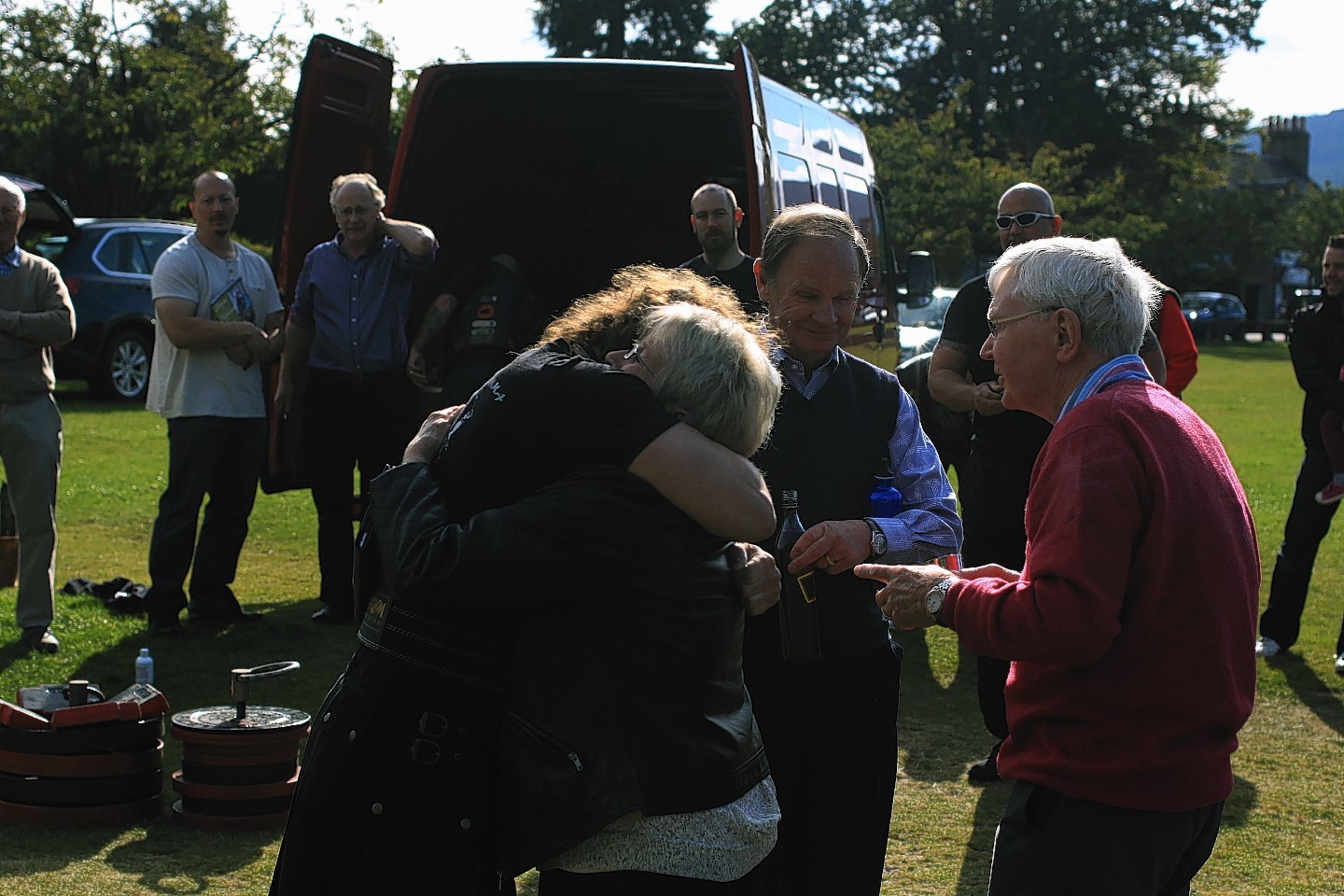 "I did this in friend's memory"
Stevie Shanks said he completed the trip to Aboyne and lifted the stones in memory of his friend, Peter Martin – an expert in Scots stone lifting who died a week before he travelled to Scotland.
Mr Martin of Aryshire had set up the trip to Deeside and had been hoping to travel north from Glasgow to watch the Dinnie Stanes being lifted for the first time in his life.
Stevie said: "I know it sounds corny but when I was standing over the stones I was thinking about my Dad and about Donald Dinnie and my friend Peter Martin – a local historian on the stones.
"Peter set this up for me, he was 56 and he's been involved in Scottish stone lifting and strength culture all his life. His Dad was famous in those circles.
"Peter died last Friday so I am kind of dedicating this lift to Peter's memory. He's from Glasgow but his family were very much into strength culture.
"He'd seen all the other stones lifted, he'd seen the Inver Stone done but he'd never seen a Dinnie lift. This was something he was really looking forward to."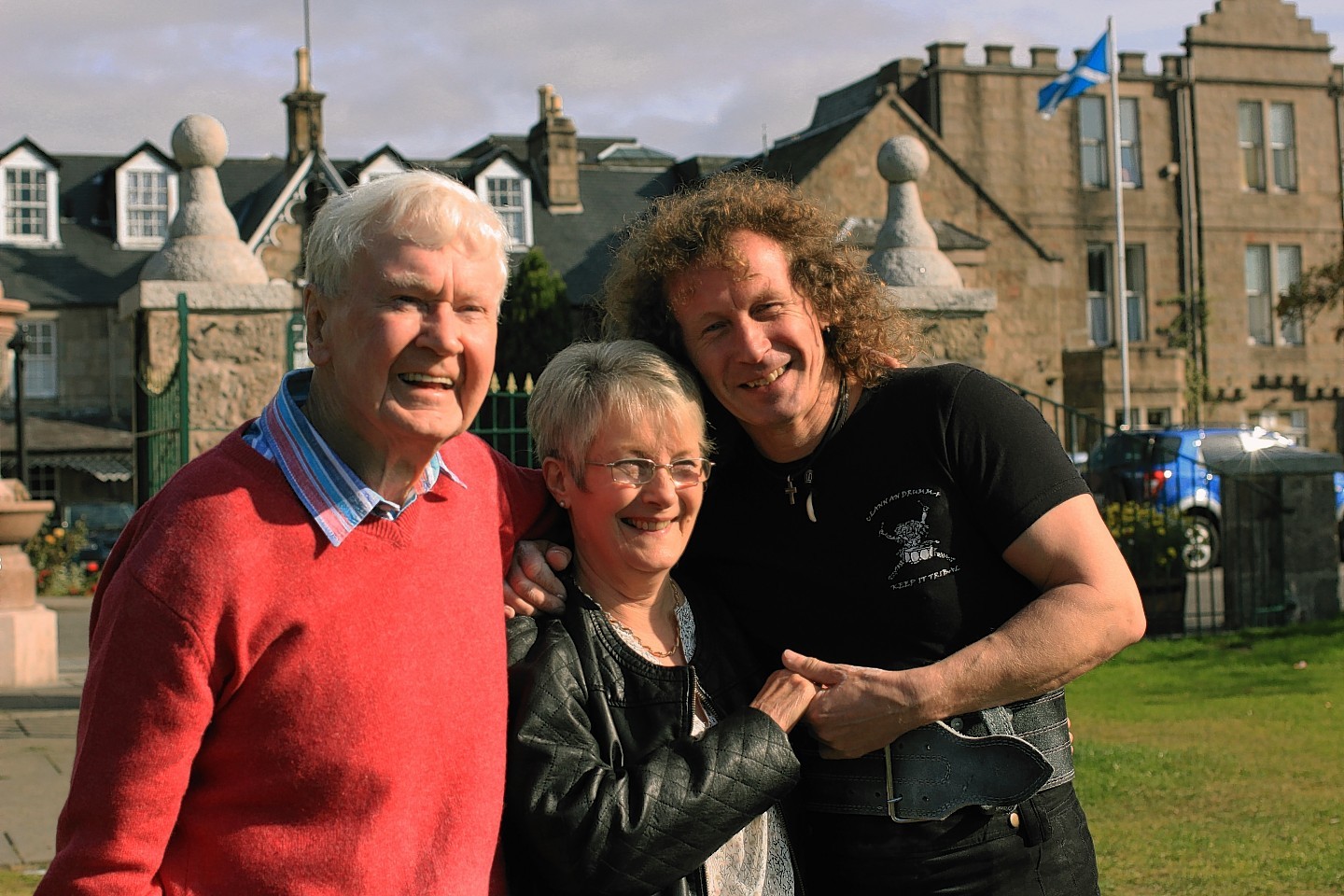 Stevie said he had not found the sight of the boulders themselves daunting, adding: "It wasn't a fear of the size of the stones it was an appreciation of the legend.
"I was prepared as I could have been so all I had to do was stand there and pick them up.
"I came over here when I was playing a gig in Aberdeen and I went to visit them at the Potarch Hotel and I couldn't lift the small one with two hands. That was fifteen years ago I was only nine stone four then."