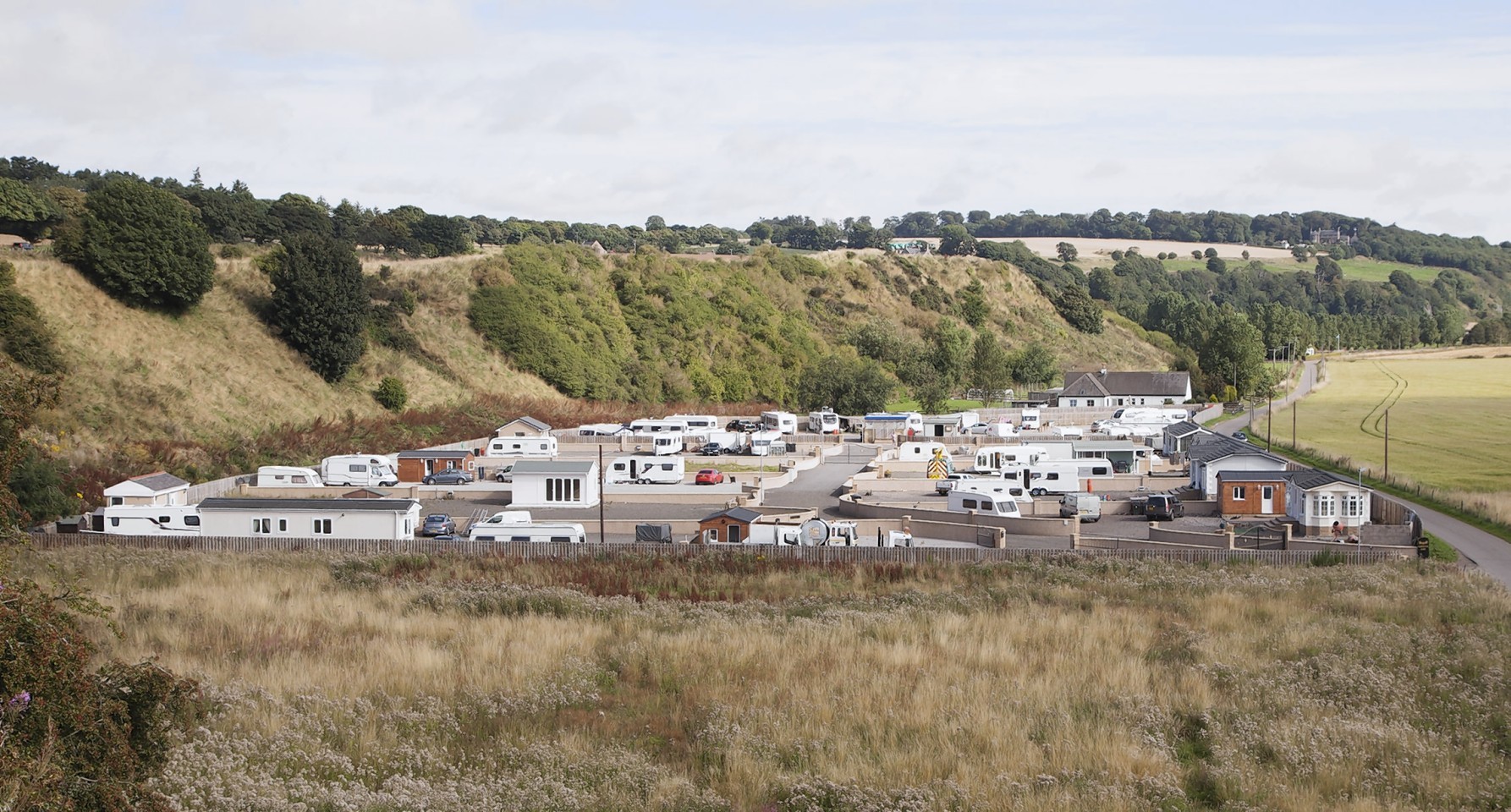 Travellers living on an unauthorised camp in Aberdeenshire have made a fresh bid to turn it into a permanent fixture – on the day plans for an official site in the area were rejected.
Uncertainty around the future of North Esk Park near St Cyrus was cited by councillors as a factor in their rejection of a £560,000 travellers' site scheme at Laurencekirk's Fourdon Road yesterday.
But the local authority's gypsy-travellers sub-committee agreed to proceed with plans to turn disused a quarry site at Aikey Brae, near Old Deer into the region's first official traveller's stopover site.
The decisions were made as residents of the unauthorised camp near the St Cyrus nature reserve lodged a fresh planning application with the council.
Families moved on to the land in September 2013 and have since created a complex with electricity, fencing and roads – with about 20 caravans in place.
North Esk Park residents James McCallum and William Docherty tried to win permission for a permanent halting and touring site on the grounds earlier this year – but it was rejected due to flooding concerns.
Then in September Aberdeenshire Council served an enforcement notice on residents of the camp telling them to quit the site – which was appealed to the Scottish Government.
Spokesman for the North Esk Park community, Alan Seath, said fresh planning documents asking for consent to turn the site into a permanent fixture had been sent to the local authority yesterday.
He added: "We'll continue working on what we are working on which is the planning application for St Cyrus – which was submitted today.
"Additional information is still to be submitted. The bulk of the plans and documents have been posted in to the council.
"We have been examining all the technical issues. It is quite early days."
He added the council's decision to scrap plans for the Laurencekirk camp was "interesting", adding: "I would have to leave it up to the decision-makers at the council to come to that conclusion.
"All I know is St Cyrus is very well run and managed, it is a very tidy site and very well used. It is a good resource."
Mearns councillor George Carr tabled the motion at yesterday's meeting to reject the proposed halting site at Laurencekirk's council depot – saying it had not been subject to enough community consultation.
Mr Carr said: "I took forward the motion that we reject the Laurencekirk site on the basis that the travellers' site is outwith the local development plan and the St Cyrus site is still pending and its future is uncertain at the moment.
"There would also be impact from a development in the area, there was that and the fact there was insufficient consultation. We need to make sure that we are actually ahead in the game and taking communities with us and involving them from the start.
"The work on Laurencekirk is not going ahead, full stop. It won't be going any further."
SNP councillor Allan Hendry, chairman of the gypsy-travellers sub-committee, said: "We are desperate for a site in that area. Various other places have been suggested by local members. Council officers will have to make inquires into another site.
"There is still a long way to go. It is very difficult. We have got to find somewhere for them to go to. We can't continue the way we are."
The stopover site at Aikey Brae will cost the council an estimated £350,000 and will be discussed by the local authority's Buchan area committee and then a full meeting of Aberdeenshire Council.