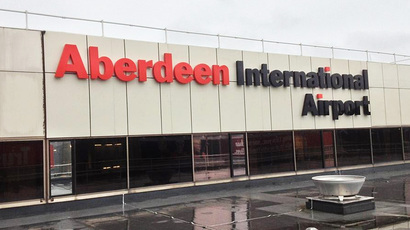 The number of crimes taking place at Aberdeen International Airport is four times higher than it was three years ago.
The figures for 2014/15 are up from 332 last year to 391.
There were just 119 crimes in 2012/13.
The types of offences range from driving crimes and fireraising to being drunk in charge of a child and sexual assault.
Offences relating to aviation legislation, which can cover everything from smoking on a plane to carrying firearms on board, were committed most often.
A total of 337 incidents were logged relating to aviation legislation over the last year.
The second highest figure for 2014/15 was for driving licence offences, with 23 recorded.
There were also four assaults, six cases of resisting arrest, 14 offences involving "threatening or abusive behaviour" and 17 breaches of the peace.
An Aberdeen International Airport spokesman said: "Security will always be a top priority and we work closely with Police Scotland to ensure our airport remains a safe environment for everyone who passes through our doors.
"The increase in figures can be attributed to a recent change which now enables Police Scotland to issue formal warnings to those who are in breach of airport by-laws as opposed to informal warnings, as was the case previously."
Staff at Aberdeen International Airport now have the power to issue formal warnings, which are recorded on a system to identify any repeat offenders before a charge is enforced.
A Police Scotland spokeswoman said: "Officers based at Aberdeen International Airport are present to ensure the safety of passengers, staff and crew of the airlines who operate there."