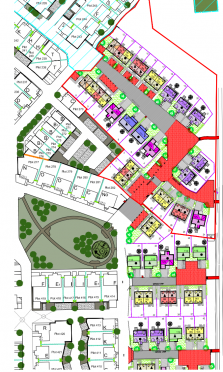 More than 50 homes could be built in an Aberdeen suburb if new plans get the go-ahead.
Kirkwood Homes want to build the housing and access routes on Charleston Road in Cove.
The development, near High Street, would lie between sites where Scotia Homes and Stewart Milne Holmes are in the process of building more than 700 houses.
In a statement, Kirkwood Homes said: "The development is formed with a mix of terraced, semi-detached and detached properties which all front closely to the street.
"The semi-detached and terraced blocks are 1.75 storeys in height and have dormer windows which maintain a traditional low eaves height throughout.
"The detached dwellings are a mix of one-and-a-half and two storeys in height and have dormer windows and gable features throughout – all to compliment the semi-detached and terraced blocks."
The developers tell council planners in their statement that they have considered the "wider proposals" for Cove while designing their scheme, to ensure it is in keeping with the area's masterplan.
Their statement adds: "The proposal will provide a range of house types within Cove that will integrate with adjacent development proposals by Scotia Homes and Stewart Milne Homes and provide necessary connectivity to existing and proposed community facilities."
The Cove masterplan was launched in 2010 and aimed to revitalise the area by creating a high street with increased commercial space alongside more homes.
And Councillor Neil Cooney, of the Kincorth, Nigg and Cove ward, said the area was ready for more homes.
He said: "It's a well-prepared development which is a part of the development plan going on in Cove.
"There are 1,000 homes being built in the Loirston and Charleston area and they are good quality homes.
"They are decent plans and we desperately need homes for young people in Aberdeen."