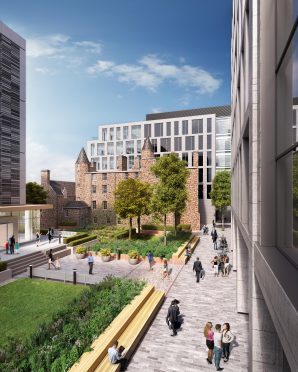 A leaked council document has revealed early proposals for the controversial Marischal Square development could have resulted in the historic Provost Skene House being "integrated" with a hotel.
A restricted city council financial report details an early bid from Muse Developments – referred to as "Bidder C" – which detailed its initial plans for a hotel, office, and retail complex at the former St Nicholas House site.
The report, which is a summary of the company's bid, states: "Their scheme proposes Provost Skene's House being integrated with a new hotel development although potentially providing the same type of space.
"They also propose it being used as a marketing suite for the development. All this has been put forward as a proposal rather than a requirement."
But last night Muse Developments denied there were ever any plans to join the hotel with the historic building.
Last month, it was announced there would be £500,000 worth of refurbishment works carried out to the 16th century site.
Council chiefs will meet with Historic Scotland to discuss the funding renovation project – with bosses saying it will be the "focal point" of the development.
Opponents of the scheme have previously raised concerns the £107million development would have a detrimental impact on the A-listed building.
A Muse Developments spokesman said last night: "In the very early stages of our proposals for Marischal Square, we were discussing a number of different approaches around how to best have the historic Provost Skene's House play a prominent role within the development.
"The Aberdeen public's admiration for the building became very clear, very quickly at the various project consultation meetings we held in and around the city, and that led us to increase the space around the building in the final planning application made to Aberdeen City Council.
"The £500,000 investment being made on the refurbishment of the building as part of the wider Marischal Square development, will help ensure Provost Skene's House will be more easily accessible, enjoy an enhanced setting and once again play a key role in the city centre regeneration activities being led by the council."
Aberdeen City Council has confirmed Provost Skene House will reopen as a museum when the wider Marischal Square development is completed in 2017.