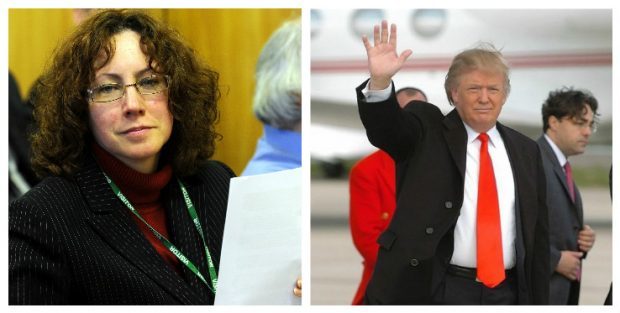 Remarks made by Donald Trump have prompted calls for him to be banned from the UK under hate speech laws.
Mr Trump, who is seeking the Republican nomination for next year's presidential election, sparked anger and derision with his comment, which came hard on the heels of a controversial call for all Muslims to be blocked from entering the United States.
The Government has so far declined to comment on the growing clamour for the US presidential hopeful to be barred from coming to Britain after he claimed that parts of the capital were "so radicalised" that police were "afraid for their own lives".
Home Secretary Theresa May has the power to exclude an individual if she considers that his or her presence is "not conducive to the public good or if their exclusion is justified on public policy grounds".
The petition  called "Block Donald J Trump from UK entry" was started by Aberdeen woman Suzanne Kelly.
A statement on the petition says: "The UK has banned entry to many individuals for hate speech.
"The same principles should apply to everyone who wishes to enter the UK.
"If the United Kingdom is to continue applying the 'unacceptable behaviour' criteria to those who wish to enter its borders, it must be fairly applied to the rich as well as poor, and the weak as well as powerful."
Cases in which high-profile figures have been refused entry to Britain include:
Tyler, The Creator, who co-founded hip-hop collective Odd Future, was barred in August. His explicit lyrics have drawn accusations of homophobia and misogyny.
Julien Blanc, an American "pick-up artist", was blocked in November last year after his advice on how to attract women sparked fury.
Rapper Snoop Dogg was temporarily excluded when he was refused a visa in 2007, but the ban was eventually lifted, allowing him to play at Glastonbury in 2010.
Former champion boxer and convicted rapist Mike Tyson was banned from entering the UK in 2013 ahead of a planned promotional tour for his autobiography.
R&B singer Chris Brown was denied a visa to enter the country days before his UK tour was due to start in 2010. The US star had previously been sentenced to community labour for assaulting then-girlfriend Rihanna, the pop singer.
A London MP has also called for US presidential hopeful Donald Trump to be banned from the UK after he claimed that parts of the capital were "so radicalised" that police were "afraid for their own lives".
The call from Labour's Tulip Siddiq came as a petition on the parliamentary website calling for Trump to be kept out of the country
topped 75,000 signatures – well on the way to the 100,000 needed for it to be considered for debate in the House of Commons.
David Cameron's official spokeswoman said the Prime Minister would "clearly disagree" with the would-be president and branded his comments about Muslims "divisive, unhelpful and quite simply wrong", while London mayor Boris Johnson dismissed Mr Trump's "ill-informed" comments as "nonsense".
Labour leader Jeremy Corbyn said: "Trump's call to ban Muslims from entering the US is an attack on democratic values." He said the remarks were an "affront to common humanity" and called for people to "unite against racism".
Ms Siddiq, who represents Hampstead and Kilburn, said Mr Trump's remarks were "dangerous".
"I would say to him you are not welcome in our country in the same way that you want to ban people like me going into your country," Ms Siddiq told BBC Radio London. "I have Muslim cousins living in America who consider themselves very American. He's trying to stop me going into his country, well I would like to stop him coming into my country.
"I don't think we need someone poisonous like Donald Trump in our capital city that we are so proud to live in, and in our country."
Speaking to MSNBC in the US, Mr Trump said: "We have places in London and other places that are so radicalised that the police are afraid for their own lives. We have to be very smart and very vigilant."
Mr Cameron's official spokeswoman said: "The Prime Minister would clearly disagree with Donald Trump and think that his views are wrong."
The Downing Street comments represent a departure from the practice usually followed by British prime ministers of avoiding commentary on the merits of contenders in the US presidential race.
Mr Johnson ridiculed the business tycoon, who is seeking the Republican nomination for next year's presidential election, saying "the only reason I wouldn't go to some parts of New York is the real risk of meeting Donald Trump".
He said: "Donald Trump's ill-informed comments are complete and utter nonsense.
"As a city where more than 300 languages are spoken, London has a proud history of tolerance and diversity and to suggest there are areas where police officers cannot go because of radicalisation is simply ridiculous.
"I would welcome the opportunity to show Mr Trump first hand some of the excellent work our police officers do every day in local neighbourhoods throughout our city.
"Crime has been falling steadily both in London and in New York – and the only reason I wouldn't go to some parts of New York is the real risk of meeting Donald Trump."
A Metropolitan Police spokeswoman said: "We would not normally dignify such comments with a response, however on this occasion we think it's important to state to Londoners that Mr Trump could not be more wrong.
"Any candidate for the presidential election in the United States of America is welcome to receive a briefing from the Met Police on the reality of policing London."
The Muslim Council of Britain offered to take Mr Trump for lunch if he visited London.
A spokesman said:" We know that Mr Trump does not represent the views of ordinary Americans, and we reject his ignorant remarks suggesting that London has no-go areas where even the police are afraid to enter.
"Should he be allowed to enter the UK, and if he is able to name such areas, we would be happy to organise a multi-faith delegation to accompany Mr Trump and tour these areas and pay for his lunch."
Mr Trump's call for a "total and complete shutdown" of Muslims entering the US came in the wake of last week's terror attack in San Bernardino, California, where a Muslim couple believed to have been radicalised shot 14 dead at a health centre.
Labour MP Stella Creasy condemned Mr Trump as a "hate preacher".
Downing Street has so far declined to say whether his comments might lead to him being barred from entry to the UK under hate-speech laws.