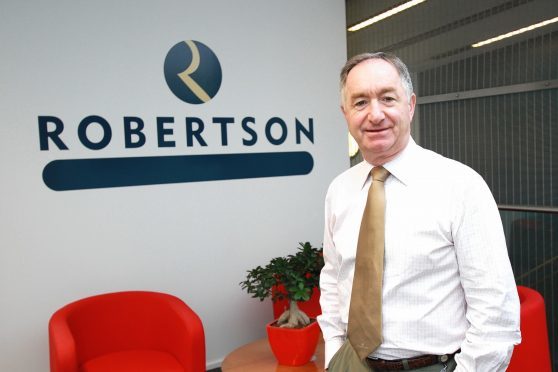 Scottish infrastructure firm Robertson Group yesterday reported a record turnover for its latest financial year, but said the oil and gas downturn had squeezed its north-east division.
Executive chairman Bill Robertson said the Granite-City-headquartered eastern division had lost out on about £8million as a result of cancelled orders and delayed start dates.
But Mr Robertson said there are signs that positivity is returning to the region after a tough two years.
He said: "Some orders are now coming through. It's good to see some of our clients agreeing to go forward with projects, including the hotel sector."
Mr Robertson, who founded the business in Elgin in 1966, was speaking after the group published its figures for the year ended April 3, 2015.
The group said its regional business model had helped it rise above a highly competitive marketplace to deliver a record turnover.
The Elgin and Stirling-headquartered group, which is nearing the end of a five-year growth plan, said the model had allowed it to stretch as far south as Yorkshire and the East Midlands.
For the year ended April 3, 2015, Robertson increased staff numbers across its 18 separate businesses to just over 1,700 people, up 15%. Revenues went up at the group's housebuilding, facilities management and timber engineering divisions – and its order book has never been healthier, at a value of £1.7billion.
But the company still saw its pre-tax profits nosedive to £11.77million from £34.6million for the period, despite posting a turnover of £288million, up 14% year-on-year.
Mr Robertson said profits were swollen last year after the group released investments it had been holding as part of a change in its finance strategy, motivated by challenges in the banking industry following the recession.
Income from construction was up 12% to £217.6million, contributing more than any other of Robertson's operations.
Mr Robertson said: "These results are testament to the work the group has undertaken in the last five years. I believe our regional business model has been our strength in recent times."
Over the course of the growth plan, which began in 2011, the group has created seven new businesses and added hundreds of new employees to its workforce.
Mr Robertson said each of the group's businesses are now turning a profit.
The group's joint venture regeneration company, Urban Union, has been involved in the development of hundreds of social and private homes in Glasgow and Edinburgh.
Mr Robertson said the group recently missed out on a social housing project in Aberdeen, but is ready to bid for more work in the region.