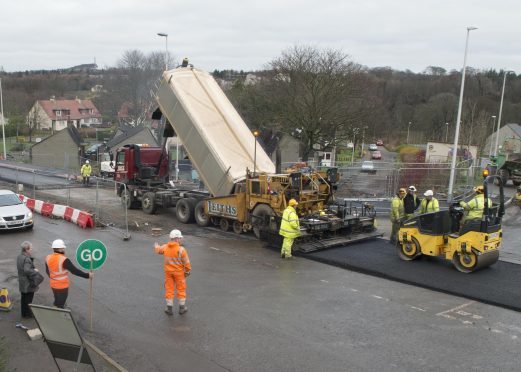 The long-awaited Third Don Crossing has taken another major step forward this week.
Construction teams are nearing completion on all the major structures involved in the £18million amenity, which will provide motorists with a new link across the River Don between Grandholm and Tillydrone.
It is hoped the new crossing will ease traffic congestion in the north of Aberdeen.
All of the retaining walls are nearly finished with concrete already poured into the Don Bridge deck, while the Mill Lade Bridge is also close to completion.
Meanwhile, road construction works at the south side of the bridge are ongoing with the majority of the project from Gordon Mills Road to Meadow Place complete.
Work from the Tillydrone Road to Coningham Terrace junction to St Machar Drive is also nearing a finish.
Operations on the east side of Gordons Mills Road are currently ongoing and work is being carried out to widen the junctions at St Machar Drive roundabout, and replace it with traffic lights.
A new road from Grandholm Village to Laurel Drive is also being constructed, with a temporary diversion in place to allow a pedestrian and cycle underpass to be constructed.
The project requires the creation of two major bridges, with the first being an 85ft reinforced concrete crossing over the Mill Lade at Grandholm Village and the second a near 300ft steel box span over the Don.
A new single carriageway link road is being built between the Parkway to Whitestripes Road junction and the Tillydrone Avenue to St Machar Drive junctions.
The project started in August 2014 and the is expected to be completed by March next year.