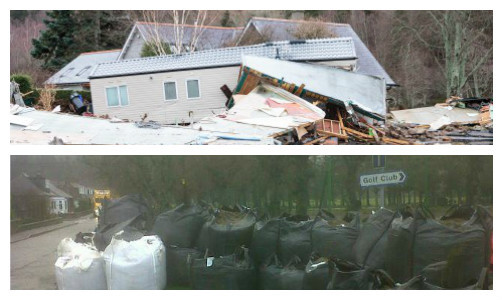 Residents of a flood hit north-east town are bracing themselves for a tough start to 2016 as flood warnings have been placed on areas of Scotland.
Heavy rainfall wreaked havoc in Ballater earlier this week and the town expects more soon as forecasters warn there is more wet weather to come this weekend.
Storm Frank hit on Wednesday,  (December 30 2015) flooding towns and cities throughout the region and leaving hundreds of homes without power.
And now the Met Office has issued an amber "be prepared" warning, with the chance of more localised flooding with up to seven inches of rain expected to fall before Monday. And on the higher ground, snow is also expected.
However, a spokeswoman for the Met Office in Aberdeen said the snow was unlikely to cause major disruptions.
"Overnight, into Saturday, we've got rain moving into the area again," she said.
"It will be quite continuous."
The worst of the weather is expected to hit the south, from the Angus Glens to the Cairngorms.
She added: "It might not affect Aberdeen too much until later into Saturday.
"That will carry on into Sunday. We've got quite strong south-easterly winds that will pick up waves offshore down the coast, towards Stonehaven.
"We're not too concerned about snow at this stage – but perhaps earlier next week as it turns colder. It's more the rainfall and the fact it will carry on all weekend.
"We're not quite sure how the rivers will react, but there will be a fair amount going in over Saturday and Sunday. That's being assessed and flood warnings are available on the website. We have also issued an amber warning."
The Met Office's amber warning for Grampian suggests that transport will be disrupted with over seven inches of rain expected to fall before Monday.
"Given the saturated nature of the ground there is a greater risk of surface water and river flooding that might normally be expected," the Met Office's warning reads.
"Be prepared for the likelihood of both surface and river flooding, as well as some local disruption to transport."
Throughout Scotland there were about 70 flood warnings and 12 flood alerts in place during last week's storm.
500 x 1 tonne sandbags are being placed along Salisbury Road in Ballater to protect the area around the golf course and campsite from the risk of further flooding.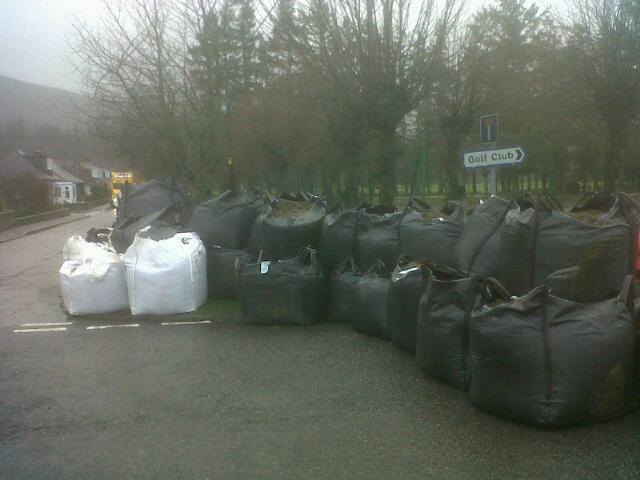 Flood warnings and alerts are in place for the Grampian region as heavy rain is expected over the weekend into Monday and police are advising the public to stay away from already flooded areas.
Due to the weather warnings in place, Aberdeen City Council have closed Duthie Park car park to vehicles.
As further flood warnings are in place we are urging the public to plan ahead and to be prepared, including by parking your vehicle away from areas close to rivers and on higher ground if possible.
The A93 between Ballater and Braemar remains closed until repairs can be carried out. The Invercauld Bridge is closed to vehicular traffic and this expected to be for some weeks.
Due to flood warnings at the River Feugh, the B974 Cairn O'Mount has been closed between the AA box and the Feughside Inn. The B974 Strachan to Fettercairn road has also been closed.
The emergency services and other partner organisations continue to monitor the forecast weather to respond to any issues.
Aberdeenshire Council is leading the recovery response in Ballater following Storm Frank and work is ongoing to return residents to their homes.
Additionally, following the recent heavy rainfall police are urging people to think about their safety before going out on rivers.
Water levels remain high in many areas and it is likely that debris from the recent flooding is still within the water.
If you are going out on the water, make sure you have suitable safety equipment, including life jackets and a fully charged mobile phone or radio. Also ensure that you are suitably dressed for the conditions so you do not put yourself at risk.
Chief Inspector Richard Craig said: "We are continuing to work with other agencies following the impact of Storm Frank across the Grampian region, particularly in Ballater, Crathie and Braemar and are also preparing for further rain and potential flooding.
"Due to the warnings in place, we are asking people to stay away from rivers and already flooded areas so you don't put yourself in danger or place further burden on communities that have been impacted by the flooding.
"Additionally, we are advising people to park their vehicles away from areas close to rivers and to park on higher ground where possible. We also ask that motorists do not ignore road closure signs and avoid driving through flood water as there will be unseen dangers, including lifted man-hole covers. The closures are there for a reason and are to protect your safety. By ignoring these closures you put yourself at risk as well as the emergency services."
Aberdeenshire Council's duty emergency response coordinator Ritchie Johnson said: "A concerted effort is taking place to respond to the weather situation in Deeside and across Aberdeenshire in light of warnings in place from SEPA and the Met Office and working closely with partners, colleagues and the community.
"There are access issues into Braemar and we are working with Police Scotland and neighbouring authorities to ensure access south remains in place with the aim of protecting the road.
"We are also working on remedial action across the area with sandbags and floodgates being issued to protect roads and properties as well as preparing responses to any rising river levels across Aberdeenshire."
(Links below show Storm Frank damage and flooding)
Storm Frank: Part of Invercauld Bridge collapses in Storm Frank floods
Storm Frank: Aberdeen picks up the pieces. 
Storm Frank: The eight most dramatic pictures from the floods so far
Storm Frank: A93 completely collapses into River Dee
VIDEO: Caravan floating down River Dee in Storm Frank floods