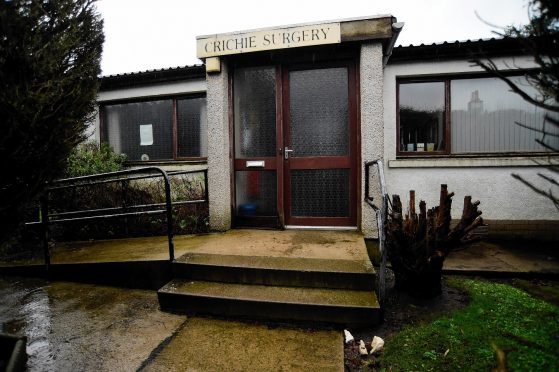 A north-east medical centre is to close after GPs called an urgent public meeting to discuss the future of the practice.
Concerns were raised when a formal notice about the future of Mintlaw Group Practice was posted in the window of the surgery.
Now the local health board has confirmed that the practice's Stuartfield branch – Crichie Surgery – could be formally closed following the meeting later this month.
The clinic has currently suspended its service and is understood to be no longer fit for purpose.
NHS Grampian has moved to allay fears that the main surgery in Mintlaw is under threat.
Although it is only staffed by four GPs, the health board said there were no plans to close the under-pressure site.
Last night, a spokeswoman said: "The event is to discuss the formal closure of the Stuartfield branch surgery.
"This service – which operated for just a few hours each week – has been suspended for some time and the building is no longer fit for purpose.
"The branch surgery at Maud and the main surgery in Mintlaw remain open for business."
She added that the consultation meeting later this month would also give patients the chance to raise any other questions or concerns.
Mintlaw resident Amber Sebold, a patient at the practice, said she feared the worst when a notice was posted in the window of the Mintlaw branch about the surgery's future.
She said: "There's a shortage of GPs, no more on-the-day appointments unless you're triaged by a nurse, and only four GPs.
"I don't even know what population they serve but it must be far too many for that few doctors. They've always had more than that as long as I can remember."
Banff and Buchan MP Eilidh Whiteford said she was aware of the concerns surrounding the future of the Mintlaw Group Practice and was in contact with the health board.
"I'm aware of the problem at Mintlaw, and I have already been in contact with senior managers at NHS Grampian," Ms Whiteford said.
She added: "NHS Grampian are actively seeking solutions."
The drop-in public consultation on the future of the Mintlaw Group Practice will be held between 3pm-7pm at Mintlaw Public Hall on Wednesday, January 27.