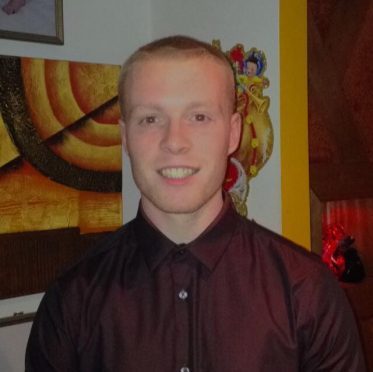 A teenage council worker was behind bars last night after he admitted arming himself with a knife and robbing a city centre shop.
Ryan Hunter masked his face before targeting The King Street Store at around 5am on March 22 last year.
He then made off with cigarettes, alcohol and cash as well as the shop assistant's mobile phone.
The 19-year-old, who carried out the raid with another man, was caught hiding out in student accommodation nearby when the store employee managed to track his iPhone with an app.
Yesterday, Hunter appeared at Aberdeen Sheriff Court and admitted carrying out the offence.
The court heard the council worker, along with two others, had originally visited the store at around 4.20am.
Fiscal depute Kelly Mitchell said at that time they asked if they could buy a bottle of brandy but were refused because of the early hour.
She said around half an hour later Hunter, along with another man and a girl, were spotted on CCTV leaving Unite accommodation on Mealmarket Street and heading back towards the store.
The court heard that a woman entered the shop first, to see if it was empty.
Miss Mitchell said once the woman left, the two men entered the shop and Hunter started to brandish a knife at shop worker, Dumka Lebari.
She said: "Hunter and another male then entered the shop. The complainer saw Hunter had his face covered but he recognised him as the male who had been in the shop earlier.
"At that point he could see the accused was holding a knife in his right hand. Hunter said to him 'do not do anything stupid' and instructed him to move into a room at the rear of the shop.
"Hunter was seen to go behind the counter while still holding the knife. He removed cigarettes from the display and money from the register."
Miss Mitchell said that as Hunter left the shop he picked up Mr Lebari's mobile phone and said "I will come back for you if you call anyone".
The court heard that when the police arrived, the shop worker had already managed to trace his phone to the student accommodation a short distance away.
Hunter, of 2 Bute Way, Aberdeen, was found inside a room along with the stolen goods. A knife was found in the communal hall outside.
Representing the first offender, solicitor Neil McRobert said his client was in full time employment for the council and still lived at home with his parents.
He urged Sheriff Graham Buchanan to allow Hunter's bail to be continued while reports are carried out.
However the sheriff said that "in light of all that had been said" he had no choice but to remand him in custody until he is sentenced early next month.