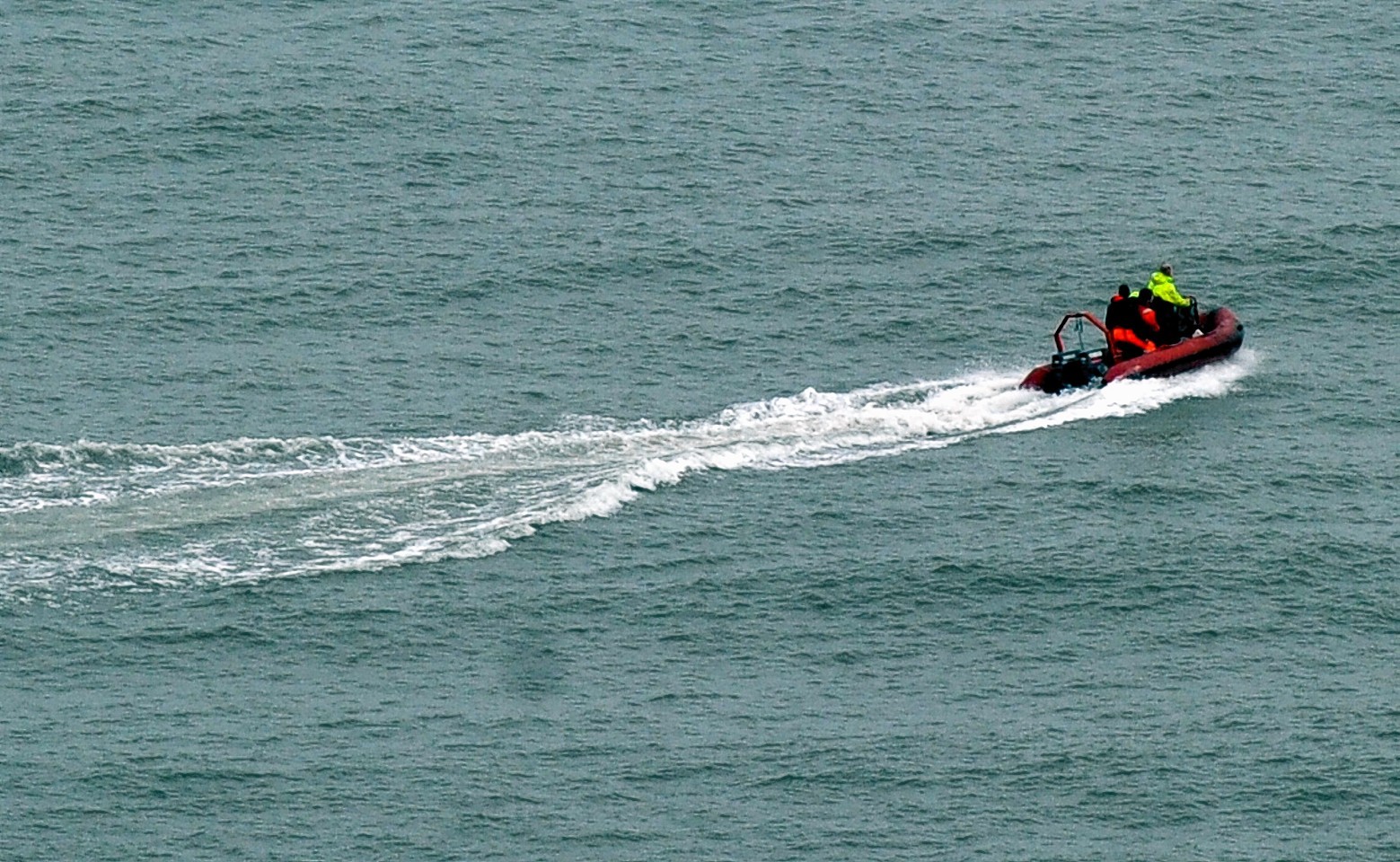 The search for the missing fisherman off Gordoun has been called off for the night.
The 16-ft creel boat, understood to be The Water Rail, is reported to have left Gourdon harbour at 4am and had been due back in at 9.30am.
When the boat failed to show up, it sparked a massive coastguard search involving an RAF Sea King helicopter and a host of search and rescue boats.
The two missing men have been named locally as Jim Reid – believed to be in his 70s – and David Irvine.
The pair are said to be grandfather and grandson, and both residents of the neighbouring town of Inverbervie.
Relatives of the pair stood silent and anxious at the harbour walls as the tide crept in to the bay and locals rallied around the Harbour Bar.
A blue 4×4 – believed to belong to Mr Reid – sat solitary by the harbour port where the two men had earlier departed.
Four RNLI lifeboats – from Montrose, Aberdeen and Stonehaven – were launched to conduct the search. Eight local fishing vessels also joined the search and rescue fleet.
The rescue boats could be scene scouring the North Sea coast all day, with the helicopter occasionally passing over the village.
One Gourdon local said of Mr Reid: "He's up and down all the time, if anybody knows the sea, he should."
Another local resident, a retired salmon fisher, said: "I don't know what's happened at all. There was a good swell this morning and then there was an awful bit of fog.
"The sea is the master. You just can't tell in the sea."
Jim Leachy, of Inverbervie, said: "I don't know Jim but I know David. I know that they went out regularly. David is the most kind, loveable type of guy.
"To think there's the remotest chance that something could have happened to him. He's a lovely lad. It's just a shame.
"It's always sad in a small community, they all know each other. The fishing community is a close-knit community."
Coastguard land teams from Carnoustie and Montrose were also assisting with searches along the coast.
The search and rescue helicopter from RAF Lossiemouth was said to be using flare and radar to aid the search when further fog began to affect the search area last night.
A coastguard spokeswoman said: "It's very poor visibility, less than 300m, (328 yds) it's hard going."
Mearns councillor Jean Dick – who travelled down to Gourdon yesterday evening – said: "Gourdon is no stranger to tragedy, as you'll be aware. Everyone is just stunned and just awaiting news.
"I know very little, just what everyone else has been told. There are people missing, they left early this morning and no one has heard from them. It's a very worrying time."
Until 6pm the search was focused on a five-mile area between Gourdon and Todhead Point, after which the search area was expanded to 20 miles.
The coastguard search continued well into the evening.