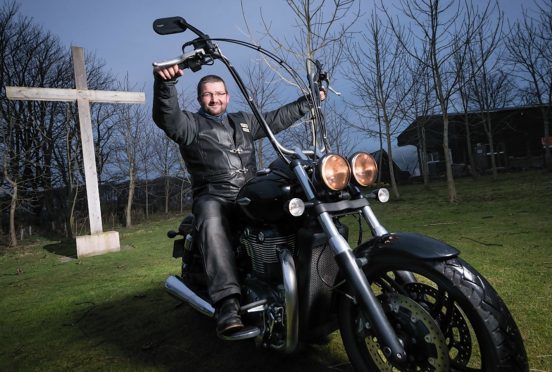 A charity campaigner has wasted no time in upping the challenge of his next fundraising adventure.
Gordon Cruden, area manager of Teen Challenge, announced earlier this year that he would travel to 48 states within 30 days as part of a sponsored effort to purchase a drug recovery centre for women near Mintlaw.
But after having time to re-think his plan, the Fraserburgh biker has decided to add on an extra 7,000 miles to his journey and visit both Alaska and Hawaii to complete his tour of the US.
His journey kicks-off on June 18 in Kalamazoo, Michigan, and finishes on July 17 – when he hopes to have arrived in Chicago, Illinois.
The ride will raise money for Teen Challenge's Buy Benaiah campaign – a five-year fundraising drive to raise £535,000 to purchase Benaiah, an addiction recovery home for women and their children.
The American challenge follows Mr Cruden's European bike challenge in 2015, when he visited 47 capital cities across the Europe in 30 days.
Later in the year, he tackled the Hungry for the Homeless and Addicted Challenge and voluntarily made himself homeless to survive sleeping rough on the streets of London, Cardiff, Dublin, Belfast and Edinburgh over the course of one month.
His impressive efforts have seen the total raised for the Buy Benaiah campaign reach £270,000 – more than 50% of the target £535,000.
Last night, Mr Cruden said: "When we were initially planning the American Motorbike Challenge, we just did not think it was even possible to make it to Alaska and Hawaii.
"It will be great to visit various residential centres to shine a light on the great work carried out in helping people to, not only overcome the initial phases of withdrawal, but also start making the lifestyle changes that are essential to total recovery.
"And of course we will raise cash for our Buy Benaiah campaign. We're delighted to have reached 50% of our target total – only one year in to a five year campaign – and hope this challenge will take us another step closer to buying the recovery home."
The purchase of the property would mean the centre could continue to provide females with residential support on a permanent basis and, ultimately, help many more women break free from addiction.