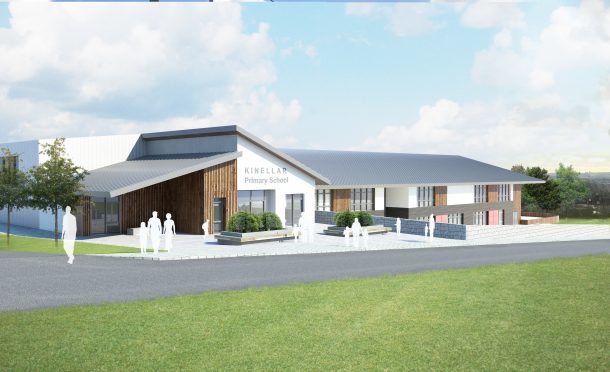 This image shows how a £12million replacement of a fire-hit Aberdeenshire school could look.
Councillors last week backed plans to create a new Kinellar Primary School in Blackburn on the grounds of the existing site.
Now Aberdeenshire Council has revealed how the school could look, should the planning application get support.
A fire broke out at Kinellar Primary on New Years Day, with the nursery and primary one classroom destroyed – though the plans to replace the school have been on the cards for years.
Pupils will be transferred to the new Midmill School in Kintore – due to open in January – while the 450-pupil building is constructed.
The plans include a multi-use games area, community play park and additional car parking.
Chairwoman of the council's education, learning and leisure committee, Alison Evison, said they were "exciting plans".
She added: "A replacement Kinellar Primary has been wanted by the local community for a long time. The development of a new school is now a key part of Aberdeenshire's learning estate strategy."
The proposals to replace the school are due to be discussed by the council's policy and resources committee on June 9, after which a planning application will be lodged.
Last week, the proposals to replace the site at the current location were described as a "plan B", after the local authority struggled in its efforts to acquire land for a new school on the edge of Blackburn.
Last night, East Garioch councillor Martin Ford, said: "Clearly the difficulties over acquiring the intended site for the new Kinellar School have caused an unwelcome delay.
"But having decided to pursue the alternative option of rebuilding on the current school site, the important thing now is to make progress as quickly as possible."
He said the present school "is unsatisfactory in many ways and not adequate for the current and projected school roll".
He added: "The sooner a new school can be provided, the better.
"The Garioch area committee has now authorised officers to proceed with production of detailed designs, examine procurement options and seek planning permission for the proposed new construction."