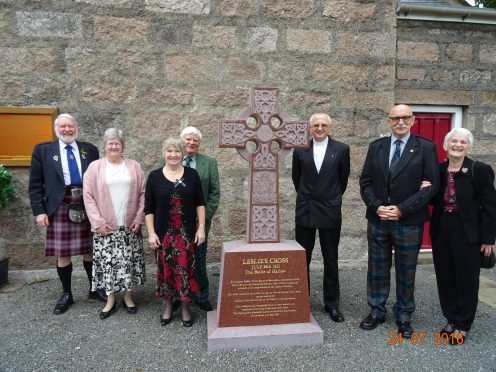 A packed out Garioch kirk yesterday paid tribute to the fallen of one of the north-east's bloodiest conflicts.
The Chapel of Garioch's Sunday service yesterday commemorated 605 years since the brutal Battle of Harlaw took place on its doorstep.
The hostilities have been depicted as being among the most violent and hardest fought in Scots history, with 1,000 Highlanders and 600 locals killed in just one day.
Ending with no clear victor, the story of "Red Harlaw" has lived on through stories and songs.
The battle involved 10,000 Highlanders, who came face to face with no more than 2,000 hastily-assembled north-east soldiers.
It was sparked by Donald, Lord of the Isles, who marched south with his men after laying claim to the Earldom of Ross.
At the foot of Bennachie, he was met with a group of fighters from Aberdeen and the likes of the clans Irvine, Leslie, Keith and Forbes.
Members of the Clan Leslie were among those to attend the Chapel of Garioch service yesterday, with David Leslie reading a brief history of the battle.
Reverend Martyn Sanders, of the Blairdaff and Chapel of Garioch Parish, led the worship.
He said afterwards: "It was good, we had quite a full church. It went well, people appreciated the opportunity to reflect on the events of the past and the events today.
"I think they also appreciated how the past relates to these events and how we move forward; not in battle, but in love.
"It was a historical, well-known event; although clearly a local one as well. There is an understanding the events of the past shape the present and the future.
"You have to learn from history and see these things not just as an event but as something we can learn from."