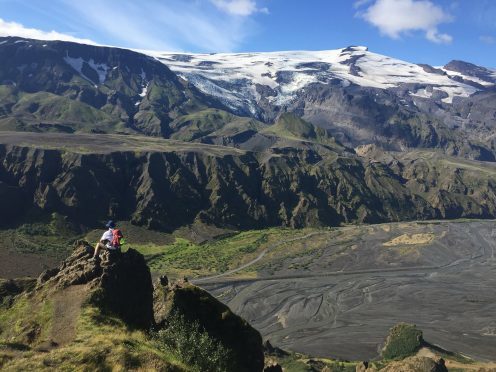 A group of blind and partially-sighted trekkers has defied the odds by completing a world-famous route in Iceland to raise cash for research.
Joe Churcher, who lives in Newtonhill, was part of the challenging expedition by people losing their vision to retinitis pigmentosa.
The inherited condition – which also affects Aberdeen's paralympic champion cyclist Neil Fachie – kills off cells in the retina, leading to severe tunnel vision, night blindness and often the loss of useful sight.
Seasoned guides were nervous about getting the 15-strong group – which included sighted friends and family – through the famous 34 mile Laugavegur trail across the country's southern interior.
The route through jagged hills, ash deserts, snow fields and fast-flowing glacial rivers is described as "an adventure only for the bravest hikers" but the team proved they were losing their sight, not their bottle.
After five days, Mr Churcher and his fellow walkers not only reached the end in on piece and with a smile on their faces but even fitted in an extra hill on the way to find the bus back to Reykjavik.
Mr Churcher, who works as a reporter for the Press and Journal, is a veteran of numerous challenges for RP Fighting Blindness – which funds research into a treatment or cure and provides support services.
He said the group was powered on by the knowledge that every difficult step meant another few pounds towards ensuring future generations might not face similar challenges from failing sight.
"I am lucky still to have enough central vision left to appreciate the magnificence of the Icelandic scenery – though not enough to see the huge rock right in my path that made a mess of my shins," Mr Churcher said.
"All of us trekkers would agree though that such scrapes are a small price to pay for raising awareness of the condition and the cash to find a cure.
"Recent advances by dozens of brilliant scientists have been encouraging but the closer we get to a breakthrough, the more important it becomes to raise the money to sustain their research."
Brian Jackson, the mountain guide who led the trek and who runs Expedition Wise, admitted he had been "excited and nervous" when first approached by the charity but overwhelmed by the spirit of the group.
"The trek involves wild camping and quite a lot of fairly technical terrain to walk over including river crossings, awkward lava fields and a hand over hand descent on a rope to a bridge over a gorge," he said.
"However, I needn't have worried as the group worked spectacularly well as a team overcoming all the obstacles and actually walking faster than any other group I had led on this trek.
"We met several other trekkers who found it hard to believe that the vast majority of our group were partially sighted or blind.
"I was constantly amazed by the group as a whole and privileged to meet every single one of them."
To help the team meet their sponsorship target, visit www.justgiving.com/volcaniccash