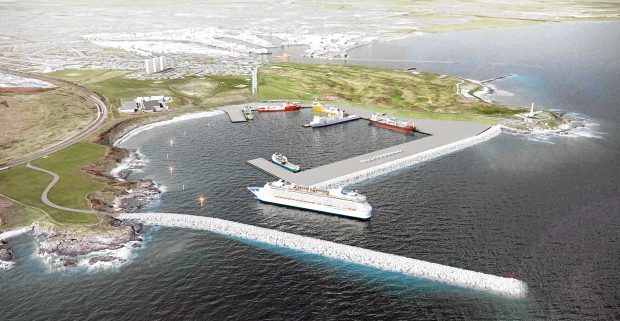 Councillors have said they will stand by their word and back a £350million expansion of Aberdeen harbour with a chunk of taxpayers' cash.
Members of Aberdeenshire's infrastructure committee met at Woodhill House yesterday to debate investing £5.5million on the overhaul of the city port and development of Nigg Bay.
Both are part of the ambitious City Region Deal agreed last year – a deal supported by Aberdeenshire Council.
The development could create thousands of jobs over the next two decades and is a bid to put Aberdeen at the centre of the decommissioning sector.
The Nigg Bay expansion – which includes building a mile of new quay – will aim to attract more cruise liners to the city as well.
However, some councillors had raised concerns the council was investing in a harbour which was in direct competition with its own ports, including Peterhead and Fraserburgh.
Nevertheless, council chiefs recommended the committee back the investment, which will be matched by Aberdeen City Council, for the good of the whole region.
Committee chairman and deputy council leader Peter Argyle said: "We have to look at it as a regional project and not as lines on a map. It actually doesn't matter where the money goes in the north-east as long as it goes into the north-east."
Mr Argyle added that the whole region could take advantage of the arrival of cruise ships, some bearing thousands of passengers at a time. Fellow Liberal Democrat Ian Mollison said the council had already made a commitment to the city region deal and should "stand by its word".
Belinda Miller, Aberdeenshire's economic development boss, told the committee that once the Nigg development is fully operational organisers hope to attract 60 liners every year. But Martin Ford said the cash would be better spent on priorities including education. The committee voted 12 votes to two in favour of handing £5.5million to the project.
Last night, Colin Park, chief executive of Aberdeen Harbour Board, said: "This expansion will see the economic benefits felt across the region, supporting our oil and gas and decommissioning industries, the import and export of goods, as well as boosting the tourism sector through the ability to welcome cruise ships."