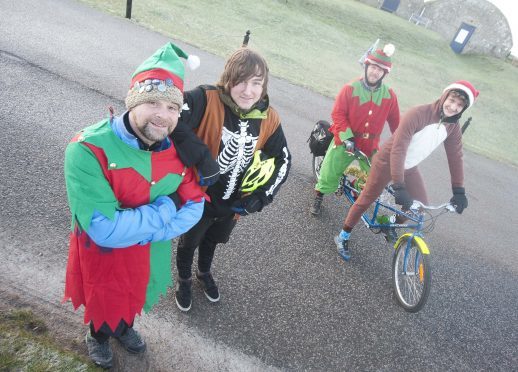 Joanne Warnock
Supporters of a Moray charity braved the icy weather at the weekend to cycle the entire length of the NE250 route on a tandem.
The team of four staff members from Outfit Moray donned festive fancy dress costumes, which they wore on top of their lycra, to help raise money for the struggling charity.
Peddling through some very wintry weather, the two riders, plus their support car, set off from Spey Bay at 9am on Sunday.
Dubbed the 'Santa Tandemistas', the outdoor instructors and bike mechanics were hoping to raise £4,000 by covering the newly formed North East 250 tourist route.
Chief officer Tony Brown had previously appealed to the public to help keep the charity afloat. And employees led the crusade by taking on a series of fundraising challenges.
Stewart Evans, Wayne Reid, Chris McCann and David Brackpool embarked on their journey, which conveyed them through a stretch of coastline between Aberdeen and Spey Bay, deep into the Cairngorm National Park and Speyside's whisky region.
Fundraising manager for Outfit Moray, Karen Cox, said the snow had seriously hampered the challenge, but added they were determined to help in any way they could.
She said: "They have been put a bit behind schedule because of the weather and they are assessing the conditions on the way to stay safe. They all have a great deal of experience, so will know if they have to make the call to stop.
"When I last spoke with them, they were still in high spirits and were heading to the coastal section. We are expecting them back at Spey Bay in the early hours of Monday morning."
Mr Brown said the challenge was "a very typical staff response" to the unfortunate situation and praised their efforts.
He added: "Their passionate belief in what the charity does will inspire them to push themselves to tackle the hill climbs and the weather."
Once the trek is completed, the tandem will be renovated and sold on to raise further cash.
People wishing to pledge their support can do so at "Santa's Tandemistas" challenge at
http://mydonate.bt.com/events/santastandemistas