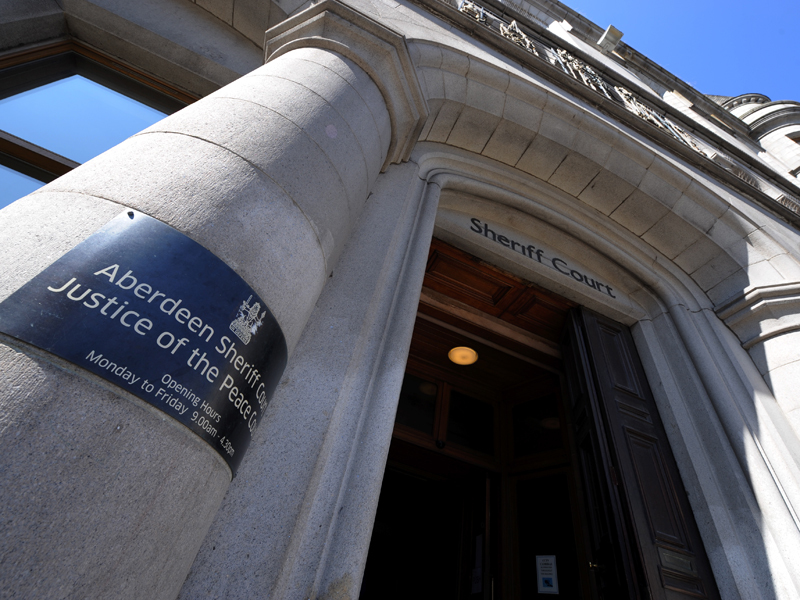 A drink-driver has gone on trial accused of causing an early morning car crash which almost killed his friend.
Offshore worker Scott Duguid spent days in hospital recovering from life-threatening injuries after the green Mini Cooper he had been travelling in collided with a parked car in Torry.
As a result of the crash, which left him hanging motionless out of the vehicle's back window, he broke every rib, punctured his lung and suffered a cut to his face which will leave him scarred for life.
Yesterday, as his friend Garry Davidson went on trial at Aberdeen Sheriff Court, Mr Duguid took to the witness stand and told a jury of 10 women and five men he had caused the devastating accident himself.
Davidson, 25, is alleged to have driven Mr Duguid's Mini along Girdleness Road, Aberdeen, on July 2, while under the influence of alcohol, hitting speeds of up to 70mph in a 30mph zone.
It is alleged that as a result of dangerous driving, Davidson crashed into a parked Vauxhall Astra, causing extensive damage to both cars and leaving Mr Duguid with serious injuries.
Davidson admits getting behind the wheel while he had almost twice the legal amount of alcohol in his blood – but denies the dangerous driving charge.
Yesterday, the court heard that he, Mr Duguid and another friend, Levi McLennan, had been drinking together in Aberdeen city-centre on the evening of July 1.
As the trio returned home to Kincorth, an argument broke out between Mr Duguid and Mr McLennan over money and it was decided that they should go to a bank machine in Torry in order to settle a debt.
Mr Duguid said he agreed to allow Davidson to drive them there in his car which was parked nearby.
However, once they reached the ATM, Mr Duguid discovered there was no cash available in his account, which re-ignited the argument.
Mr Duguid, who had been sitting in the rear of the car, said the row became more physical as they were driving back to Kincorth and the pair started to punch each other over the back of the passenger seat.
He said Davidson urged the pair to stop and calm down, but they would not listen.
Mr Duguid said he then asked the driver to pull over the car so that they could continue the argument, but he refused.
As they were driving along Girdleness Road, Mr Duguid said he pulled on the hand brake from his seat in the back, causing the car to skid and crash into the parked Astra.
He said Davidson would have only been doing about 30mph at the time.
Mr Duguid said: "The car just loses control. It happened so quickly. I did not know what happened. I know we crashed obviously."
Fiscal depute David Bernard suggested he was making up the story in order to protect his friend who was facing "a very serious charge", but Mr Duguid said he was certain it was him who pulled on the hand brake.
Mr McLennan also took to the witness stand yesterday, telling the jury he thought his friend was dead when he saw him covered in glass and blood and hanging out the rear of the car.
He said he managed to walk free from the car after the crash as the passenger side had not been affected by the impact.
Mr McLennan said he was so sure Mr Duguid was already dead that he made it his priority to save Davidson, who was unconscious and slumped over the steering wheel.
The court heard that at this point he panicked, and when a nearby resident, who had heard the commotion, offered to phone for an ambulance he told them not to.
Mr McLennan also admitted lying to the police about the accident when they arrived as he feared he would get into trouble.
Two residents who live close to the scene of the crash also gave evidence yesterday and said they were woken up seconds before the crash by the noise of a speeding car.
One witness, Andrew Ross, said the vehicle was "as loud as a helicopter" and sounded like it was going "as fast as a rocket" when it passed his home. He told the court he heard a bang moments later and looked out onto the street to see "carnage".
When asked if he thought the accident was a serious one he said: I thought the person in the back seat was dead. He wasn't moving. There was blood everywhere, glass everywhere and he was hanging out the window."
The trial, in front of Sheriff Graeme Napier, continues.