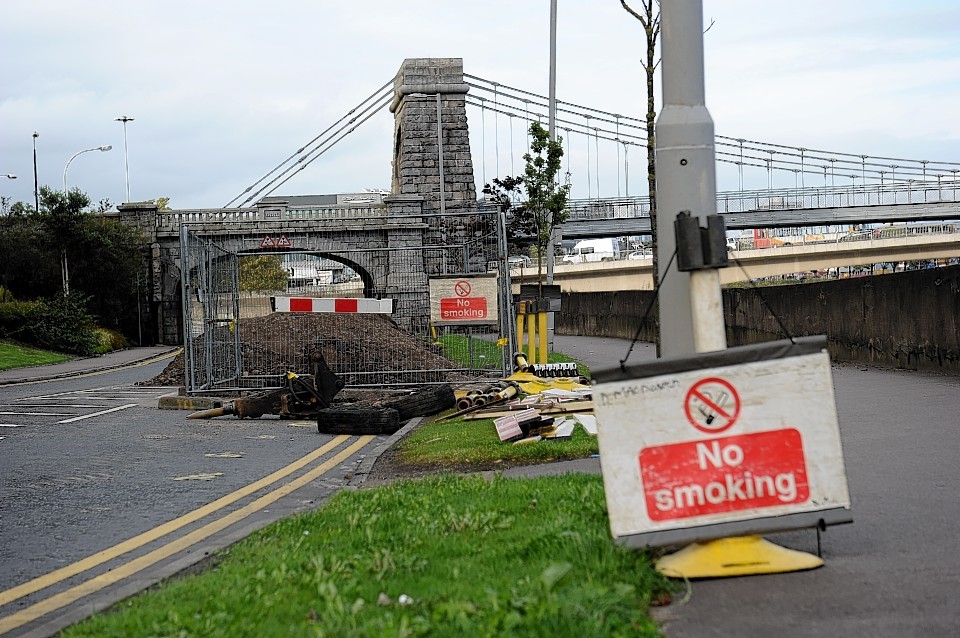 A busy Aberdeen road will partially reopen next weekend, six weeks after a leaking gas pipe forced its closure.
Riverside Drive has been closed from South College Street to Great Southern Road since October 2, causing misery for motorists.
A temporary repair was put in place, but Scotia Gas Networks (SGN) then announced it would replace the road's gas main near the Wellington suspension bridge.
Now SGN has confirmed the city bound lane will reopen next Sunday.
A spokeswoman said: "Traffic coming into the city will be able to use the carriageway again.
"The rest of the carriageway will then be open again in five weeks.
"It's taken a lot longer than anticipated due to the conditions we are working in.
"The workers have also been trying to get through solid rock.
"We are so sorry it's taken this long. We are committed to getting this done and as quickly and safely as possible."
Meanwhile, Aberdeen City Council has revealed it is considering adding a third lane to a busy commuter route.
Under the plans, the lane would be added to Wellington Road for northbound traffic travelling between the Charleston flyover and the Makro roundabout, near the new junction at the Balmoral Business Park.
The council hopes it would cut congestion.
Local councillor Andy Finlayson said: "Any road improvements will help to alleviate the current situation which is getting worse, with more and more developments increasing congestion."
But local community councils are unconvinced about the idea, and claim the additional lane would not help until other road improvements were made in the area.
Cove Community Council chairwoman Michele McPartlin said: "It won't help beyond the roundabout at Nigg.
"I imagine more cars would stack up. It's a worry with the quantity of traffic"
Nigg Community Council chairman Alan Strachan added: "We would have no objections if we thought the flow of traffic in the rest of the area could cope, but unfortunately I think it would make it worse."
A spokeswoman for Aberdeen City Council said: "Discussions about the possibility of a third lane are at a very early stage.
"No decision has been made."