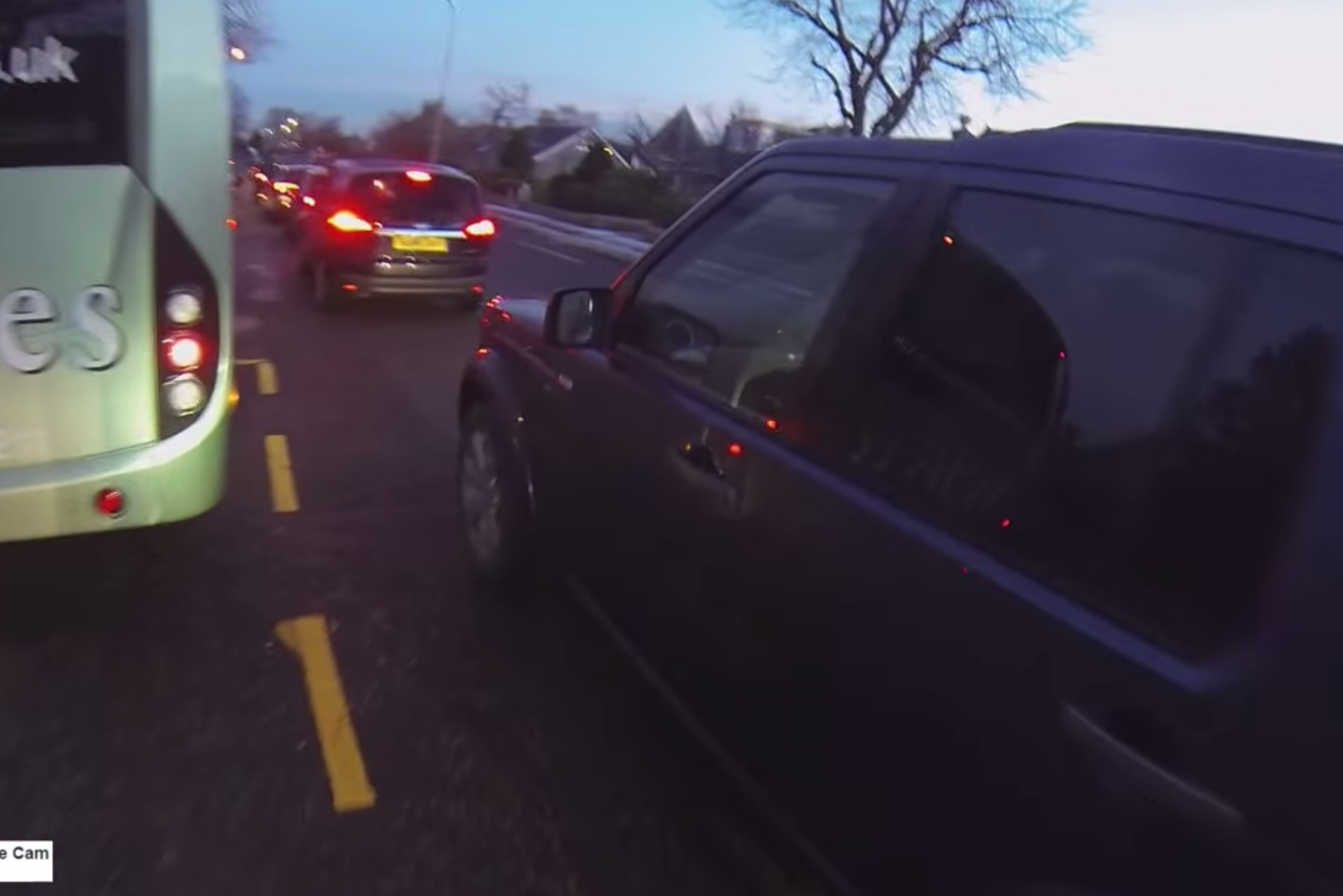 This is the moment a motorist was captured on camera driving in a busy street – looking at his mobile, with his laptop plugged in and wearing earphones.
The shocking footage was recorded in rush hour traffic and shows a blue 4×4 heading towards the centre of Aberdeen.
The male driver of the Land Rover Discovery now faces being quizzed by police about his antics – and has already been condemned by road safety campaigners.
The video was shot in the city's Queen's Road and uploaded to YouTube by a mystery cyclist known only as Cycle Cam.
Initially, the driver can be seen apparently looking down at his mobile phone as he cruises past the self-styled vigilante.
But when the biker catches up with him as he gets stuck in a queue of traffic, the full scale of his onboard gadget collection is revealed.
His ears are plugged by headphones connected to a mobile device, he is looking down at his phone and even has a laptop switched on and open next to the transmission tunnel of his vehicle.
The cyclist flashes his lights and points out the separate gadgets to him, but the 4×4 pulls off.
In a description to accompany the video, Cycle Cam writes: "This bloke is driving a Land Rover in town, looking at a mobile phone, laptop and wearing headphones on both ears.
"Not only is he not paying any attention to the road, I suspect he's not even on this planet.
"I was truly surprised when I saw the laptop with the screen on and the headphones on both ears.
"I was 'just' expecting him to be on his mobile phone, as I see dozens of times everyday."
The latest driver is just one of many motorists named and shamed on YouTube by the cyclist, who first caught the public's attention last year with a video of a man pretending to be a police officer during a road rage encounter.
Describing his or her self as a "daily cycle commuter", Cycle Cam's online profile says: "General cycling education and naming and shaming bad driving in the roads of Aberdeen city and shire.
"Don't want to be a star in my videos? Don't endanger others. Drive properly, don't be impatient and don't be rude. Simple!"
After being contacted by the Press and Journal about the video, police said they were "following a positive line of inquiry".
Last night, the driver was criticised by local councillors and road safety groups.
Hazlehead, Ashley and Queens Cross councillor Ross Thomson said he had been "extremely stupid".
He said: "Dangerous driving like this has been a concern of the local community for some time and is regularly mentioned at community council meetings.
"It is especially a concern on the Queen's Road because of the close proximity of all the schools in the area.
"The fact he was wearing headphones and had on a laptop is extremely dangerous.
"If you're wearing headphones you are completely cutting off one of your senses, meaning you can't hear emergency vehicles or other drivers' horns.
"I know that driving through town can be frustrating but there is no e-mail that is more important than the life of a pedestrian."
Neil Greig, research and policy director at the Institute of Advanced Motorists (IAM), said the driver should be "ashamed".
He said: "It's a clear example of breaking the law on mobile phone use and the driver should be ashamed to be taking such risks for the sake of keeping in touch. No call is more important than someone's life.
"The IAM have no problem with camera users sharing their footage with Police Scotland so that they can consider if formal action is required.
"Ideally, we would like to see more police out there enforcing the law rather than relying on amateurs.
"No one taking such footage should be pursuing a car just to get a good shot. Concentrating on catching someone out is also a distraction from the real task of driving or riding safely."
You can watch the video by Aberdeen Cycle Cam here, on Scotland's Worst Drivers' Facebook page.