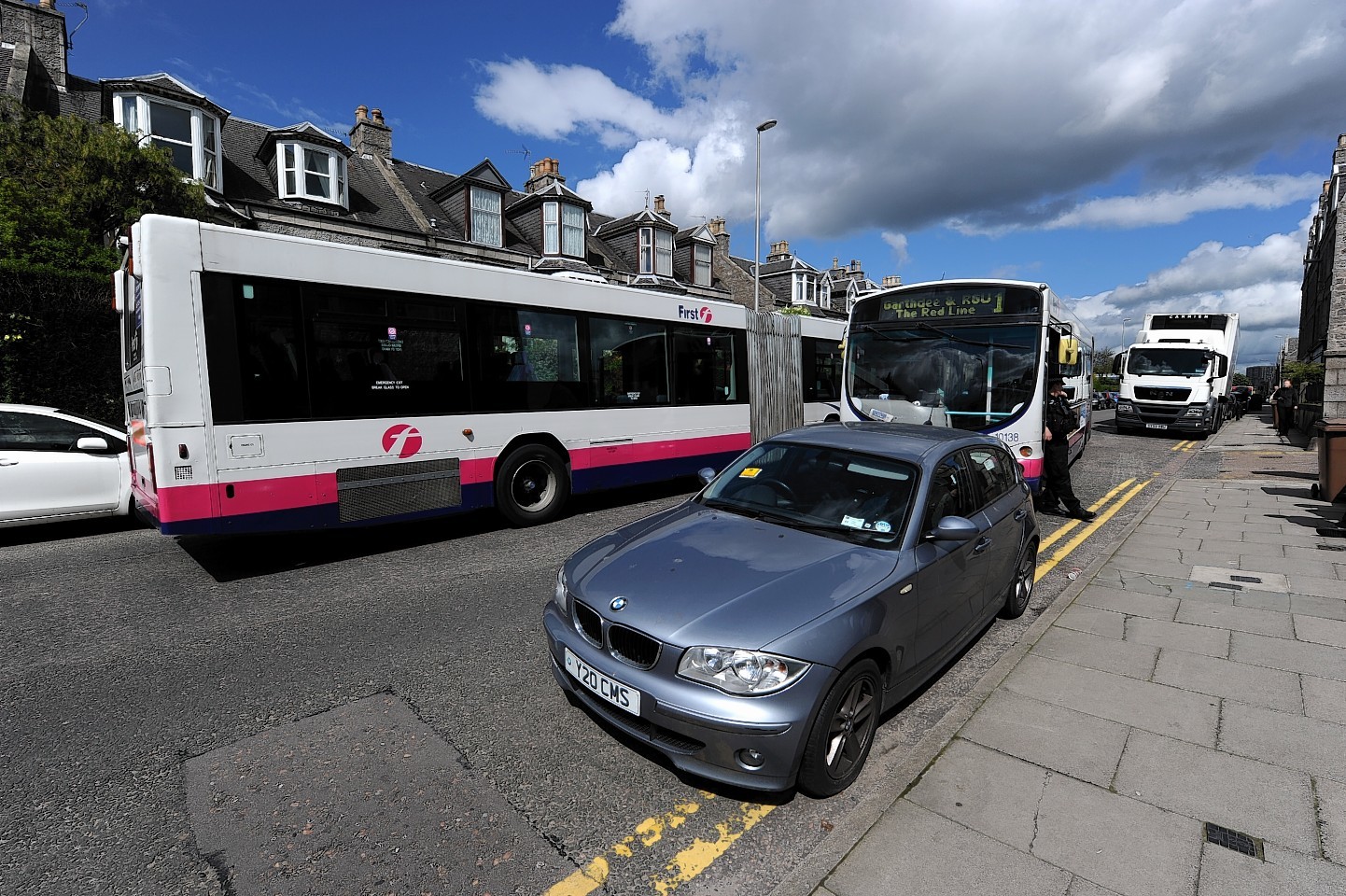 Traffic came to a standstill on a busy Aberdeen street yesterday morning when an illegally parked car caused a road block.
Two bendy city buses were left locked and unable to budge for almost an hour due to a silver BMW being parked on double yellow lines on Holburn Street.
The street was blocked from the roundabout at Iceland and Bloomfield Road, between 11.15pm and around 12.30pm yesterday due to the incident.
The space provided by the parking restrictions on this section of the narrow road usually leaves enough room for two of the large buses to pass each other.
Traffic was diverted from the roundabout while the situation was resolved.
The illegally parked car caused a complete shutdown of this section of the road, with a host of other buses brought to a halt behind them.
Two First buses – a route one and a route two, which run from King Street to Garthdee – were left unable to pass each other as a result of the parked car.
Ferryhill councillor Alan Donnelly said the incident highlighted a bigger issue to do with car parking across the whole of Aberdeen.
The Independent Conservative councillor said: "Aberdeen has got serious traffic issues, and drivers shouldn't park their cars in stupid places. This is becoming a bit of an issue.
"If you are parked on double yellow lines you risk losing that car, we need to get that message across."
He added that the Garthdee roundabout – which Holburn Street leads on to – can b"can be as bad as the Haudagain".
A First Group spokesman said: "As a result of a police incident on Holburn Street some Service one and two buses were subject to delay this morning.
"However, services were back to normal within around an hour of the incident."
The car – which had already been issued with an Aberdeen City Council parking ticket – was eventually towed to allow the buses to pass.
A local resident said: "It frequently happens when two bendy buses come down. There's all sorts of shuffling back, it's a regular thing. There was about six buses involved altogether.
"I think to be honest they should ban parking on one side of the street. For this whole section of Holburn Street, it's a fairly regular occurence."