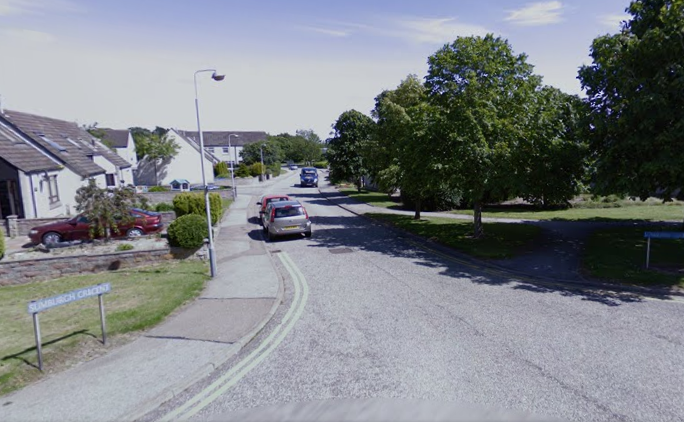 A rogue motorcyclist who struck a teenage girl on a quiet Aberdeen cul-de-sac was seen driving along a pavement seconds before the crash.
The 16-year-old was walking on Sumburgh Crescent, in the Sheddocksley area of the city, at 12.50pm on Saturday, when she was hit by a stolen red Honda motorcycle.
One onlooker said he saw the bike being driven along the pavement on Lewis Road just before he heard the girl scream.
He said: "I saw two young guys on a motorcycle riding up the pavement.
"I just thought they were being idiots.
"I saw them cut through a gap in the dyke and then I heard the lassie screaming.
"I rushed over and asked the lads who were with her if she had just been hit by the motorbike and they said the rider just lost control.
"They said she got spun round and landed on her face.
"The bike had already taken off by this time.
"I called an ambulance. She had a brace which had cut into her mouth, which was bleeding, and she had a sore arm and a twisted leg.
"She was hysterical. The police arrived first and they managed to calm her down a lot.
"Then the paramedics arrived and an ambulance."
A Sumburgh Crescent resident, who asked not to be named, said: "It is not the first time motorbikes have been seen speeding along the pavements around here."
Another nearby resident added: "I am not surprised this has happened.
"I am actually surprised that there have not been a few accidents like this before.
"Every day, from morning to night, you get three or four different bikes fleeing about.
"They are up on the pavements all the time. It is shocking.
"I have lived here for 10 years and it has been happening all that time."
The teenager was taken to Aberdeen Royal Infirmary by ambulance and treated for injuries which police described as "minor".
A police spokeswoman confirmed the vehicle involved in the incident had been stolen and has since been recovered.
She added: "Officers are following a positive line of inquiry."
Anyone who saw the bike in the Sumburgh Crescent area, or on Fernilea Crescent, Summerhill, possibly with two men on board, should contact police on 101, or Crimestoppers on 0800 555 111 to remain anonymous.