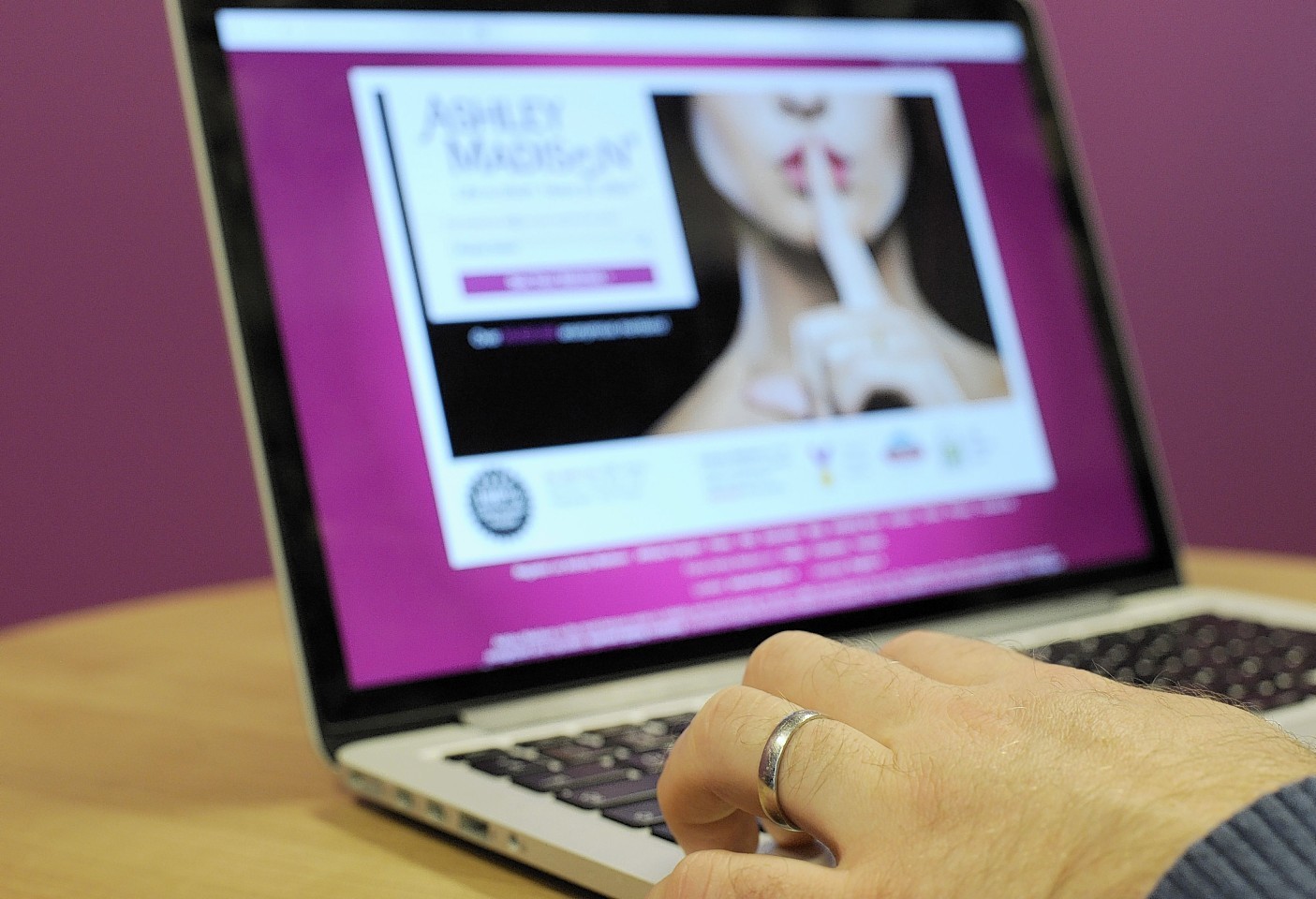 The names of thousands of people from across the north and north-east have been linked to adultery website Ashley Madison.
And one Aberdeen postcode boasts the dubious distinction of having the highest number of users in Scotland – and the eighth highest in the UK.
A total of 219 people in the AB10 1AA area – covering the city-centre, George Street and the harbour area – are connected to the website, according to data published online by hackers.
They are among a total of 6,574 people with Aberdeen postcodes using the service – 88% of them men – placing the granite city 20th in the UK.
Elsewhere, the data shows 1,369 users from Inverness postcodes, of which only 97 are female.
A total of 515 members are from Elgin, 424 from Peterhead, 315 from Inverurie, 253 in Fraserburgh and 205 in Ellon.
More than 100 users are listed for each of the Lossiemouth, Forres, Dingwall, Nairn, Stonehaven, Westhill, Buckie, Turriff, Keith and Huntly areas.
Last night Reverend George Cowie, of South Holburn Parish Church – situated in the centre of Aberdeen with an AB10 postcode – said the act of adultery went against everything he believes in.
"I never, ever have any difficulty speaking about the sanctity of marriage, which we understand to be a life-long commitment," he said.
"Some marriages do go sadly wrong, but we would certainly – as a church – never condone or encourage adultery in terms of breaking the marriage covenant.
"Marriage is a very special act and people that enter into it uphold some very, very special values."
Father James Bell, of St Mary's Roman Catholic Church in Inverness, said the figures were sadly symptomatic of a shifting society.
"This kind of instant technology opens up temptations that were never there before," he said.
"The technology in itself can be used for good or evil and it is sad the way it has been used in this case.
"It is equally sad that people are so naive about what they thought they could achieve.
"I understand some people's appalling loneliness and one regrets it, but one would hope the people who run these sites have more responsibility and security. Who in their right mind would want everyone to know these things?"
Margaret King, moderator of the Presbytery of Moray said it was a "sad reflection on society" that people were turning to adultery websites instead of using thetime to make their relationships work.
"I'm shocked by the possibility that websites like this even exist – it seems extraordinary to me," she said.
"I also think it's sad reflection on society, especially when you hear of such things happening close to home.
"Relationships need to be worked on. If people spent the time they are on these websites fixing problems in their marriage, they might last.
"People seem intent on breaking their relationships down instead of building them up."
The Ashley Madison dating website – with the motto "Life is short. Have an affair" – has been in the headlines since computer hackers posted the names of all 37 million users worldwide, including 1.2million from Britain.
The leaked information includes details of addresses, ages, credit cards, measurements and fantasies.
A cluster of 20 active members used e-mail addresses from Robert Gordon University in Aberdeen – the seventh highest number for all UK universities.
No one from the institution was available to comment last night.
There were also six using Aberdeen University addresses – ranked 41st overall.
Members used addresses from numerous major corporations, including 80 worldwide users at oil giant BP, 55 at Shell, 39 at Chevron and 16 at Talisman.
One address from a Moray Council official was listed, along with dozens of UK Government civil servants, including 118 at the Ministry of Defence, four at HM Revenue and Customs, and two officials at the Home Office – one of whom holds a senior position.
A Cabinet Office spokesman said: "The Civil Service Code outlines the values and standards of behaviour expected of all civil servants.
"Departments have their own policies on staff behaviour and we would expect them to handle individual cases using their usual processes."
Michelle Thomson, newly-elected SNP MP for Edinburgh West, found her details had been published, but said a hacker had used an old e-mail address, and insisted she had never visited the website herself.
Gay DJ Scott Mills was one of a dozen BBC e-mail addresses listed in the leak, with sources close to the radio personality saying he had found the link "hilarious".
One of the most high-profile casualties of the hack is US reality TV star and promoter of traditional family values Josh Duggar, who ran two Ashley Madison accounts.
He and his family starred in 19 Kids and Counting, in which they espoused their Christian values as independent Baptists.
Following the hack, Mr Duggar admitted cheating on his wife and described himself as "the biggest hypocrite ever".
The only UK city in the world's top 25 was London, with 179,129 active accounts.
Sao Paolo in Brazil was top of the league with 374,542 accounts.