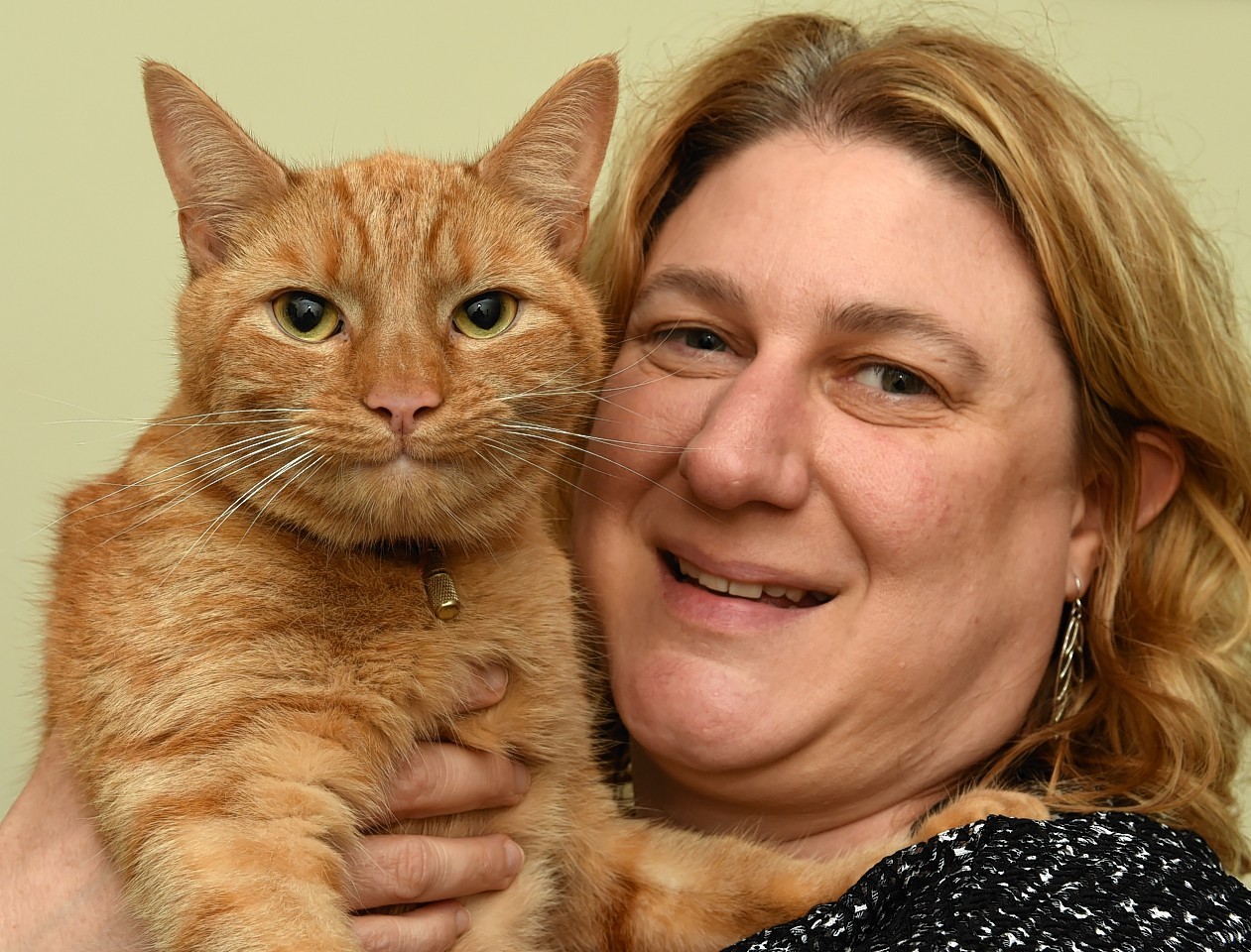 A tabby cat was recuperating at home yesterday after being rescued from a three-storey rooftop by north-east firefighters.
Frantic owner Helen Costin was growing increasingly concerned for Toffee, who went missing from his home on Lewis Road in Aberdeen on Saturday.
But yesterday, as she was setting off for work, Miss Costin looked up to the roof of her building and saw her beloved pet perched on the roof in the pouring rain.
She immediately called the Scottish SPCA, but the team were unable to get the animal down and requested the assistance of the fire service.
A crew from North Anderson Drive and a height vehicle from Aberdeen Central attended the scene at 2.40pm, but firefighters lured the animal down with food.
Last night a relieved Miss Costin said: "He has been missing since Saturday, I have been calling for him. I thought maybe a neighbour fed him and he'd gone for a break because he doesn't get on with my other cat, Kaluha, at all.
"I have been out shouting on him and then I was hearing him meow from what I thought was a vent at the back.
"Then I got in the car to go to work and I happened to notice he was on the roof."
The 40-year-old still cannot work out how ginger tabby Toffee ended up on top of the three-storey building.
And she said even when the firefighters arrived, the cat was reluctant to come down.
"Once he was on the roof we couldn't get him down," she said. "When they arrived the firefighters put a ladder at the back but when they got up he ran over the other side of the roof.
"Just as they were starting to operate the hydraulics the rescue guy managed to coax Toffee over with some food."
Last night the cat, who Miss Costin re-homed from an animal shelter, was drying off in his home under his owner's watchful eye.
Miss Costin added: "It is nice to have him back."
A fire and rescue spokeswoman said: "We do go to this sort of thing quite a lot. We do go to rescue animals if asked to do so by the Scottish SPCA."