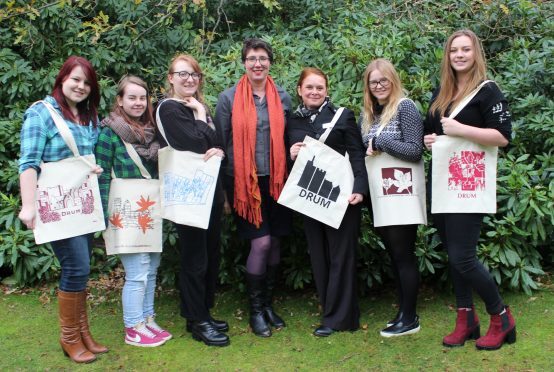 Shona Gossip
with submitted pic – probably just p4 worthy though
A group of design students have used a well-known north-east landmark as inspiration for their latest project.
Fashion and textile students at the Gray's School of Art in Aberdeen have created a unique range of tote bags featuring Drum Castle, near Banchory.
The 36 first year students each produced their own design, after visiting the castle and drawing up sketches before doing research to help shape their shopping bag creations.
The finished products will go on display at the castle in February, with the public being asked to vote for their favourite.
The most popular ones will then potentially be produced and sold in the castle shop.
Alison Burke, property manager at Drum Castle, said she had been impressed by the way the students had captured the "spirit" of the popular attraction.
She said: "We are very excited to be working with the students at Gray's and I was incredibly moved to see the combined impact of their designs – it was like seeing the castle completely anew through the eyes of the country's most creative talent.
"An image can define a property so we were very keen that the students got a good sense of what the castle is all about and understood its key messages.
"We set the students a brief to capture the spirit of the castle, to design something that people would want to use every day as their shopping bag and which would help us spread the message about Drum as a visitor attraction."
Lecturer Elaine Gowans added: "We are looking forward to seeing the designs go on display in Drum next year and to hear the public feedback on the bags.
"It is great experience for the students and will stand them in good stead as they progress through the rest of the course."
Drum Castle, the seat of the chief of Clan Irvine for centuries, has the oldest keep in Scotland and is the oldest intact building in the care of the National Trust for Scotland.
The castle and its grounds were granted to William de Irwyn in 1325 by King Robert the Bruce, and remained in the possession of the clan until 1975.