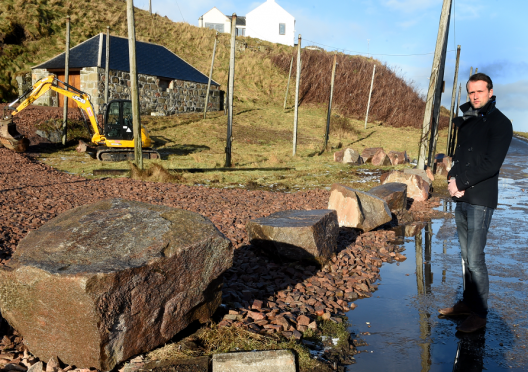 A landowner ordered to remove a boulder blockage at an historic fishing harbour has infuriated locals – who claim he has dumped even more obstructive rocks in their path.
Pralhad Kolhe, who owns part of the bay at Cove Harbour, was ordered by the city council last month to take away the barricade he had erected on the pier in an apparent effort to prevent fishermen from accessing their boats.
The surgeon has been engaged in a long-standing legal battle with the fishermen of the area, who have freely used the natural bay to dock their small fleet of traditional boats for generations.
Mr Kolhe demanded last year that the fishermen remove their vessels from the bay, which is overlooked by his white house at the top of the hill.
He posted red warning tickets on cars parked in the area, put up signs stating the harbour is private property, and moved four massive boulders across the pier to prevent vehicular access for the fishermen.
But despite being ordered to shift the boulders due to the public's right of access, locals claim that on Saturday, lorries were seen dumping more rocks around the harbour.
Cove councillor Stephen Flynn has now asked the council to do all in its power to prevent further blockades being erected.
Mr Flynn accused Mr Kolhe of having a "blatant disregard" for both the fishermen and the city council.
He said: "To be honest, at this point it's getting to be beyond a joke.
"I will be speaking to officers to determine the full extent of enforcement action that is available."
Mr Kolhe declined to comment last night.
A spokesman for Aberdeen City Council said that discussions with Mr Kolhe were still ongoing.