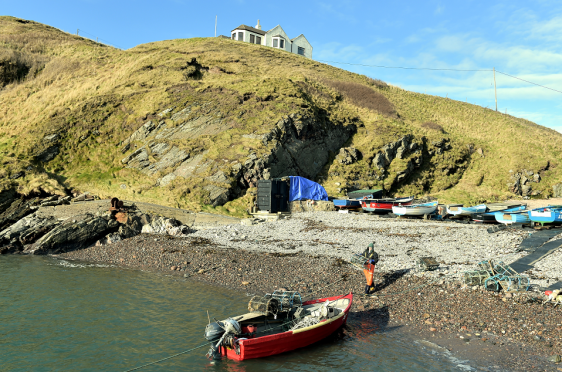 A group of fishermen at an historic Aberdeen harbour have officially told a landowner who is trying to evict them and their fleet of traditional vessels that they will battle him in court.
Consultant surgeon Pralhad Kolhe, who owns the white house above the scenic Cove Harbour and parts of the bay itself, has been engaged in a long-standing legal dispute with the nine men who store their boats in the harbour.
Mr Kolhe had previously demanded that the fishermen remove their vessels, and, during the last year, has repeatedly implemented measures to hamper their ability to fish from the bay, as members of the Cove community have been doing for generations.
As well as putting red warning stickers on cars parked on his land, Mr Kolhe has also placed a series of boulders which block vehicular access to the pier, and more rocks which prevent easy access to the boats.
In an escalation of hostilities this weekend, a number of placards have been hammered into the ground around the harbour, informing the public of the imminent legal battle between the surgeon and the boat owners, who are collectively called the Cove Fishermen's Association.
Jim Adam, the leader of the group, has officially lodged a notice of intent to launch court action on behalf of all the fishermen.
Mr Adam said: "We've not got a date set yet, and that's the next stage, but we will now present our defence to the Sheriff Court before a date is set.
"But the important thing is that we've now officially responded that we're going to defend the case, because it has been going on far too long."
Aberdeen City Council have also been involved in the surgeon's ongoing activities at the harbour, and, in January, ordered Mr Kolhe to remove the boulders on the site which are preventing the public's right of access to the popular area.
A spokeswoman for the local authority said: "Council officers are currently in discussions with the landowner and the fisherman's association regarding public access to Cove Harbour with the aim of resolving the issue amicably.
The fishermen are holding an online fundraiser to help cover legal costs, and those wishing to donate can visit www.crowdfunding.justgiving.com/cove-harbour-aberdeen
Mr Kolhe declined to comment last night.