It is a sight that makes your hairs stand on-end, and has long been one of the north-east's most famous performances.
On Saturday, 150 men marched onto the Lonach Gathering main arena in Bellabeg, following in their ancestors footsteps and marking the opening of the 176th Lonach Highland Gathering and Games.
It is the highlight of the annual event, drawing in visitors from around the world keen to see the unique and iconic spectacle.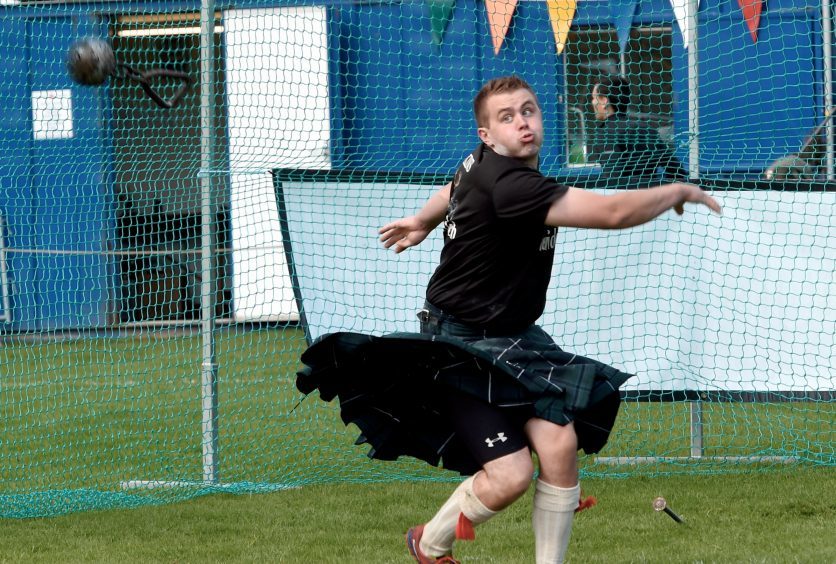 Currently with a membership numbering 227 men, the Lonach Highlanders are believed to be the largest body of non-military men to carry ceremonial weapons in Britain.
Armed with eight foot long pikes and Lochaber axes, and carrying the colourful standards of the Lonach Highland and Friendly Society, the men – led by the pipes and drums of the Lonach Pipe Band, set off at 8am to embark on a six-mile march to the Highland games, stopping off at various local properties for a dram along the way – arriving in the arena at 1pm.
Following the Lonach Highlanders every step of their march, pulling the traditional 'cairt' was Socks, the Lonach horse. Owned by Derek Gray of Kildrummy, the eight-year-old Irish Heavy Cob was making his third appearance at the gathering and received a hearty reception from the spectators.
Nearly 8,000 people made the most of the sunshine and turned out for this year's games in Bellabeg, and enjoyed the spectacle of not just the marchers but the traditional heavyweights, such as caber tossing and shot putt, Highland dancing and piping throughout the day.
Jennifer Stewart, secretary and chief executive of the Lonach Highland and Friendly Society, said: "The sight and sound of 200 men marching in step through the morning air never fails to raise the hairs on the back of my neck – it's an incredible sight that always impresses the crowd.
"The Lonach Gathering has been a mainstay of summer in Strathdon since 1832 and the spectacle of the Lonach Highlanders has been a constant draw.  As much as Lonach is about maintaining tradition and celebrating local heritage, it is about the future.  Therefore,
I'm pleased that we have had some new blood into the society, helping to preserve it for years to come."
Recently attending the Royal Edinburgh Military Tattoo for the first time, the men of Lonach are well practised at the march.
Mrs Stewart added: "Attending the Tattoo was great exposure for Lonach – it was also a fantastic, memorable experience for the Highlanders themselves.
"Marching over the castle drawbridge onto the esplanade in front of packed grandstands – just took their breath away."
Established in 1823, by Sir Charles Forbes, 1st Baronet of Newe and Edinglassie, the Lonach Highland and Friendly Society is a charitable organisation based in Strathdon.