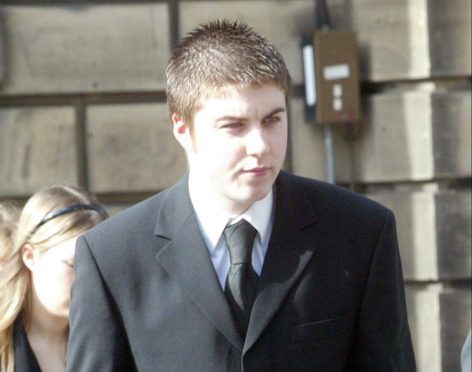 A motorist who helped make a road safety video in jail after causing the deaths of two friends when his car hit a train was given the chance to get his driving licence back early today.
Richard Fleming was a teenager when he was ordered to be detained for five years and banned from driving for a decade in 2008 following the collision at a Highland level crossing.
But the judge who originally sentenced him, Lord Brailsford, agreed to remove the disqualification, giving him the opportunity to sit his test again and return to driving if successful.
The judge told him at the High Court in Edinburgh: "It would appear, in old-fashioned language, that you have undoubtedly learnt a lesson."
Lord Brailsford was told that since his release from custody Fleming has married, carried out an apprenticeship and was in work and has raised money for charities.
The judge said: "You have a job a number of miles from where you live and transport, public transport, to that job is not easy."
He told Fleming that he remembered his case quite well from when he appeared before him in the same court in 2008 as an 18-year-old.
Lord Brailsford said: "It is perfectly plain that while the results of this accident were undoubtedly tragic even at that time you were aware of that and were remorseful."  Solicitor advocate Michael Chapman said that Fleming had been 17 at the time of the fatal incident and while serving his sentence in Polmont young offenders' institution had participated in the making of a road safety video.
He said: "Since then he has been of good behaviour and raised money for cancer charities and Highland hospice taking part in endurance events of long distance walking."
He said the qualified welder was now living in Inverness but working at Invergordon and it was not feasible for him to get to work on time using public transport.
"He has to rely on work colleagues to get there on time and that is not always possible," said Mr Chapman.
He said his employers also occasionally required workers to carry out jobs offsite and sometimes he could not do that.
"He has also had to turn down overtime shifts because of transport difficulties," he added.
Mr Chapman said Fleming (27) was now a more mature and responsible person than the youth who had committed the offence. He added: "The chance of him re-offending is minimal."
He argued that it would be equitable in the circumstances to remove the disqualification imposed on him.
Lord Brailsford pointed out that it would have been open to Fleming to have applied to have the ban lifted after serving five years of it.
Fleming, formerly of Morangie Road, Tain, in Ross-shire, who now lives in Grigor Drive, Inverness, originally admitted causing the deaths of college friends Paul Oliver and Allan Thain, both 17, on February 2 in 2007 by driving dangerously.
He drove at excessive speed and failed to stop when signaled to do so at the Delny crossing, near Invergordon, before hitting the Inverness to Wick train.prosecutor in the original case, Graeme Jessop, said: "The flashing crossing lights on the left hand side, at least, ought normally to have been visible to the accused from the junction 456 metres away."
"The vehicle driven by him picked up speed and appeared to accelerate in the direction of the crossing," said the advocate depute.
The train was partially across the crossing before his Ford Fiesta collided with the underside of the lead coach. Fleming was also injured in the incident.