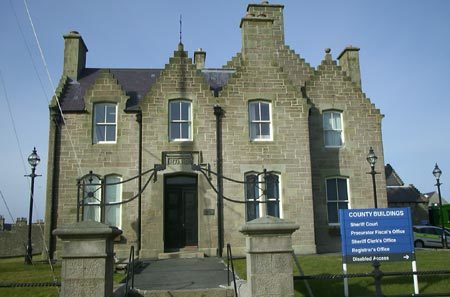 A man who caused a road collision in Shetland in which a woman sustained a serious back injury has escaped disqualification.
James Thomason, of Nonavaar, Levenwick, was instead given six penalty points and a fine of £500 at Lerwick Sheriff Court yesterday.
Thomason admitted driving without due care or attention on the A970 near the Levenwick junction on 15 March, causing injury to another driver, himself and both vehicles.
Procurator fiscal Duncan Mackenzie told Lerwick Sheriff Court the 69 year old was exiting the Levenwick junction at around 9.30am. He didn't notice an oncoming vehicle and caused a collision.
The fiscal added that the driver had to be taken to hospital in Aberdeen where she was treated for ten days. It took her a year to fully recover from her injuries.
Thomason was left with broken ribs and severe bruising on his arms and body.
Defence agent Tommy Allan said his client simply didn't see the car coming and was just "glad" both parties are still alive.
Allan added that Thomason's late wife was buried at a grave near to the junction, which could have led his concentration astray. There were no concerns over his driving prior to the collision, he said.
Sheriff Philip Mann said that while the offence was "relatively serious", he recognised that a licence is often vital for rural drivers.