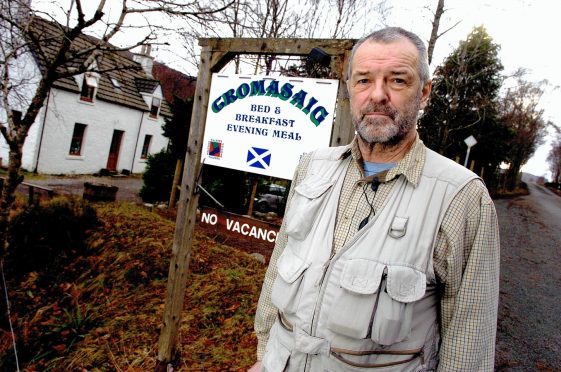 A Highland bed and breakfast owner has been taken to court over his stance against taking same-sex guests.
The Equality and Human Rights Commission is seeking an interim interdict to force 70-year-old Tom Forrest to remove comments and images from his website.
The owner of the Cromasaig B&B in Kinlochewe has previously spoken out against anti-discrimination laws.
The commission's concerns relate to the use of the term "heterosexual friendly" on the guest house's website, and picture symbols depicting that "man + woman = marriage".
The case called at the civil court in Inverness yesterday.
After a brief private hearing at Inverness Sheriff Court, the Equality Commission confirmed its counsel, Dorothy Bain, was seeking an interim interdict to force him to remove comments and images from his website.
But Mr Forrest is understood to have only hired a lawyer, Murray McCheyne, to represent him shortly before the hearing.
Neither would make a comment after Sheriff Gordon Fleetwood continued consideration of the commission's application until March 20.
This was to allow Mr Forrest to properly instruct his legal representative.
In the meantime, a commission spokesperson confirmed that Mr Forrest had agreed to remove the contentious wording on his website temporarily while the legal battle progresses.
Neither Mr Forrest, Mr McCheyne or Ms Bain would comment after the hearing.
However, an Equality Commission spokeswoman said: "'We are pleased that Cromasaig Bed and Breakfast has agreed to remove these phrases from their website, until such time as the court makes an order in relation to the matter.
"The commission had received complaints which led to us having concerns that the phrases, in the context they were used, may be discriminatory.
"We asked Cromasaig to remove them but they were not willing to do so and so we took this legal action. We now await the court's decision after a full hearing in due course.
"This action is only about those references and of course Mr Forrest has to comply with the Equality Act."
Mr Forrest's stance has been a controversial one for more than 13 years.
He has been flooded with e-mails from gay rights activists supporting the legislation that bans tourist operators from refusing homosexual customers.
The issue first made headlines when Mr Forrest rejected a booking from a London resident who requested a double room at his three-star rated business in Wester Ross.